If you are looking to make real money sports bets online from the state of Ohio, you have come to the right place to find the very best Ohio online sports betting apps and sites that provide a safe and regulated betting environment.
Online sports betting was illegal in Ohio until December 23, 2021, when Bill HB29 was finally signed into law by Governor Mike DeWine, allowing sports betting operators to apply for gaming licenses in the state.
Over two years since the law was initially passed, the first legal sports betting sites in Ohio launched on January 1, 2023, starting the new year by ushering in a new era of online gambling in the Buckeye State.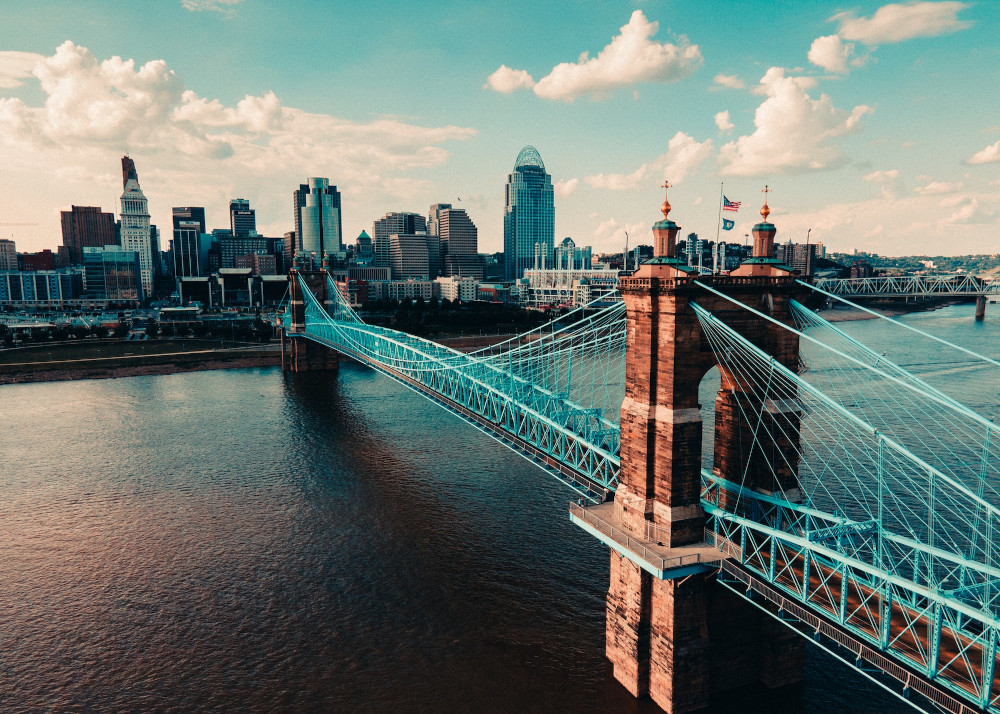 In this guide, we will teach you how you make mobile wagers on sports from Ohio, unbiased reviews of the top sports operators in the state, the best deposit and no deposit bonuses, and what separates legal from illegal betting sites in the state.
Our independent and honest Ohio online sportsbook reviews offer a deep insight into the very best betting sites and show you why you should choose these operators to bet with.
To get started, let's take a look at how online sports betting in Ohio got to where it is today and what different stages it went through.
Ohio Online Sports Betting Laws and Regulations
Like most states across America, Ohio didn't have any sports betting facilities until recently, as laws prohibited sports betting nationwide.
The controversial law which made sports betting illegal, called PASPA, was repealed by the Supreme Court in 2018, paving the way for legal sports betting in many states.
Bill HB29 was passed by the lawmakers in December 2021 and given to Governor Mike DeWine to sign, which he promptly did, just two days before Christmas, giving the state's sports fans something extra to celebrate. This bill made both retail and online sports betting legal, although there was some work to be done before the first online sportsbooks could be launched.
While Ohio was not exactly the first to jump on the sports betting train as it swept across the US, the first retail sportsbooks in the state opened their doors in early 2022, with online sports betting soon to come.
The supervision of all future online gaming licenses was given to the Ohio Casino Control Commission (OCCC), a governing body that now regulates and licenses all legal real money online sportsbooks in Ohio.
On January 1, 2023, the first legal sports betting sites in the state finally went live, giving the residents of Ohio a chance to bet on sports from the comfort of their homes or while on the go via their computers and mobile devices — without the hassle and risks of betting with illegal offshore sites.

Top-tier Ohio sportsbook
Get up to $1000 Paid Back in Site Credit
If you lose your first bet
New customers only
Terms and conditions apply
21+ and present in OH. Gambling Problem? Call 1-800-GAMBLER
Ohio Online Sports Betting Taxes
There are two important things to consider when it comes to gambling taxation in different states. These are the taxes that players have to pay on their winnings and the taxes that the operators have to pay on their revenue.
When it comes to legal Ohio online sportsbooks, the current law has them taxed at a fixed rate of 10% of their revenue. According to some estimates, this taxation should bring about $90 million in tax money into the state budget annually. This money will then go back into the community, funding various public programs and services, education, and other important infrastructure needs.
The taxation laws for online sports betting and other forms of gambling in Ohio are relatively lax, which is one of the reasons operators are more than happy to jump into this newly opened market.
In terms of the taxes that you will have to pay on your winnings, the state of Ohio will charge you 4% in extra taxes on top of the 24% federal tax that all US players must pay on their gambling winnings.
This tax rate is very similar to other states in which online sports betting is now legal, which means there are no negative sides to betting from Ohio compared to other states.
How to Get Started Betting on Sports in Ohio
Legal online sports betting in Ohio launched on January 1, 2023, opening a brand new market to some of the best sportsbook operators in the world.
As a citizen of Ohio, you can now easily make your sports bets from the comfort of your home, and setting up your betting account and making bets is extremely simple.
To get started, you must create an account with one of the licensed Ohio online sports betting apps. Once you have picked out the operator you like the most, simply download the app to your phone or visit their website to create your account.
The account registration process takes no more than a few minutes. It requires you to share some personal details with the operator, which is standard practice at any gambling site, nationally and internationally.
Once you have registered an account, you will be able to log in from your desktop and mobile devices alike, and funding your account will be the next step.
You can fund your Ohio online sports betting balance using a credit or debit card, or one of the numerous alternative payment methods like PayPal or PayNearMe for those who prefer not to directly share their banking information online.
Once you have money in your account, you can make real money bets. You will also be able to benefit from l*ucrative Ohio online sports betting deposit bonuses*, which add extra value to your bets.
On top of the usual pre-match sports betting, Ohio online sportsbooks are also legally allowed to offer live betting markets, which means you can also bet on games that are already running and make predictions about future events in the game.
Generally speaking, online sports betting in Ohio is very simple to get into, and the intuitive nature of the betting platforms allows literally anyone to make real money bets in a matter of seconds.
Safety and Regulation at Ohio Online Sportsbooks
The arrival of legal online sports betting in Ohio is great news for all sports fans and bettors. Gone are the days when shady offshore betting platforms were the only option for online sports betting, and a new era of fair gambling has come.
To constitute a legal Ohio sportsbook, an operator must acquire a gaming license from the OCCC, the state's governing online gambling regulator. Once this license is issued, the operator can work within the state and provide services to its residents.
The advantages of playing with OCCC-licensed online betting operators are numerous. For starters, these sites and apps undergo a set of audits before they are issued a license, which ensures they are running a fair and safe business and that they plan on offering a completely fair betting platform to their players.
The OCCC regularly audits all its licensees and ensures that they use state-of-the-art security measures like SSL certificates and high-end encryptions to protect player data. On top of that, the OCCC is also open to any user complaints and questions, which allows them to provide players with the best possible service.
Unlike offshore gambling operators that work without any license and don't really answer to anyone, licensed operators in Ohio must adhere to the terms of their license at all times. Failing to do so can cause the OCCC to fine them or even revoke their license, which, of course, no legal operator would dare to risk.
Licensed Ohio online sportsbooks are also required to provide responsible gambling tools to their players. This means you can self-exclude from play, limit your deposits and bets, and more. All of these tools are in place as a way of fighting problem gambling and preventing gambling addiction.
Overall speaking, playing with licensed sportsbooks will give you a huge advantage in terms of security compared to making bets with offshore operators that have no legal standing in Ohio or the US at all.
How to Know if a Gambling Site in Ohio is Licensed and Safe
If you are looking to bet on sports from the state of Ohio, you will want to ensure you are doing so at a fully licensed and secure online sportsbook.
There are several things you should consider when determining that an operator is indeed licensed and safe to bet with. These are some of the most important ones:
State Seal of Approval: All licensed operators in Ohio must carry a seal of the Ohio Casino Control Commission, the state's gaming regulator. Any site that doesn't clearly display such a seal is not licensed in Ohio.
Inviting US Players: Legal Ohio-based online sportsbooks do not need to advertise that US players are welcome, as only US players can play on them. Any site that does make such advertisements is likely an unregulated offshore betting site.
Crypto-Friendly: Accepting cryptocurrencies as a deposit or withdrawal method is prohibited on any Ohio-licensed betting sites. Any site that does accept them is not licensed in Ohio or anywhere else in the US.
Our Licensed Operators List: You can find a full list of Ohio-licensed gaming operators on this page. Any sites that are not listed here are likely not licensed in Ohio just yet.
What Makes Licensed Operators the Better Option?
There are a number of offshore betting sites that accept US players and offer a seemingly reasonable betting platform. Often they offer deals that are too good to be true to lure you in.
But, if you live in the state of Ohio, there are many reasons to pick a fully licensed operator instead. These are just a few of the main ones that should be enough to convince you to always bet at a licensed sportsbook:
Security & Fairness: Operators licensed in Ohio must adhere to the strictest rules and policies of the local gaming regulator. This means players must be protected in every way, and all games offered must be fair and transparent, all of which are regularly audited by the regulator.
Fair Bonuses & Promos: Just like all the games, the bonuses and promotions offered by legal sites must be fair and reasonable. This means there are no hidden terms or clauses attached to such bonuses.
Legality & Accountability: Since they are fully licensed and physically present in Ohio, all legal operators are also legally accountable for all their actions. This means you will have legal recourse should anything go wrong.
Responsible Gambling: Sites carrying the Ohio gaming license also employ responsible gambling practices. This means you can self-exclude from play, limit your deposits and bets, control how much time you spend on the site, and much more.
Banking Options at Ohio Sportsbooks
We have already mentioned that legal Ohio online sportsbooks offer many different payment methods for players looking to deposit money into their accounts or cash out their winnings.
This means you can make your deposit using a payment method of your choice, and most Ohio-based players should have no trouble finding a method that works well for them.
Some of the following payment methods are accepted by the leading Ohio online sports betting sites already, with further payment methods likely to show up in the near future:
Visa
American Express
MasterCard
PayPal

ACH

Skrill/

NETELLER

Wire Transfer
FAQ
Is it legal to bet on sports in Ohio?
Yes! Legal retail sports betting went live in early 2022. As of January 1, 2023, you can now legally place real money wagers at Ohio online sportsbooks licensed by the OCCC, the state's gaming regulating body.
What is the difference between licensed and unlicensed sportsbooks in Ohio?
Licensed Ohio online sportsbooks are regulated by the OCCC, a regulating body that ensures that operators offer fair gaming and use responsible gambling practices in their operation. Playing at licensed sportsbooks gives you extra security and legal recourse in case anything goes wrong.
What can Ohio bettors bet on?
Online sportsbooks in Ohio offer hundreds of different betting markets for sporting events across the world. Both local and international sports are covered, ranging from US sports leagues like NBA and NHL to international competitions like the Olympics and more.
How can I cash out from my online sports betting account?
Online sportsbooks in Ohio accept all popular payment methods for account funding and withdrawals. You can transfer funds directly from your bank account or credit card or use an e-wallet like Skrill or PayPal.
Do Ohio online sportsbooks have no deposit bonuses? How about deposit bonuses?
Yes! Ohio online sports betting deposit bonuses are available at all licensed betting sites in the state. You can get your hands on some Ohio online sports betting no deposit bonuses to try real money betting without having to make a real money deposit, which is another perk of signing up with licensed betting sites.
Will I have to pay taxes on my Ohio online sports betting winnings?
Yes! Like all US citizens, you must pay taxes on your online gambling winnings. A federal tax of 24% and a state tax of 4% both apply to your online sports betting winnings in Ohio.
Is online poker legal in Ohio?
No. At this time, online poker is not legal and regulated in Ohio. The only form of legal online gambling available in Ohio is mobile sports betting. But there is hope for the future. Most states that have regulated online poker first legalized online sports betting, followed by online casino gaming and online poker. Fingers crossed, it soon follows in the steps of its neighbors, Michigan, Pennsylvania, and West Virginia.
21+ and present in OH. Gambling Problem? Call 1-800-GAMBLER
Latest News on Ohio Sports Betting:
---

Ohio Sportsbooks are open for business, offering lucrative bonuses to quickly boost your bankroll & improve your odds. Here are the top 3 bonuses right now.
---

Three lawmakers have submitted HB 106 for consideration during the 2023 session, but time to act on the proposed bill is shorter than last year.
---

To celebrate its launch in a newly-regulated market, BetMGM Sportsbook Ohio is giving away all-expenses-paid Las Vegas weekend trips.
---

Bet on the Browns vs. Commanders game on Jan 1 and double your money with DraftKings Ohio Sportsbook!
---

You can claim a whopping $200 no deposit bonus by pre-registering with BetMGM Sports Ohio before it launches on January 1, 2023!
---
Read more on Ohio Sports Betting »