Florida Sports Betting

Latest Updates
At the moment, the "golden age" for mobile sports betting in Florida was three weeks in November 2021.
That's how long the Seminole Tribe of Florida's product at the time, Hard Rock Sportsbook was allowed to take wagers before a legal challenge from two brick-and-mortar gaming facilities put the platform and the entire vertical on ice.
But that legal challenge has likely entered its final phase, and a ruling in favor of the Seminole Tribe is widely expected. If that happens, look for the tribe's sports betting product to return — this time under the name Hard Rock Bets.
It would also be the only online sportsbook in Florida. That's because the tribe was granted a monopoly on mobile sports betting through an amended gaming compact with the State of Florida. That monopoly is at the heart of the current legal challenge that's kept sports betting dormant for nearly two years.
Despite this, Hard Rock is a respectable brand in the entertainment industry and has been active in gaming for many years. Delaware and Rhode Island have also allowed similar monopolies — in those cases, to 888 (soon to be Rush Street Interactive) and Bally's, respectively.
Florida is the nation's third-most populous state. With more than 22 million residents, the Sunshine State will be the largest US market with legally regulated sports betting once the legal challenge runs its course.
Watch this space for updates on sports betting in Florida as developments unfold.
Online Sports Betting in Florida
📢 Status
Legal, but not available until the current lawsuit comes to a conclusion. A launch could literally occur at any time.
📅 Date Legalized
June 30, 2023 (currently)
👥 State Population
22.2 million
🏀 Potential Sportsbooks
Hard Rock Bet (formerly Hard Rock Sportsbook)
⚖️ Regulated By
Florida Gaming Control Commission
🔞 Legal Age to Gamble
21+
Is online sports betting legal in Florida?
Online sports betting is legal in Florida but is currently unavailable. Shortly after mobile sports betting launched in November 2021, a pair of brick-and-mortar gaming facilities sued over an amended gaming compact between the Seminole Tribe and the State of Florida, effectively bringing sports betting in FL to a halt until the legal challenges come to a conclusion.
Florida Online Sports Betting: Overview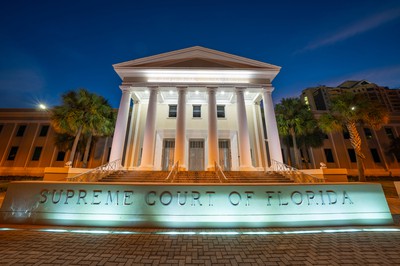 The saga surrounding sports betting in Florida began in 2018.
That year, the US Supreme Court ruled that the Professional and Amateur Sports Protection Act (PASPA), a federal law that had prohibited most forms of sports betting since 1992, was unconstitutional.
But rather than jump into sports betting, socially conservative voters in Florida led passage of a constitutional amendment requiring 60% voter approval of any future expansion of gaming in the state.
The Seminole Tribe, which owns six of the seven* tribal casinos in Florida and has a gaming compact with the state, threw its support behind the 2018 amendment — in large part because it would make it more difficult for commercial casinos (and sportsbooks) to enter the market. (*The Miccosukee Tribe of Indians of Florida own the seventh casino, in Miami.)
While adverse to an expansion of gaming, conservative lawmakers in the legislature agreed to a compromise — by giving the Seminoles a monopoly on sports betting, they could keep as tight of a lid as possible on expanded gaming. State lawmakers took what they could get, considering the tribe has sovereignty rights under federal law.
Negotiations between the administration of Governor Ron DeSantis and the tribe began shortly after that. The two sides announced an amended 30-year gaming compact in April 2021, under which the tribe would serve as the center of a "hub-and-spoke" system for online sports betting. The Seminoles were allowed to accept mobile wagers anywhere in the state except on other tribal (i.e., Miccosukee) land.
Although DeSantis signed the agreement in April 2021, the US Department of Interior (DOI) still had to give its approval. Court records show DOI Secretary Deb Haaland received a copy of the amended compact on June 21, 2021. Haaland then had 45 days to take action on the compact, but when she didn't, it automatically took effect on August 5, 2021.
Why Sports Betting Has Been Delayed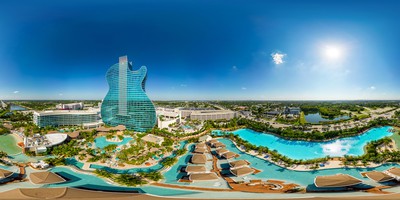 Hard Rock Gaming, the gaming company for the Seminole Tribe, launched Hard Rock Sportsbook on November 1, 2021. It wasn't operational for very long.
Two gaming companies, West Flagler Associates and the Bonita-Fort Myers Corporation, sued the DOI in August 2021. The plaintiffs argued that the amended gaming amounted to an illegal expansion of gaming under the Indian Gaming Regulatory Act (IGRA). West Flagler owns the Magic City Casino & Flagler Dog Track in Miami, while Bonita-Fort Myers owns the Bonita Springs Poker Room in Bonita Springs.
On November 22, 2021, U.S. District Court Judge Dabney Friedrich sided with the plaintiffs, which required the Seminole Tribe to take down Hard Rock Sportsbook just three weeks after it started accepting wagers.
The DOI subsequently appealed, and a three-judge panel of the US Court of Appeals for the District of Columbia Circuit ruled in the government's favor on June 30. The plaintiffs filed an appeal in August, asking the entire appellate court to rehear the case.
The appellate court responded on September 11 that it would not rehear the case. With its options quickly dwindling, West Flagler and Bonita-Fort Myers told the appellate court they plan to appeal to the US Supreme Court. It's unclear if the US Supreme Court will take the case.
On the same day that DOI said West Flagler and Bonita Fort-Myers should have filed suit in state court, rather than in federal court, the plaintiffs did just that — they petitioned the Florida Supreme Court for a stay on September 25 and made clear they want the court to find that DeSantis, along with House and Senate leaders, allowed an illegal expansion of gaming.
West Flagler and Bonita Fort-Myers appeared to have exhausted their options in federal court after the appellate court denied the plaintiffs' petition for a stay on September 28.
Industry experts are divided over when Hard Rock Bet might launch. Some claim a launch could occur during the last months of 2023, while others say a launch sometime in 2024 is more realistic.
The Seminole Tribe rebranded its sportsbook as Hard Rock Bet in July.
History of Sports Betting at Hard Rock
Hard Rock Bet is the sport betting product of Hard Rock Digital, a gaming subsidiary of the Seminole Tribe. The sportsbook was originally called Hard Rock Sportsbook, but it was rebranded and made its debut as Hard Rock Bet in New Jersey in July.
Florida wasn't the first state where the Seminoles rolled out Hard Rock Sportsbook — it was actually one of the last.
After launching in New Jersey and Iowa in 2019 — in January and December, respectively — Hard Rock Sportsbook popped up in four states in 2022. That year, the operator started accepting wagers in Arizona (April), Virginia (May), Indiana (September), and Tennessee (also September). The platform launched in Ohio on January 1, 2023.
In the Sunshine State, an amended gaming compact between the State of Florida and the Seminole Tribe authorized the latter to launch sports betting as early as October 15, 2021. The tribe ultimately decided to wait until November 1 to launch Hard Rock Sportsbook and made its startup a low-key affair — Hard Rock Digital made no official announcement of the launch.
Hard Rock Sportsbook initially offered wagers on MLB, MLS, NBA, NFL, and NHL games, plus NCAA college football and basketball. It appears that wagers on in-state college sports were also accepted.
Its replacement, Hard Rock Bet, is likely to use a similar sports betting catalog. The platform offered wagers in several formats as Hard Rock Sportsbook — including futures bets, money line bets, parlay bets, point spread, prop bets, teasers, and over/under.
Hard Rock Bet is currently live in seven states for sports betting — Arizona, Indiana, Iowa, New Jersey, Ohio, Tennessee, and Virginia. Online casino games are only available in New Jersey.
FAQ
Why is there a legal challenge to sports betting?
Two land-based gaming properties alleged that the US Department of Interior (DOI), which handles gaming issues on tribal lands, violated the Indian Gaming Regulatory Act (IGRA) by approving the amended gaming compact between the State of Florida and the Seminole Tribe. The plaintiffs argued that the amended gaming amounted to an illegal expansion of gaming under the IGRA. A district court agreed, but an appellate court reversed that decision.
All eyes are now on the Florida Supreme Court. The plaintiffs are hoping for a ruling that the amended gaming compact violated the state constitution because it wasn't approved by voters. It's also possible that the US Supreme Court could take the case on appeal.
Is online gambling legal in Florida?
The only form of online gambling that is legal in Florida, at least in the technical sense, is mobile sports betting — online poker and casino gaming have not been authorized.
What are Florida's sports betting laws?
The Florida Gaming Control Commission is the state's gaming regulator and oversees the gaming compact with the Seminoles. Meanwhile, the Seminole Tribal Gaming Commission is a tribal governmental agency authorized to carry out the tribe's regulatory and oversight responsibilities under the same gaming compact.
When will online sports betting be legal in Florida?
Online sports betting has been legal, at least in the technical sense, since June 30, 2023. That's the day that an appellate court panel reversed a ruling in district court that said online sports betting was against the law. However, sports betting is currently not available because of ongoing legal challenges in federal and state court.
What about online casino gaming in Florida?
Legislation to authorize online casino gaming has not been introduced in Florida because it is a conservative state. With an amendment to the state constitution requiring 60% voter approval for expanding gaming — coupled with likely opposition from the Seminole Tribe, which owns and operates six brick-and-mortar casinos in the state — it seems unlikely that online casino gaming will be legal in Florida anytime soon.
Can I place wagers at offshore sportsbooks instead?
Offshore sportsbooks are not recommended because they do not offer the same consumer protection level as legal, regulated sites. Playing at offshore sites means putting your financial and personal information at risk and yourself in danger of identity theft. Federal officials have warned that US citizens have no legal recourse to collect winnings owed by an offshore site and strongly recommend against playing on them.
Florida Sports Betting History
Latest Florida Sports Betting News