Learning how sports betting lines work is one of the first and most important things you must do to be successful as a sports bettor.
A complete understanding of the numbers, odds, and percentages is vital in placing a wager, no matter what sport you are betting on.
This article will teach you how to read sports betting lines and the meaning of the odds and help you grasp the basics of betting, helping you make important gambling decisions.

Last verified: November 2023
Special Signup Offer
First Bet Offer up to $1500!*
Enjoy live streaming of popular events
Great mobile betting experience
Variety of betting markets on offer
*except NY
Please play responsibly. If you or someone you know has a gambling problem and wants help, call 1-800
GAMBLER
.
How to Read Betting Lines?
It doesn't matter if you are planning to place a bet on football, basketball, ice hockey, baseball, or any other sport — every betting option will have a line.
A betting line always refers to the odds provided by a sportsbook for a specific wager. The most common way to find the latest lines is by opening the sportsbook's lobby and selecting a sport, where a list of upcoming matches and tournaments should appear.
Now, let's take the first example of ice hockey and explain what all those numbers actually mean.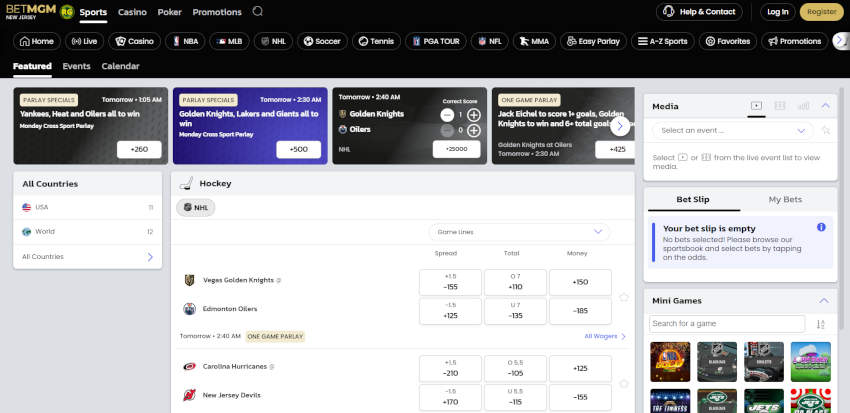 As you can see in the screenshot, there are usually three primary markets for ice hockey: Spread Betting (home or away team to win in handicap), Totals (total number of goals in the match), and Money Line (to win the game).
In case you are not familiar with spread betting and how it works, the general rule is that a team with the negative line is a favorite, while a positive line points to an underdog.
This will always help you understand which bet is more likely to land or if there is value in betting on the underdog. A $10 bet on the Vegas Golden Knights to win the game offers $25 returns, while the potential returns on the Edmonton Oilers to win are $15.41.
Even if you had no idea about the NHL or the quality of these teams, just by seeing the betting lines, you get a clear picture of who is the favorite to get away with a win.
You can apply the same logic to the goals market. A + 110 line shows that the chances are smaller to see 7+ goals scored in the match than backing the Under 7 goals option at -135. If the betting lines were at the same -110 for both outcomes, this means an equal chance to land an Over or Under bet in terms of percentages.
Let's now jump to another example and read the latest betting lines for NBA Playoff action.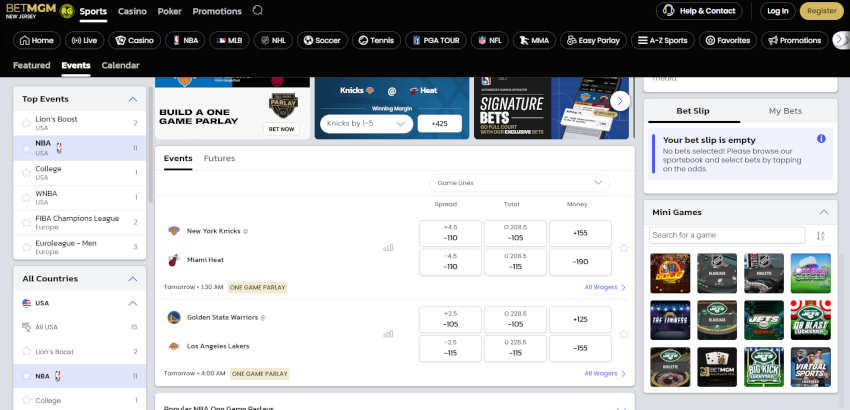 There is no difference between the most common basketball markets compared to our first example with ice hockey. The three main betting options — Spread Betting, Total Number of Points, and Money Line — remain the same.
By looking at the first matchup, we can say that the Miami Heat are big favorites to beat the New York Knicks by money lines, and the match is slightly more likely to have over 208.5 points. Notice that the difference for the points market is minimal, probably around 55%-45%.
Applying the same analysis to the other match, the Los Angeles Lakers are favorites to take down the Golden State Warriors (-155 to +125), and the game will likely end with more than 228.5 points.

Last verified: November 2023
Special Signup Offer
$1000 Deposit Bonus
Make a deposit & get 20% boost up to $1000
Great mobile betting apps
Fast and hassle-free withdrawals
Please play responsibly. If you or someone you know has a gambling problem and wants help, call 1-800
GAMBLER
.
Finding The Best Lines
Once you grasp these basics about the most common markets, it's easy to understand every betting line possible, from outright to win, futures, player prop bets, team prop bets, specials, etc.
Remember that the betting lines are not the same for all sportsbooks. Some providers might be more confident about the Golden State's chances against the Lakers, giving a lower line of +110 on the away win.
Every sportsbook independently sets its own lines, so we always encourage our readers to have at least a couple of sportsbook accounts with different operators, so you can always pursue the highest odds and get maximum returns.
We used an example of two NBA matches above by providing the latest odds from BetMGM Sportsbook Massachusetts. As mentioned, betting lines are not the same for all operators, so even a slight difference could mean $50 more in the total balance for high-rollers.
If we look at these lines for NBA playoff matches at DraftKings Sportsbook US:
In theory, if a sports bettor wanted to place a $1000 bet on the Golden State Warriors to beat the LA Lakers in the money line with DraftKings, their potential return would be $2300, $50 higher than BetMGM Massachusetts.
As you can see, having multiple accounts is a big plus. Besides the differentials in sports betting odds, sportsbooks also offer generous welcome packages, which you can turn into profit with proper strategies. Learn more about the best sports betting sites in the US and pick your favorites to sign up with.
At the time of publishing, all new DraftKings US customers can claim $150 in bonus bets after joining and depositing at least $5, which is a tremendous value in our opinion, no matter if you enjoy playing with low or high stakes. Sign up with DraftKings to take advantage of this offer.
As for BetMGM MA, it is promoting a $1000 First Bet Insurance package, which means your first bet will be refunded as bonus bets of up to $1000 if it loses. Create a BetMGM Sportsbook account and place your first bet with peace of mind, knowing that even if luck isn't on your side, you'll still be reimbursed in bonus bets.
Different Types of Betting Lines
There are three main types of betting lines, moneyline American odds, Brittish fractional odds and European decimal odds. These are just an alternate way of presenting the same thing and won't be any different in terms of payouts. Here is how to read all three types of odds:
| US Odds | UK Odds | European Odds |
| --- | --- | --- |
| +100 | 1/1 | 2.00 |
| -200 | 1/2 | 1.50 |
| +250 | 5/2 | 3.50 |
| +900 | 9/1 | 10.00 |
Sports Betting Lines Change Frequently
There is a high chance that a betting line will change a couple of times between the release and kickoff time. Some critical factors influence the betting lines, but the two most notable ones are:
A majority of wagers being placed on one team
Latest news and injury reports
If sports bettors start pumping a lot of money or bets on one outcome, sportsbooks will probably shrink the line to secure their profits. Also, if an important player gets injured, the betting line on their team winning the match will go up.
Some professional bettors prefer picking up the new odds right after they are released and, in most cases, end up with more potential profits, while others tend to wait for the last updates or a pre-match press conference.
FAQ
How to calculate betting odds?
The equation for a team to win is 100/(odds +100)x100. So for example, a +100 priced squad would be calculated as 100/(100+100)x100 which equals 50. If you decide to wager on this team, they should have around 50% chance of winning.
Why are betting lines changing every day?
The main reasons behind this are some news regarding players, injuries or suspensions, or in some cases its the bookmakers trying to secure their profits by lowering or increasing the margins.
How to get better betting odds?
Checking all reputable sportsbooks and comparing the prices for a specific event can be of huge importance for long-term profit. Also, check for the bonuses and look for enhanced odds for specific sports.
Learn more: