Key Takeaways
MLB

reigns supreme as the most popular sport to bet on during the summer months.

MLB

betting enthusiasts have a range of sportsbooks to choose from, with each offering different odds and markets.
The top three sportsbooks for

MLB

betting are DraftKings, BetMGM, and FanDuel according to research.
DraftKings provides a wide range of betting options for

MLB

fans and has the most promotions.
BetMGM offers competitive odds for

MLB

and features popular Signature Bets.
FanDuel is known for its extensive futures section, offering bets on outcomes for the

MLB

2023 season.
The start of the Major League Baseball (MLB) season is a thrilling time for sports enthusiasts across the US, igniting a passion for the classic American game as favorite teams battle it out on the diamond and age-old rivalries are reignited.
The MLB 2023 season kicked off on March 30, and all teams will play 162 games each before the season wraps up on October 1. Among many exciting highlights to look forward to is the annual All-Star Game in mid-July, hosted by the Seattle Mariners at T-Mobile Park in Washington.
For countless Americans, placing MLB wagers adds an extra layer of excitement to their week. Recent reports have shown that MLB reigns supreme as the most popular sport to bet on during the summer months, as NBA and NHL seasons are concluded.
A hugely popular sport, it's no wonder that all the best sportsbooks in the US offer a wide range of markets to bet on, so baseball fans are definitely not short on options. But which sportsbooks are truly the best for MLB betting?
We have conducted thorough research to bring you our top three sportsbooks tailored for MLB enthusiasts. We will delve into the reasons behind their popularity, evaluate the competitiveness of the odds they offer, explore the coverage of various markets, and provide valuable tips and recommendations.
Whether you are a recreational bettor seeking an exciting experience or a seasoned bettor aiming for a strategic approach and consistent profits, the below insights and tips will be useful in making informed decisions.

Last verified: September 2023
Special Signup Offer
First Bet Offer up to $1500!*
Enjoy live streaming of popular events
Great mobile betting experience
Variety of betting markets on offer
*except NY
Please play responsibly. If you or someone you know has a gambling problem and wants help, call 1-800
GAMBLER
.
What Separates Good Sportsbook from an Exceptional Sportsbook?
Choosing the right online sportsbook is a super-important decision, not to be taken lightly, like deciding which ballpark snack to chow down on at the game.
In all cases, safety and regulation should be the top priority. After all, nobody wants to team up with a shady operator that promises sky-high bonuses only to vanish into thin air with players' hard-earned funds or, even worse, compromise or misuse private data. Stay clear of those dugouts of deceit and focus on licensed options that have your back.
Currently, there are over 30 licensed online sportsbooks in the US, each claiming to be the star player in offering the best odds for major sports, including Major League Baseball lines, along with tempting promotions and comprehensive coverage.
However only a handful truly meet these criteria. So, before jumping into our top recommendations, let us see what an ideal MLB betting sportsbook should bring to the plate.
License to Operate in the US: Like an umpire calling strikes and balls, a licensed sportsbook ensures you are playing by the rules and enjoying a fair game. Never join a sportsbook without a license.
Impeccable Reputation: Just as a Hall of Famer's stats speak for themselves, a sportsbook's flawless reputation is a testament to its trustworthiness and reliability.
Frequent Promotions for Existing Customers: Just like the team's loyal fans get special perks, sportsbooks with frequent promotions for existing customers make sure you are always in the game, enjoying extra benefits.
Competitive Odds: Want to score big? Look for a sportsbook that delivers home run-worthy odds, giving you the best shot at hitting a financial grand slam. Why settle for less?
A Lineup of Prop Bet Options: Variety is the spice of life, and a wide range of prop bet options add an extra pinch of excitement to your

MLB

betting experience.
All-Star Welcome Packages & Bonuses: A warm welcome is always appreciated, so keep an eye out for sportsbooks that go the extra mile with generous welcome packages and bonuses.
MVP-Worthy Loyalty Program: A loyalty program that rewards your dedication and keeps you coming back for more is a true

MVP

in the world of

MLB

betting.
Flexible Deposit & Withdrawal Methods: Just as a switch-hitting batter keeps the opposing team on their toes, a sportsbook with multiple deposit and withdrawal options ensures you have the freedom to play your way.
A Quality Mobile Betting App: A well-designed mobile betting app is key, whether you're cheering from the stands or lounging on the couch. A good app will allow you to stay connected to the game and place bets easily, allowing you to bet on

MLB

wherever you go.
Live Streaming Service: Don't miss a single pitch! Look for a sportsbook that offers live streaming to catch all the

MLB

action and place wagers in real time.
User-Friendly Interface: Navigating through the sportsbook should be as smooth as a well-executed double play. An intuitive and user-friendly interface makes placing bets a breeze.
DraftKings Sportsbook — Your Go-To Mobile Bookie for
MLB

Betting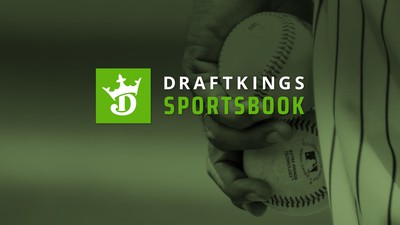 DraftKings, the juggernaut of daily fantasy sports (DFS) in the US, has become a beloved haven for sports bettors across the United States since 2018.
With its boundless offerings, this brand provides a wide range of betting options for die-hard fans of Major League Baseball. It serves up more promotions than any other competitor, making it the go-to destination for fans of MLB wagering.
DraftKings Sportsbook shines bright when it comes to prop betting, unleashing a treasure trove of fun and unique markets for all games. You can wager on thrilling outcomes like the chances of a diving catch, the duration of the seventh-inning stretch, or even whether the outfield squirrel will steal the show. Your betting experience goes beyond the ordinary with this sportsbook.
Sign up and start betting or learn more in our in-depth honest DraftKings Sportsbook Review.

Last verified: September 2023
Special Signup Offer
$1000 First Deposit Bonus
Access to renowned DraftKings Rewards Program
Great mobile betting apps
Fast and hassle-free withdrawals
Please play responsibly. If you or someone you know has a gambling problem and wants help, call 1-800
GAMBLER
.
BetMGM Sportsbook — Check the Signature Bets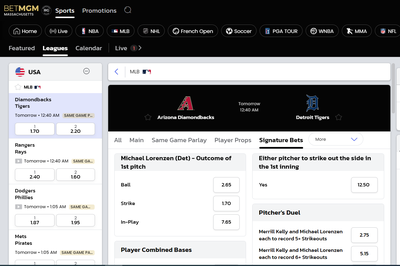 BetMGM, a seasoned player in the sports betting business for over five years now, has been attracting a rapidly growing fanbase across the USA for good reason. It has some of the most competitive odds for all popular sports in the States, including baseball. That is not the main reason this bookie is in our Top 3 Sportsbooks For MLB Betting, though.
This mobile betting platform recognized the needs of MLB sports bettors and came up with their popular Signature Bets available to everyone. On average, there are 12 MLB games daily, and BetMGM Sportsbook covers every encounter with these types of bets.
What are the most popular wagers with Signature Bets, you might ask? The selection ranges from the outcome of the first pitch, the first plate appearance for specific players, pitchers to force a strike out in specific innings, duels of pitchers, and many more. To find the Signature Bets, head to the lobby, select MLB, and click on a specific game.
On top of good coverage and fantastic odds, BetMGM Sportsbook new customers can also take a home run of a bonus with its First Bet Offer. Players will get up to $1000 paid back in bonus bets if their first bet does not land, so if your favorite team lets you down on the first night, there will be bonus funds to back them in the second match as well.
Step up to the plate and create your account or learn all you need to know about the "King of Sports" in our in-depth honest BetMGM Sportsbook Review.
Fan Duel Sportsbook — Check the Futures Section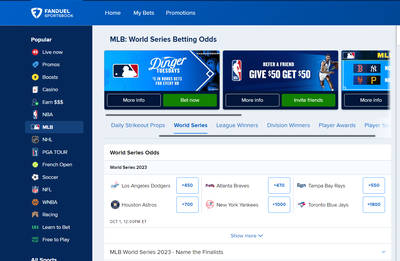 Last but not least is FanDuel US Sportsbook, another excellent stop for sports bettors and MLB enthusiasts.
If you are a fan of daily fantasy sports (DFS), this operator has been crushing the popularity competition for over a decade now, having plenty of daily tournaments for intense baseball action.
FanDuel is one of only a few sportsbooks that offer dozens of futures for the MLB 2023 season, including the World Series & League Winners, Division Winners, Player Awards, and Player Specials.
Its top favorites to win the title at the time of publishing are the Los Angeles Dodgers +450 and the Atlanta Braves +470. You can see the lines for yourself and claim a $1000 No Sweat First Bet welcome package. All new players get a refund of up to $1000 in bonus bets if their first bet does not win — it's a win-win!
Create your account or find out more about this leading bookie in our FanDuel Sportsbook Review.

Last verified: September 2023
Special Signup Offer
Bet $5 & get $100 in Bonus Bets!
Quality mobile app
Variety of betting markets
Same game parlays
Claim Signup Offer
Please play responsibly. If you or someone you know has a gambling problem and wants help, call 1-800
GAMBLER
.
Latest MLB Betting Apps News