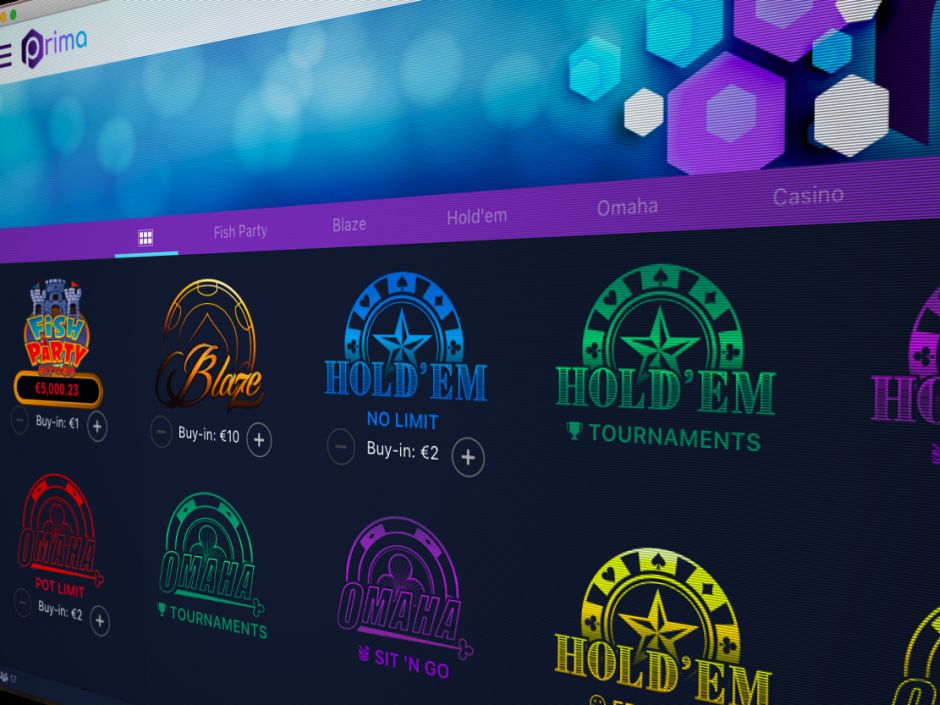 Isle of Man-based online poker software provider, Microgaming launched its new online poker software, Prima, on its MPN network last week.
Prima is the company's biggest software update in its history, and the new client has been redesigned from scratch. What is more impressive is that the entire development of the new client took place in barely more than six months.
"The team has worked really, really hard and has made tons of progress in a short amount of time," said Alex Scott, Head of Product (Network Games) at Microgaming, in an exclusive interview with Poker Industry PRO ahead of the new client launch.
As a result of an aggressive schedule launch, many features that are seen in MPN's classic client have been left out of Prima. Reimplementing all features was simply untenable as it would have delayed the launch, PRO was told. Those features that did not make the cut include chat, tournament lobbies, niche variants like 5 Card Stud, the bad beat jackpot and many others.
On the flip side, MPN has implemented several new features such as a new feedback mechanism, high-resolution graphics table supportable to all kinds of devices, blind lobby, a new hand replayer injected with GIF export feature, and improved loyalty, bonus, and achievements displays.
Try Out The New
MPN
Software on RedKings Today!

Sign Up Today »
Enjoy the New Prima Software Features
Qualify for Exclusive €50,000 Prima Poker Missions promotion
Complete Just 1 Mission to qualify for €30,000 Prima Poker Mission Final on Sep. 9
What's New in Prima
Direct Feedback
Because the first release of the new client is a Minimal Viable Product (MVP), a new feedback mechanism has been implemented into the client which allows players to send their feedback directly to the MPN team. With this system, the operator will know exactly what features players like or don't like, helping them to prioritize further development of potential new features.
"This feedback [system] will be hugely valuable to us in continuing to develop this client," said Scott. "The feedback mechanism will give everybody an equal voice, so we won't just be listening to those who shout the loudest."
At the end of every session, players see a feedback window with two smiley faces denoting a happy and a sad face. Players can also leave a comment if they wish to.
Hi-Res Graphics
Perhaps for the first time, an operator is incorporating 'Ultra High Definition' graphics into its poker client. Ultra HD display allows games to be played at a very high-resolution and is optimized for all supported devices including retina ready screens.
"We even have an Ultra HD mode for people who have retina displays and high definition monitors and so on. It increases the graphical density of the graphics we show so that those on retina displays have the best experience," said Scott.
The operator is also using vector graphics in the new client. This allows both the main lobby and poker tables to be fully resized to any size possible. The old client does not support full-screen gameplay.
New Look Lobby
Most poker clients welcome players by showing them dozens of games that are running in a spreadsheet-style list in the lobby. However, under MPN's Prima, this is no longer the case as players are presented with a more simplified (and easier on the eyes) tile-based view. All the games including a select few casino games are presented in a single grid format where players can jump directly into a game with just a few clicks.
Besides the tile-based default view, players can also browse through the other five primary tabs. Usually, poker clients display cash game, tournaments or sit and gos as their main tabs, but in Prima it is the opposite. Instead, players are presented with Hold'em and Omaha and underneath them comes the option of cash and tournaments. Each of the formats has its own color code. Cash games are represented in red color, sit and gos in purple, and tournaments are marked with green.
The loyalty, bonus and achievements displays have been redesigned and simplified. The new loyalty screen not only shows the players' loyalty point balance but also shows a breakdown of how points have been accrued and spent and how to progress to the next tier.
Blind Lobby
As is becoming the norm in the online poker industry, MPN has also adopted the blind lobby which prevents players from choosing their specific seat and table. Instead, tables are grouped by game type, table size and stake level, and players are automatically moved to an available seat. This eliminates the predatory behavior of seeking out weaker players. In the old client, this system was offered as an alternative group mode view.
"We have killed the list lobby entirely. We've done that primarily to make the experience simpler for people. That was the key driver behind it all. But also to take away some of the issues around angle shooting, and people following the weakest players table to table, and so on."
Hand Replayer
Up until now, MPN never supported a hand replayer on its client—something that is ubiquitous in the online poker industry. In Prima, the new replayer has two innovative features. One is the incorporation of the players' decision timing that records the time taken by each player when the action is on them. Interestingly, the operator used its internal replayer used for fraud investigations as the model for this new feature.
The other innovative feature of the replayer is the option to save an animated GIF of the hand with the idea to allow players to share GIFs on social media. Currently, the functionality allows recording only the last three actions of a given hand. This will be expanded in the future to allow players to capture the major action of the hand.
What Features Have Been Left Out of Prima
Chat
Perhaps the operator's most controversial decision in developing the new client was to drop players ability to interact via Chat–a feature that has prevailed since the inception of online poker. Scott pointed out the downsides of chat asserting that not a lot of people actually chat at the tables and if they do, it is usually filled with insults and abuses. Furthermore, removing the chat feature means that the operator no longer has to moderate it.
Kindred's Unibet has also left out the chat feature in its new software. PokerStars' biggest innovation Power Up has ommited this feature as well.
However, Scott did admit that the feature is in their backlog and could be reincorporated in the future, but its priority will depend on the feedback that they get.
Notes
Another important aspect of online poker is the ability to write notes on players. The new client no longer allows players to take notes or mark them with colors. Such a move has been taken to level the playing field as note-taking is primarily used by advanced players to identify the tendencies of weaker players which they have previously played against. Unibet and Bodog have also removed this feature.
Less Popular Poker Variants
The new client is offering only the most popular poker variants: Hold'em and Omaha. The old client still offers mixed games and draw variants such as 7 Card Stud, 5 Card Stud, Razz, and 5 Card Draw, but these games hardly ever run. As a result, the operator has completely removed these offerings from the new client.
Bad Beat Jackpot and Blazing Cannons
The long ongoing promotion—Bad Beat Jackpot—has not been included in the new client. At the time of writing, the total jackpot is worth over €23,000. Again, the operator will use the feedback mechanism to ascertain its popularity.
Blazing Cannons—one of the few innovations of MPN has also been left out. This mini-game which was incorporated into the fast-fold Blaze tables allowed players to win up to €100 every time a player won 20 raked hands.
Other Features
MPN has left out several other features that had turned out to be unpopular. They include a myriad game filters and bet-slider settings, hand statistics, old table views such as the Arcade, Classic, Mini View, tournament lobbies, and the ability to see mucked cards in the hand history. Furthermore, hand histories are no longer saved in the directory folder, animations have been cut, daily pop-ups and messages have also been taken down.
The new client is available for download from most of the MPN's skins. However, existing players will remain on the old software but will be promoted to try out the new client and participate in the special freerolls running exclusively on Prima.
"By the end of the year, this new Prima client will have significant new features that the old one doesn't have," Scott said. "At that point I want to be really pushing it to players over the old one."