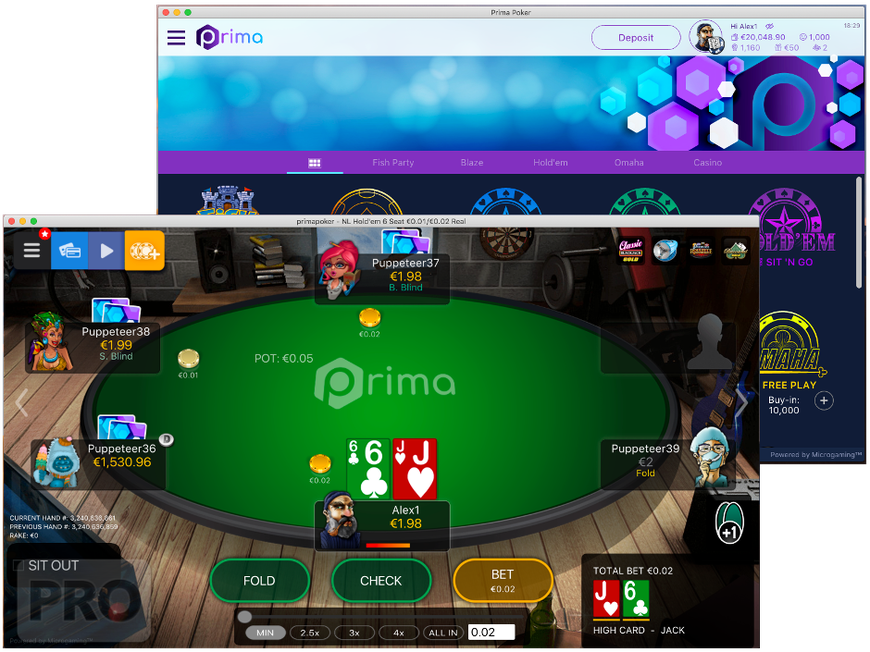 Online poker network MPN is about to make significant changes to its software. The operator will roll out a new platform known as Prima that will be available as a browser-based client as well as a downloadable client for desktop and mobile from July 26.
The new platform will be released to several MPN skins with dozens of new features including a new and improved hand history replayer; player history tool showing player's overall profit and loss; loyalty, bonus, and achievements features; Ultra-HD mode tables and more.
The operator has also implemented a feedback mechanism into the client which will allow players to easily send in their feedback after every session.
Moreover, the lobby will be simplified. It will no longer display the traditional spreadsheet-style list of tables, settings and options traditionally found in online poker lobbies and which present a cluttered experience for the user.
Try Out The New
MPN
Software on RedKings Today!

Sign Up Today »
Enjoy the New Prima Software Features
Qualify for Exclusive €50,000 Prima Poker Missions promotion
Complete Just 1 Mission to qualify for €30,000 Prima Poker Mission Final on Sep. 9
In an exclusive interview with Poker Industry PRO, Alex Scott, Head of Product (Network Games) at Microgaming, talks in details about the company's thoughts, strategy, plans and approach behind the biggest software upgrade in MPN history.
A Replacement for an Outdated Online Poker Experience
Scott describes the current state of MPN's poker product as "an old-fashioned experience" while explaining the need for a complete overhaul of the software. He says the existing poker client is based on a codebase that is approximately 17 years old, has high maintenance costs and is prone to bugs.
Things that were considered secure 15 years ago are no longer safe today, Scott explains. As a result, development cycles are long, modern security practices are harder to implement, and reliability suffers too. Further, he says, MPN had to maintain six separate software clients in the past and almost every client was built using a different codebase, meaning every new software feature had to be developed six times.
"The network's going through a difficult time at the moment," Scott said. "We need to bring back a competitive edge. We need a client that's easier to sell to new customers. We needed to get something out much more quickly."
Paving the Way for Product Innovation and New Features
Scott also goes on to say that his software has not kept pace with its competitors and is far behind in terms of product innovations and new software features.
"We haven't done something innovative for a long time—something genuinely innovative. I think the last thing that I would put in that category would be Fish Party"—MPN's take on the lottery sit and go, with a unique progressive jackpot—"we were first to market with that. But really, we've not had a strong track record of innovation in the last couple of years. I want that to change."
"The only way we're really going to do that is if we're developing as efficiently as we can. This new client lets us do that. Instead of building things twice, programming in two different languages and frameworks, we can do it once," he said.
Simply speaking, Microgaming did not think it was wise to maintain multiple apps for poker. A single codebase was the only viable way and hence Prima was born.
Starting with the Essential Online Poker Features
The first release of Prima will not include every feature that is in MPN's existing desktop clients in order to facilitate a quicker launch, PRO was told.
"Our approach … has been to take the features we knew were high value from the download client, and implement them [in Prima]," said Scott. "We knew we couldn't implement every feature that was in our existing download clients in an acceptable amount of time," he added.
The new platform will be rolled out across the web, desktop, and mobile and it is expected that most of the MPN skins including RedKings, RedStar, Guts and a trio of Betsson skins-Betsafe, Nordicbet, and Betsson will adopt Prima.
In most situations, both the existing client and the new poker software will be offered in tandem as some of the kinks are worked out.
"We're trying to strike a balance," Scott stated. "We need enough people to try it out so that we can start learning about what works and what doesn't.
Players on the existing software will receive in-client notification to try out Prima.
Furthermore, Scott points out that each version of the client (desktop, mobile and web) will be built from the same codebase which will allow the developers to introduce new features and fixes much quicker.
Simply put, the company is aiming to give its players a smoother and faster poker experience through Prima.
Prima represents MPN's ambition to reclaim its position among the elite in the industry: A fresh start, using modern technology that aims not just to equal rivals, but to surpass them.