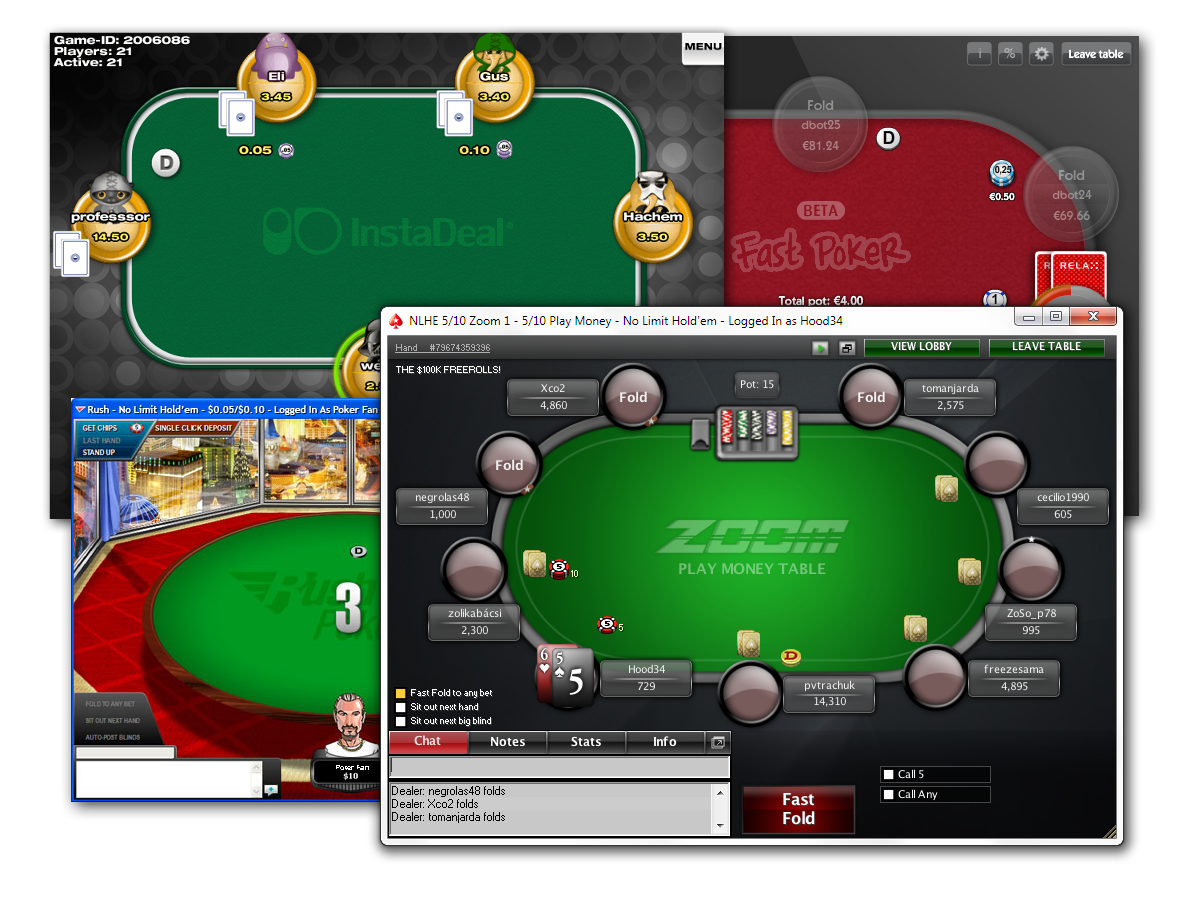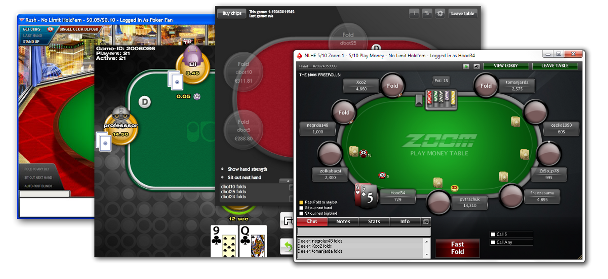 It was back in early 2010 when Full Tilt debuted its new twist to online poker: the patent-pending Rush Poker. Although it had its critics, it gained a lot of popularity among players: It offered a change of pace to normal poker, reducing waiting time between hands and giving the whole experience a more action-orientated, arcade feel.
Yet despite the opportunity for new game formats, its popularity among players and its natural fit for casual and mobile gaming, Full Tilt enjoyed almost all of 2010 without a single competitor to the fast-fold throne.
It could have been slow software development cycles, legal concern over the patent, or a lack of vision among competitors, but only now are we starting to see real efforts to develop, promote and compete in the fast-fold space.
Today, over two years since its inception and nine months since Full Tilt went offline, players now have three choices available to them: they can play on one of two small fast fold-only networks, or play on PokerStars' already immensely-popular Zoom.
Which offers the best game-play experience? Read on.
---
InstaDeal (seen on Terminal Poker, PokerTube)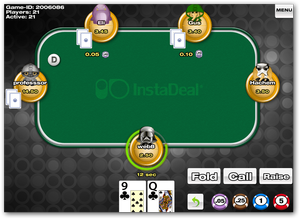 InstaDeal was the first software provider to offer a real money Rush Poker competitor, soft-launching back in late 2010 with flagship Terminal Poker, and later expanding with white-label skins on video site PokerTube and Poker Portal Vegas365.
The network was the first of its kind to offer exclusively fast-fold style poker. Only Hold'em games are offered, and only at low stakes: from €0.02/0.05 up to €0.5/1.
Independent industry tracker PokerScout, who has been publishing self-reported InstaDeal traffic since early 2012, shows small but consistent player numbers, with around 30 active players and 80 at peak times.
For normal poker networks, low liquidity like this would offer a frustrating player experience and would be a self-imposing barrier to growth: It would be hard to get games started, recreational players would either have to wait to play or join heads-up or short-handed tables.
The fast-fold format largely solves the chicken-and-egg liquidity issue. With sensible restrictions on the games and stakes offered, action on Instadeal is consistent, and at least nano-stakes games around the clock.
One draw to Instadeal is the extensive platform support: There are dedicated clients for PC and Mac, and an HTML5 mobile client that supports iPhone, iPad and Android and mobile devices.
But the player experience on both desktop and mobile is clunky. The table graphics are much less visually appealing than competitors both past and present. Although desktop clients are offered, they are more of an after-thought and are presented in the same way as the HTML5 browser client.
Coded to the lowest-common denominator, the overly-simplistic layout which may be more appropriate for low-resolution devices is a frustration on desktop machines. And even on touch-screen displays, the very wide bet slider is tricky to use.
InstaDeal is developed by Elec Gaming. The Maltese company also owns and operates Terminal Poker in accordance with Costa Rican law.
---
Fast Poker from Relax Gaming (Seen on Unibet and iGame)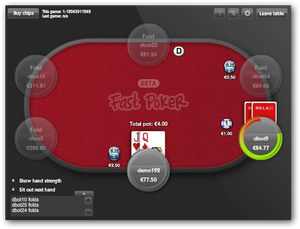 The new kid on the block is Fast Poker, developed by Maltese Relax Gaming and licensed in Alderney. Like InstaDeal, Fast Poker is a new fast fold-only poker network, and Relax is looking to sign up existing operators to offer Fast Poker to its customer base as an alternative to its traditional poker and other online gaming offerings.
The first site went live in March 2012 on Unibet which already operates a poker room on the Microgaming Network and has positioned Fast Poker to sit alongside its other online offerings. The system is integrated to allow players to transfer their funds between each platform. A second skin on new start-up iGame.com went live in mid April. iGame offers traditional poker on IGT/Entraction.
As for the player experience, an Adobe Air-based client that allows for both browser and download client is currently available. It offers an attractive, fluid game play that is fun to play across platforms.
The tables are simple and functional: It uses a separate "fast fold" button, and also offers 1/4, 1/2, 3/4 and Pot bet sizing buttons above the slider bar. A radio button option allows players to choose to display their hand strength on the table. Low stakes Hold'em and Omaha are currently on offer.
Although there was early interest in Fast Poker when it first went live on Unibet, it has since struggled to gain much traction. When we checked, there was often only one small-stakes pool going with twelve people. According to play reports, existing rakeback deals do not apply to Fast Poker, so with little incentive to try it out it has been hard to convince existing customers to give it a try.
According to earlier PR, Fast Poker will also go live on Betsson soon, which may give the network the much needed boost to get games running around the clock.
---
PokerStars Zoom Poker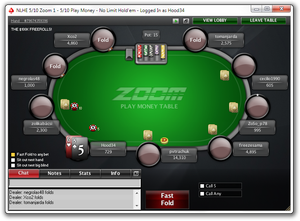 Of course, the major success has been Zoom Poker, PokerStars' fast-fold offering that hit the real money tables in March 2012. It still has the "beta" moniker, but it is now spread across more than half a dozen stakes, across multiple game types.
Incredibly, Zoom tables already represent 50% of all cash game hands played on PokerStars—that means a staggering 25% of all cash hands played on the internet are played on PokerStars Zoom Poker tables. Not too bad for a product launched one month ago and still in "beta."
The player experience is very similar to Full Tilt's original. The Zoom tab in the main lobby takes you to a new lobby which lists the game types and player pools available. No Limit and Limit Hold'em, Pot Limit Omaha and 5 Card Draw games are currently offered at stakes from 1c/2c to $2.50/$5.
On joining a pool you are offered the option to decide how many tables you want to play up to a maximum of 4. If you are in the blinds and fold, you are instantly moved to a new table but the other players do not see that you have moved until the action moves to your player.
Tables seem to be much tighter than standard but blind stealing is relentless. Even at the lowest stakes players seem to have adjusted and are defending their blinds much more widely.
---
Zoom has been a big success in terms of raw numbers, and we can expect other networks to develop similar offerings: PartyPoker, the second largest network of players, is expected to have their own fast-fold game by years' end.
But the question remains whether it will bring new players to online poker or, if nothing else, it successfully draws action away from competitors. Early data suggests that the rise of Zoom Poker on PokerStars has done little to improve cash game figures on the site as a whole, with cash game numbers dropping to balance the traffic at Zoom tables. The major networks will want their own fast-fold games, if just to prevent the loss of action to competitors, but the question remains whether it will boost the industry as a whole.
There is still a lot of potential opportunities to use the new format. Mobile gaming is still largely untapped, and fast-fold is the perfect fit. It should appeal to casual gamers. Early signs suggest PokerStars Mobile is a success among players, and we can expect Zoom to launch there soon.
We have also yet to see anyone replicate Rush Tournaments, also a favorite on Full Tilt Poker. The format can apply to both scheduled MTTs and multi-table SNGs.
But the format brings more radical possibilities. What about fast-fold only at high stakes? Or fast-fold rotations only on heads-up tables. A complete switch over to Zoom Poker has been a regular suggestion among Limit Hold'em players as a solution to a game rife with predatorial game selection and little action.
Which of the three offerings should today's poker player try? All three games are fundamentally the same. Other than a few differences in the buttons used to control folding and betting, your only real decision is based on the games and stakes you want to play.