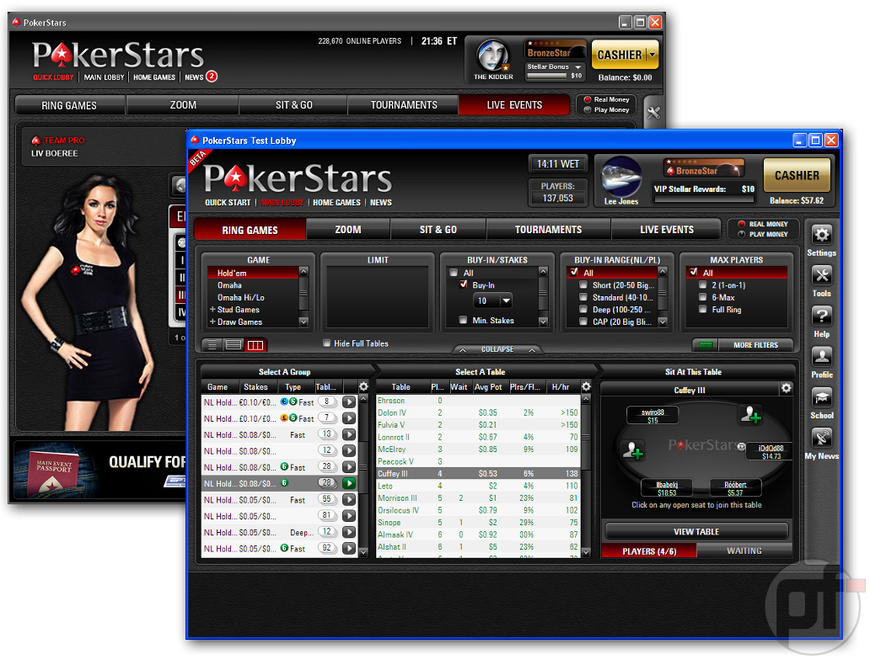 For the first time ever, PokerStars is planning to release a brand new desktop client, redesigned from scratch.
Gone are the myriad of menus, 3-layers of tabs and scrolling news banners; say hello to "PokerStars 7," the sleek, simplified poker lobby. Most features from the classic client have been rethought and redesigned, and new additions both bring it into step with competing poker rooms, and bring new innovations to the table.
The new lobby has been in the works for some time. The public and press had a first glimpse at the PokerStars VIP Club Live party at the London Film Museum last Saturday, with a 15 minute presentation and demo. All attendees at the event were also added to the list of private beta testers, which will commence in the next few weeks.
One aspect stressed during the 15-minute presentation was a focus on simplifying the experience for new players. The sign-up process has been reworked to make it much simpler and faster to start playing a play-money table. Similar to competing poker rooms, PokerStars 7 also offers a "Quick Start" lobby view for quicker and simpler seating in favorite games.
In general, there's an emphasis away from popup windows. Lobby filters are now integrated directly into the client window above the table list, making it more akin to Full Tilt Poker's client, although there does not seem to be a way to save favorite filters, a popular feature FTP software.
Along with the standard long list of tables, PokerStars 7 also ships with 2 new ways of displaying tables in the lobby. One is similar to the table grouping feature that is currently in beta-testing in the main client: Tables are grouped by stake level and table type, with a "seat me" button to sit at the table in the group with the most players.
The third option, shown in the screenshot, offers a three-panel view. It features table groups, list of tables in that group, plus a mini–view of the selected table. This allows you to preview the action and take a seat without leaving the main client.
Another section completely reworked in the lobby are Live Events. Via a tab on the main lobby page, players will be able to register for PokerStars sponsored events in brick-and-mortar casinos. By clicking the GPS button players will be able to add their favorite destinations to the lobby view to keep up-to-date with events near them.
PokerStars stressed during the demo was alpha quality, and features can still be expected to change. The closed beta-testing is expected to start in the next few weeks. Once that begins we should be able to preview more. Until then, you can check out the screenshots below (click for high resolution).