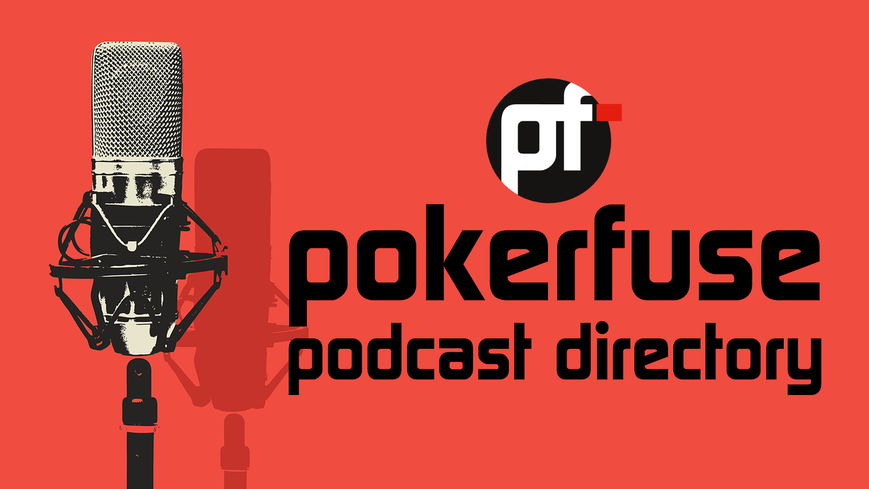 Episode 169 – Bringing Home The Hardware
Welcome to Episode 169! In this episode, MTT Coach Gareth James and Peak Performance Mindset Coach Dr. Tricia Cardner are back discussing all things poker strategy & mindset. In this episode, we talked about Gareth's recent trip to play live poker. Then we answered a listener question about hand ranges for the final table/stages of a tournament.Topics discussed include: * An update on the events Gareth played and the one he won at the Dublin Poker Festival* Why final tables are unique and what this means for our starting ranges* How risk premiums affect play* Ways to study for and improve final table playWant us to answer your poker question?
View the complete archives of Poker On The Mind in the directory →
---
Global Poker Award Winners & Guest Preston McEwen Talks
WSOPC

Success

On the latest PokerNews Podcast episode of 2023, Chad Holloway, Jesse Fullen, and Connor Richards breakdown all the Global Poker Award winners, reveal that the PokerNews Cup will be returning to the Golden Nugget's 2023 Grand Poker Series, and offer some highlights from the 2023 Wynn Millions. They also welcome guest Preston McEwen to the show. He's been a force to be reckoned with on the World Series of Poker (WSOP) Circuit having won five gold rings in the past two years. He's also fresh off making four final tables in four days at the WSOPC Harrah's Cherokee stop. Find out what's led to all his success here. Finally, they recap two RunGood Poker Series (RGPS) stops and get into the recently-revealed PokerStars USA SCOOP schedule for players in New Jersey, Michigan, and Pennsylvania.  Listen to those stories and more on the latest episode of the PokerNews Podcast!

View the complete archives of PokerNews Podcast in the directory →
---
Chapter 1 Ep. 8 Int'l Women's Day
This week we talk a little Poker Controversy, and celebrate International Women's Day with a new arrival and a one-outer.
View the complete archives of Ante Up! Pokercast in the directory →
---
March 10, 2023 – Should Ali Imsirovic be banned from everything forever?
Clayton Fletcher looks at Daniel Negreanu's recent tweets about disgraced former poker golden child Ali Imsirovic. Then, he dissects several listener hands submitted via the TPE discord.—-Join the Tournament Poker Edge discord channel:https://t.co/JHEUIHrCrJ——Play on ACR using the promo code TPE for a 100% first-time deposit bonus up to $2,000.00 USD:  https://bit.ly/2Wvb6Vb
View the complete archives of The Tournament Poker Edge Podcast in the directory →
---
#49 Philosophical Friday: Dr Michael J. Whitman: Poker and Sports Psychology
This week Peter and Duncan have the pleasure to talk to clinical and sports psychologist Dr. Micheal J. Whitman who adds incredible insight on a variety of poker and sports related topics such as: competition, disruptive behavior, dealing with downswings/adversity, growth and many others.Dr Michael has been practicing psychotherapy for over 20 years (https://www.drmichaelwhitman.com/).When he is not working with patients or playing poker, he is busy writing about the psychological aspects of Tennis (https://www.amazon.com/Psychological-Analysis-Tennis-Michael-Whitman/dp/1662905661).He is also running the highly rated podcast: The shrink in Beverly Hills (https://podcasts.apple.com/us/podcast/the-shrink-in-beverly-hills-podcast/id1392797526).
View the complete archives of Chasing Poker Greatness in the directory →
---
Poker Fraud Alert Radio – 03/09/2023 – The Silent Majority
This is a "partial show" to be finished later, but is being presented as a separate episode. Most of the show involves updates on the Jami Lafay Daniels Gofundme situation… Topic begins at (0:06:58) mark: Recap of the Jami Lafay Gofundme scandal, up until the prior episode on 2/23…. (0:24:53): Gofundme donations essentially die off after people take a hard look at the dishonest claims in the campaign…. (0:40:17): Jami publicly posts communications with her doctor supposedly verifying her cancer, but are they real?.... (1:06:32): Jami's "sister" posts two weird updates on the Gofundme, deletes them, and then her boyfriend posts an update of his own…. (1:27:13): Why have almost all prominent poker players, both male and female, been so quiet on this entire matter?.... (1:45:02): Gofundme clears Jami to receive payment, and she claims vindication, but does this really mean anything?.... (1:51:26): Jami's boyfriend Dan Chen puts out a short video to verify he's real…. (2:01:12): Interview with Luke "Slaydog" Vrabel, who was an ally of Druff's in calling out this situation…. (2:47:27): Druffytime Theater: Druff went to Horseshoe Las Vegas cashier to get a $5 bill for some loose change — and it turned into a ridiculous ordeal…. (3:14:24): Bryan Sagbigsal's Hustler Casino Live "tell all documentary" has been a dud so far, and the opening voice narrating it might surprise you.
View the complete archives of Poker Fraud Alert in the directory →
---
Donnie Can't Beat Jennifer Tilly and a Guy Called "Moose"
Donnie Peters and Tim Duckworth return for a new episode of the PokerGO Podcast. On this show, they two discuss who won awards at the Global Poker Awards, three high roller winners from the Wynn Millions series, a tweet from Daniel Negreanu that generated some buzz, and Donnie's inability to beat Jennifer Tilly and "Moose" in a charity poker event.
View the complete archives of Poker Central Podcast in the directory →
---
Do This
BEFORE

You Play Poker Again #432

Get More From PokerTracker 4 Course: https://www.smartpokerstudy.com/GetMoreFromPT4 Show Notes: https://www.SmartPokerStudy.com/pod432 The Poker Forge – #1 Microstakes Online Poker Training Site: https://www.ThePokerForge.com Smart HUD for PokerTracker 4: https://www.SmartPokerStudy.com/SmartHUD  PokerTracker 4: https://www.smartpokerstudy.com/pokertracker4 Books on Amazon: https://amzn.to/2NrKcqv 

View the complete archives of Smart Poker Study Podcast in the directory →
---
CardsChat with Veronica Brill
On episode #116 of the CardsChat podcast we have the pleasure of welcoming a truly multinational poker personality. This Canadian was raised in Poland and now often finds herself presenting and playing poker in the United States. With a notorious history of doing the right thing, she's taken the poker world by storm in recent years and been at the forefront of some of the game's biggest stories. But who is the woman herself? We're talking of course about Veronica Brill, and it's time we get to know her a little better.
View the complete archives of Cards Chat in the directory →
---
Ep 181 – Southern Poker
CRUSHER

Jared Ingels + Mintzy News and Hand History +

FULL

WSOP?!?

Welcome back! On today's show we are joined by Southern poker crusher/Ben Mintz's best friend Jared Ingels. Jared has been on quite a heater recently, with over $500k in live scores in the last few months. He also told us the story of how he had 90% of his net worth on Full Tilt when Black Friday hit and shares how he survived. We also have a Mintzy life update and Nate is inching closer to the entire WSOP out in Vegas. Enjoy!You can find every episode of this show on Apple Podcasts, Spotify or YouTube. Prime Members can listen ad-free on Amazon Music. For more, visit barstool.link/crackingaaces

View the complete archives of Cracking Aces in the directory →
---
#116 Tactical Tuesday: How to Find Bluffs in Your Opponent's Range & When to Invent Some of Your Own
When you're in the midst of a bit of a downswing, well, nobody ever got out of it by folding, did they? That's where Jon's head is at the week as he tries to pry victory from the jaws of negative variance by considering a big call with a great bluff catcher in one instance, and then deciding to turn yet another pair into a bluff in another. Welcome to Tactical Tuesday 116 on YouTube dot com, friends.The first poker hand we have for your review comes from the streets of 1000NL and finds Jon with Pocket Jays on the button against a decidedly aggressive bad guy in the cutoff. I wonder if we will end up playing for stacks? But can we find literally any bluffs here if villain jams all-in?Our next No Limit Texas Hold Them hand is from the blood-stained 5/10/20 live streets of Las Vegas. Jon decides to open Qd8d on the button 8-handed. Not sure why this ends up being a massive pot, but I stopped trying to figure this out a couple years back. Let's just watch how much money gets risked and go from there.
View the complete archives of Chasing Poker Greatness in the directory →