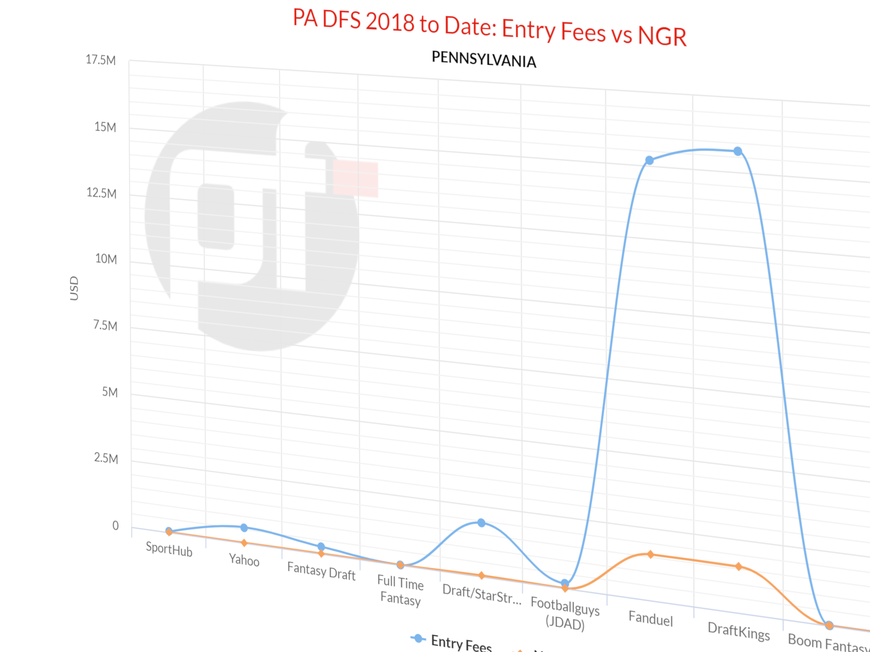 Players in Pennsylvania have been able to take part in regulated fantasy sports betting for the past three months. In that time, players have spent $40 million on entering Daily Fantasy Sports (DFS) contests with almost $500,000 of that going straight to the state in taxes.
Of the $40 million spent on entry fees since May, $30.5 million has been returned to players in contest winnings or via promotions and rewards.
In July DFS operators in Pennsylvania collected $9.45 million in entry fees and $878k in net gaming revenue.
So, with the Pennsylvania Gaming Control Board (PGCB) now releasing financial information each month on how the market is performing, we can dig deeper into what the numbers actually mean.
Memory Refresh: Go Live Date
Regulated fantasy sports contests first became available to players in Pennsylvania in May, marking a new revenue stream for the state through the taxation of entry fees.
Prior to the launch, six operators submitted Fantasy Sports Operator applications that were approved by the PGCB—all of whom are paying a 15% tax on entry fees collected from players in the state.
"Pennsylvania residents that enter Fantasy Sports Contests can know that they are participating in a fair playing environment and assured that each licensed operator meets standards set out in the law and regulated by the Gaming Control Board," Kevin O'Toole PGCB Executive Director said at the time.
FanDuel and DraftKings Battle for the Lead
There has always been a fair amount of competition between the two leading DFS operators (DraftKings and FanDuel} in the overall US market, and it is no different in the state of Pennsylvania.
When the market first launched, FanDuel led the race making $673k in revenue with DraftKings slightly trailing at $632k. However, for the past two months DraftKings has led the market, generating $511k in revenue in June and $437k in July. FanDuel has certainly been keeping it close for the last two months as they $490k in June and $427k in July. For the year, FanDuel maintains a slight lead in total revenue.
Other Operators Are Taking Entry Fees – They're Just Not Making Any Money
The clear third place operator, at least in terms of revenue, remains Draft.com, generating $8760 in July. In addition, Draft.com had an outlier of a month back in June when it reported that $1.6 million in entry fees were collected; which works out to be ten times bigger than what they collect in both May and July.
A notable mention goes to Yahoo who collected $184k in fees in July but revenue was a mere $1600. This is because, unlike FanDuel and DraftKings, Yahoo returned practically all fees back to players via contest wins, or by way of promotions. In June the company reported a loss.
Presumably Yahoo's tactic here to build goodwill among its customers and capture market share in a market dominated by the big two.
With the above statistics in mind it is no surprise that FanDuel and DraftKings make up 98% of all DFS revenue within the state.
Half A Million Dollars Paid To The Taxman
Thanks to the 15% tax on entry fees payable by operators, the state of Pennsylvania has been paid almost $500,000 since May.
What Else is Happening in PA at the Moment?
Things are heating up for wider sports betting, online poker and online casino offerings in the state.
The World Series of Poker online poker brand (WSOP.com)looks set to enter the Pennsylvania market thanks to its parent company Caesars Interactive Entertainment (CIE) working with Harrah's Casino Philadelphia.
Interactive Gaming Certificates, which allow for online poker and casino games to be offered to people within the state of Pennsylvania were also issued to Parx Casino and Mount Airy Casino.
All three casinos can move forward with bringing their online gaming products to market.
It was Mount Airy Casino that issued a press release just before receiving its Interactive Gaming Certificate to announce its partnership with PokerStars, stating that they will offer a full complement of online gaming products to players within the state.