New Jersey Online Poker Revenues Continue Downward Trend in June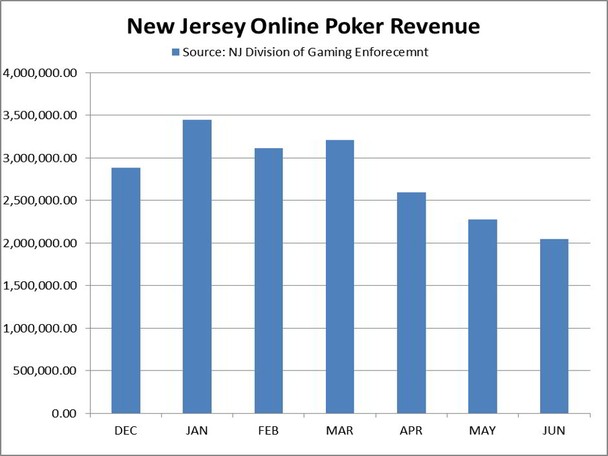 Figures released Monday by the New Jersey Division of Gambling Enforcement (DGE) point to a third consecutive month of revenue declines for online poker in the state.
The three regulated online poker operators in New Jersey took in $2,048,082 during June—which is 9.92% less than in May of this year. With June having one less day than May, the daily revenues reflect a slightly softer decrease of 6.92%.
The latest numbers represent a 36.21% drop in New Jersey online poker revenue over the past three months. Seasonal trends and the 2014 World Series of Poker action in Las Vegas have contributed to the slide.
Overall, internet gaming in New Jersey declined 9.17% from $10.47 million in May to $9.51 million in June.
Revenues Per Operator
Once again, the partnership of Borgata/partypoker raked in the most in online poker revenue for the month with a total of $1,075,293. However, that is nearly 10.9% less than May figures for the state's leading internet poker operator.
Revenue for the team of WSOP.com and 888 was also down. The duo lost 8.25% of its internet poker revenue stream in June—down $84,792 to $942,369.
Ultimate Poker lost another 24.38% of its dwindling online poker revenues. The site's income from the virtual card game was $30,420 in June—down $9,810 from May numbers.
Market Share
Borgata/partypoker saw a slight loss in its market share in June, but despite its 0.55% shrinkage, it still retained the majority of online poker revenue in New Jersey with 52.50%.
WSOP and 888 picked increased its share of the overall New Jersey internet poker market by 0.83% to 46.01%.
Ultimate Poker decreased its share from 1.9% to 1.24% and has lost approximately 70% of its monthly online poker revenue since March.
New Jersey Online Gaming Accounts
The New Jersey DGE stated Monday that total online gaming accounts in the state rose another 7.81% last month to 378,564—an increase of 27,428 new accounts.