Delaware online poker revenues slipped drastically during the month of June—falling an unprecedented 55.4% to $25,607, according to the latest figures released by the Delaware Lottery.
The figures are $31,863 less than the $57,470 total revenue posted in May.
June presented the lowest monthly online poker revenue performance for the state since it entered a regulatory environment.
All three licensed racinos in the state—Delaware Park, Dover Downs and Harrington Gaming—experienced sharp declines for the month driven by the seasonal down trend in online poker and the migration of players to Las Vegas for the 2014 World Series of Poker.
Delaware Park retained its 62% market share of online poker revenues in the state, while Dover Downs lost 2 share points to 30%. Harrington increased its share to 8% for June.
The amount wagered at online table games in Delaware for the month of June fell for the first time in four months. The $1.4 million wagering skid represented a 15.8% drop off from the previous month's record high.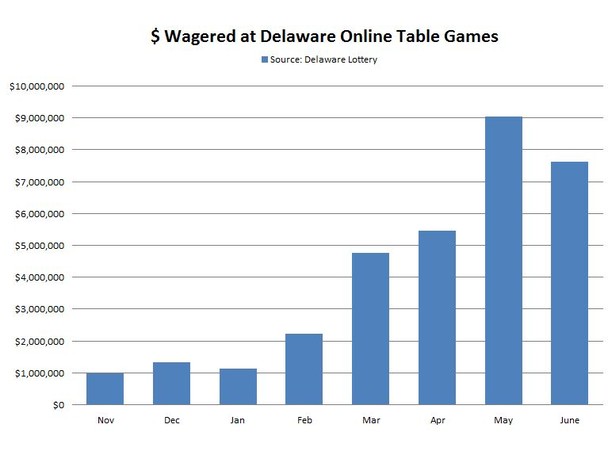 Total igaming revenues were a positive note for the licensed Delaware market with an increase of 7% to $187,944—up from the May total of $175,602.
New account sign-ups also saw an increase during June with an improvement from 342 in May to 399 last month—a jump of 16.7%.