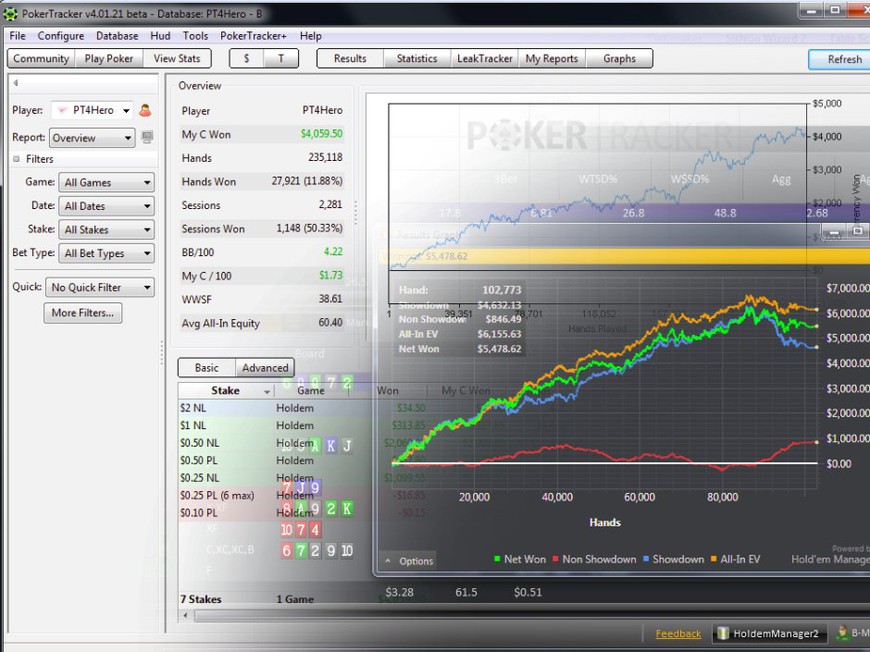 The two industry-leading poker analysis tools, Poker Tracker (PT) and Hold'em Manager (HEM), have agreed to merge into one business.
Both companies produce a database-driven software suite of tools for online poker players to help while playing and aid in hand analysis.
The two products will continue to be offered in parallel. The companies state that they are "committed to maintaining and supporting both product lines going forward," according to a press release issued on Thursday.
Staff, management, intellectual property and other resources will be combined under the merged company.
"Our customers are better positioned today and into the future because of the combined experience of the two teams in developing and supporting software for online poker players," a statement from PokerTracker reads.
It added that the "increased ability to reinvest in the innovation and improvements in the most popular online poker software brands in the world today" would bring an added benefit to customers.
Plans Unchanged
Players should see minimal immediate changes, although customer support teams will in time, be cross trained to support both products.
The plans for a launch of the next generation of tools—PT5 and HM3—have not been changed, and there are no plans to increase prices.
The merger is expected to provide additional resources to develop the Cloud platform which will be available soon to both Poker Tracker and HEM customers.
Competitors
Poker Tracker was the early market leader in the poker tracker market. Its database and Head up Display gave early users fast and easy access to information that they could use to improve their poker game both at the tables and in private study.
Poker Tracker celebrated its 10th anniversary in 2011. HEM launched in 2007, but rapidly displaced the market leader until it launched its third version of the software PT3.
The current PT4—launched on the 10th anniversary—and HEM are considered to be equally powerful tools, with the choice between them being largely one of personal preference.
The merger appears to remove the competition which spurred both brands to such rapid improvement. Poker Office is a well established alternative that has not managed to achieve the same level of popularity as the market leaders—this may be an opportunity for it to up its game.