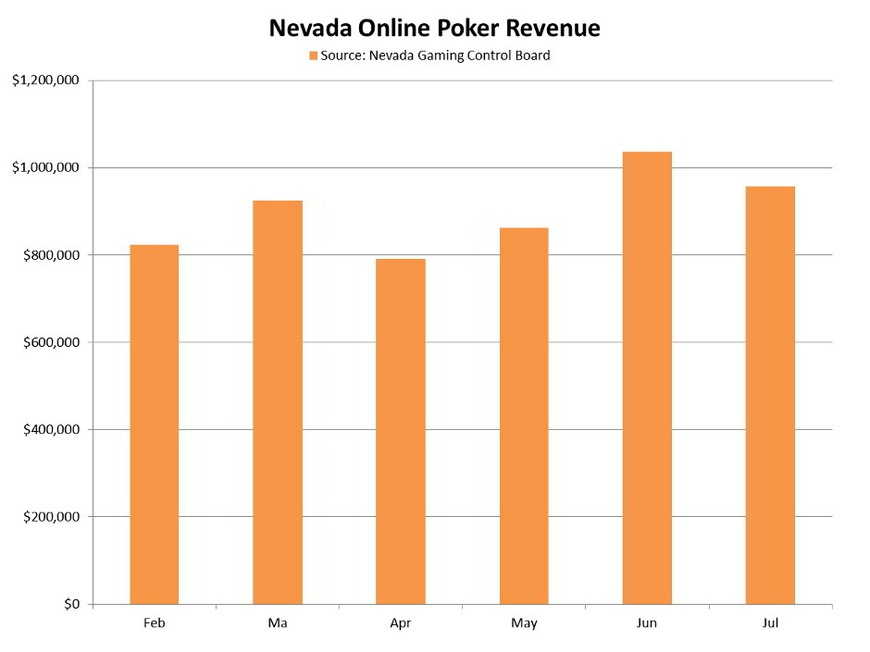 Though July did not live up to the record-breaking month that online poker operators saw in June, the $958,000 in revenue posted in July marks the second highest revenue figures on the books since the Nevada Gaming Control Board began releasing the numbers in February.
Due in large part to the World Series of Poker, revenues from online poker topped the $1 million mark in June for the first time. With July only benefiting from the WSOP effect for half its month, revenues were sure to be down.
July monthly revenues were down a total of 7.62% from June. As a result of the extra day in July, the daily revenue take was down almost 11%.
The Breakdown
Nevada currently has three online poker sites operating in the state: WSOP.com, Ultimate Poker and South Point's Real Gaming.
Though the Nevada regulator does not break out the numbers for individual sites, data presented on pokerfuse PRO and provided by PokerScout show that much of the decline can be attributed to the market leader WSOP.com.
The 30 day moving average for the month shows Ultimate Poker's cash game traffic holding steady by ending the month with the same number of players with which it began.
WSOP.com's cash game traffic ended the month down 7% with a noticeable drop off beginning just as it's live summer poker Festival was ending on July 15.
Real Gaming, still in beta, has a negligible amount of traffic.
As we head into the fall and winter months—traditionally a high period for online poker globally—it will be interesting to see if the Nevada market follow suit.
The upcoming addition of an 888 branded online poker room and the Treasure Island branded poker room that will share liquidity with WSOP.com on the All American Poker Network (AAPN) will likely boost traffic and revenue to record levels in Nevada.
The implementation of interstate liquidity sharing between the AAPN sites in Nevada and Delaware should also send revenues and traffic to uncharted territory in both states.