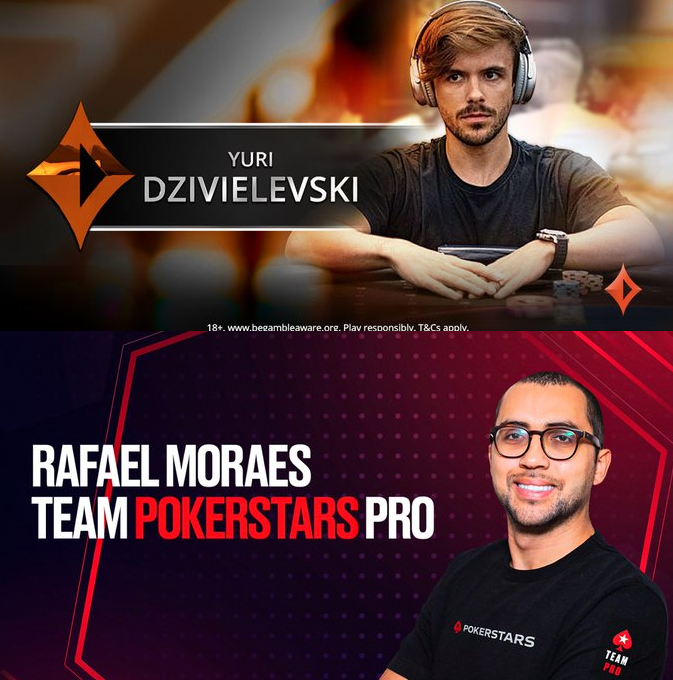 Ask someone for the most successful online poker nations over the years, and they will likely say the United States, Canada, Russia, Germany, maybe a Scandinavian country.
But this year has been dominated by another country entirely: Brazil. They easily lead our country rankings of the GG WSOP Online bracelet series, and two have made it to the final table of the Main Event. Eight out of the top 20 on the Pocket Fives global rankings are from Brazil—and that includes the top two spots.
Online poker operators are taking notice, with fresh new signings coming just this month.
For a while, online poker sites have identified the country as one of their core markets. PokerStars, GGPoker and partypoker have at least one Brazilian poker pro on their team roster. And two big name online and live poker grinders have joined the ranks recently.
Yuri Martins Dzivielevski is widely regarded as one of the best poker players in the country and has numerous accolades to his name already. He won his fifth World Championship of Online Poker (WCOOP) recently and has also collected two WSOP bracelets.
The former musician usually hits the right tone when he is deep in tournaments and cashed for more than $14 million online. As a matter of fact, he is currently listed in first place on the global Pocket Fives rankings.
On September 1, Dzivielevski was announced as the newest team pro for partypoker. He joins fellow Brazilians Joao Simao and Day Kotoviezy, who also represents the brand as well.
The very same day also brought more online poker sponsorship news, as Rafael Moraes was announced as a PokerStars ambassador. He regularly participates in high-stakes competitions and has cashed for more than $6.1 million online. On the live poker circuit, Moraes has cashed for more than $1.6 million and sits in seventh place on the all-time money list of his country.
His wife Laurie "LaliTournier" Tournier then earned the bragging rights in the family when she earned her first WCOOP title in WCOOP 47-M: $109 NLHE [Heads-Up] a mere 24 hours after Moraes started representing the red spade. Tournier is a poker pro as well and streams for eSports brand FURIA, a project led by PokerStars ambassador Andre Akkari.
Eight Brazilians are currently listed in the top 20 of the Pocket Fives online poker rankings and they have certainly been crushing the competition as of late. Six players from the South American powerhouse nation have won a bracelet during the international 2021 WSOP Online Bracelet Events on GGPoker.
No other country has more than three victories during the series and it seems all but a lock that they will claim the top spot in the country ranking at the end of the festival.
With 27 out of the 33 gold bracelet events completed and the Main Event final table reached, the festival has accumulated almost $80.5 million in prize money. More than 96,000 entries have been recorded across these tournaments and another six are to come before the conclusion of the festival on September 12.
GG

WSOP

2021 Online Bracelet Events – First 28 Events Summary
International Leg
2021

WSOP

Online
Tournaments Completed
27/33
Tournament Registration Concluded
28/33
Prize Money Generated
$80,491,336
Average Prize Money Per Event
$3,499,623
Total Buy-In
$81,406
Average Buy-In
$2,907
Total Entries
96,766
Average Entries
3,456
Unique Entries
68,906 (75.44%)
Re-Entries
23,768 (24.56%)
Freezeout Tournaments
3/28
Rake Collected
$3,822,746
Admin Fee Collected
$569,464
One of the next chances for a Brazilian to claim a coveted gold bracelet awaits in the $5,000 Main Event. Two of the nine finalists are from Brazil and will battle for the top prize of more than $2.5 million. The live-streamed final table will conclude on Saturday, September 11.
Players from 16 different countries have won a gold bracelet and

Brazil is atop the overall ranking with six triumphs and 11 medals in total. They can theoretically still be toppled by

Poland, who also have one contender on the Main Event final table and boast three gold bracelets during the series so far.
Another four countries have had multiple bracelet winners including

Russia,

Italy, the

United States, and

Greece.
2021

WSOP

Online International Leg Ranking after 27/33 Events
| Rank | Flag | Country | Gold | Silver | Bronze | Total |
| --- | --- | --- | --- | --- | --- | --- |
| 1 | | Brazil | 6 | 3 | 2 | 11 |
| 2 | | Poland | 3 | | 1 | 4 |
| 3 | | Russia | 2 | 3 | | 5 |
| 4 | | Italy | 2 | 1 | | 3 |
| 5 | | United States | 2 | | 1 | 3 |
| 6 | | Greece | 2 | | | 2 |
| 7 | | Israel | 1 | 1 | 4 | 6 |
| 8 | | Finland | 1 | 1 | 2 | 4 |
| 9 | | Portugal | 1 | 1 | 1 | 3 |
| 10 | | Hungary | 1 | 1 | | 2 |
| 10 | | Romania | 1 | 1 | | 2 |
| 12 | | South Korea | 1 | | 1 | 2 |
| 13 | | France | 1 | | | 1 |
| 13 | | Germany | 1 | | | 1 |
| 13 | | Lithuania | 1 | | | 1 |
| 13 | | Ukraine | 1 | | | 1 |
| 17 | | China | | 4 | 3 | 7 |
| 18 | | Austria | | 1 | 2 | 3 |
| 19 | | Australia | | 1 | 1 | 2 |
| 19 | | Canada | | 1 | 1 | 2 |
| 19 | | Taiwan | | 1 | 1 | 2 |
| 19 | | Uruguay | | 1 | 1 | 2 |
| 23 | | Hong Kong | | 1 | | 1 |
| 23 | | Japan | | 1 | | 1 |
| 23 | | Latvia | | 1 | | 1 |
| 23 | | Norway | | 1 | | 1 |
| 23 | | United Kingdom | | 1 | | 1 |
| 23 | | Vietnam | | 1 | | 1 |
| 29 | | Belgium | | | 1 | 1 |
| 29 | | Cyprus | | | 1 | 1 |
| 29 | | India | | | 1 | 1 |
| 29 | | Montenegro | | | 1 | 1 |
| 29 | | Switzerland | | | 1 | 1 |