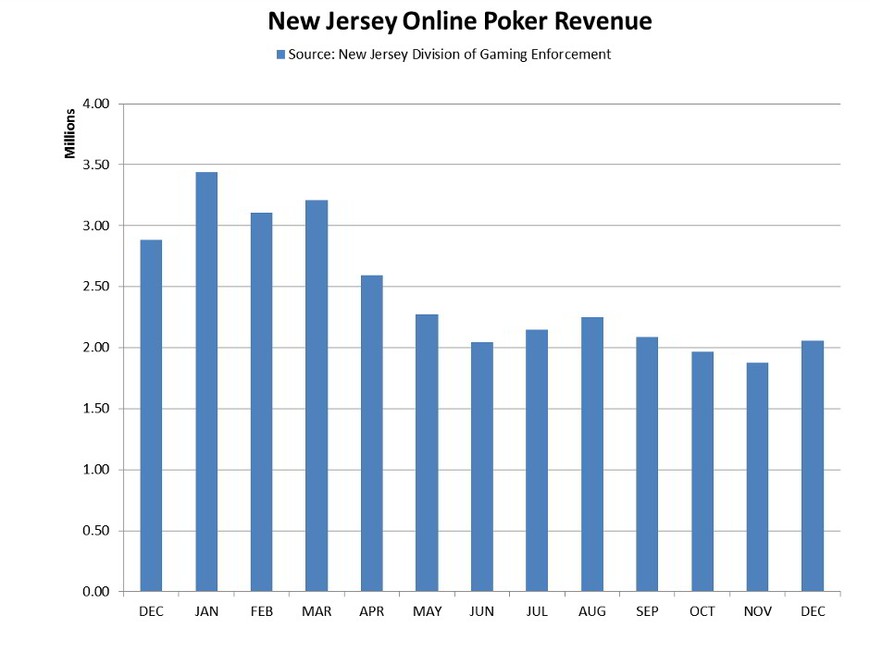 For the first time since August, online poker revenues in the state of New Jersey have increased over the previous month. Following three consecutive declining months, December had revenues climbing up past the $2 million mark ($2.06 million) once again according to figures reported Wednesday by the New Jersey Division of Gaming Enforcement.
Revenues for this December fell short of matching revenue figures reported in December 2013 when operators reported nearly $2.9 million in online poker revenues.
The partnership between partypoker and Borgata poker saw an 11.3% increase over revenues reported in November. The partnership between WSOP.com and 888 poker—the only other operator currently offering online poker in the state of New Jersey—saw a 7.79% increase month on month.
Partypoker and Borgata increased their revenue based market share over the competition by extending it one percentage point up to 54%.
Overall, online gaming operators in the state reported $10.7 million in revenue—a 63.6% increase over figures reported one year ago in December 2013 and more than 22% more than what was reported in November 2014.
Online Poker Revenues Expected to Continue Upward in 2015
Expect the upward trend to continue into January. The $3 Million Guarantee Borgata Winter Poker Open Championship is attracting many players to the land-based series which will benefit the Garden State Super Series—the online poker series running concurrently with the Borgata Winter Poker Open.
In addition, earlier this week it was announced that WSOP.com NJ and 888poker.com NJ have begun sharing online poker liquidity on a limited basis. The increased prize pools and selection of games that accompany the liquidity sharing are also expected to have a positive effect on revenues in January.