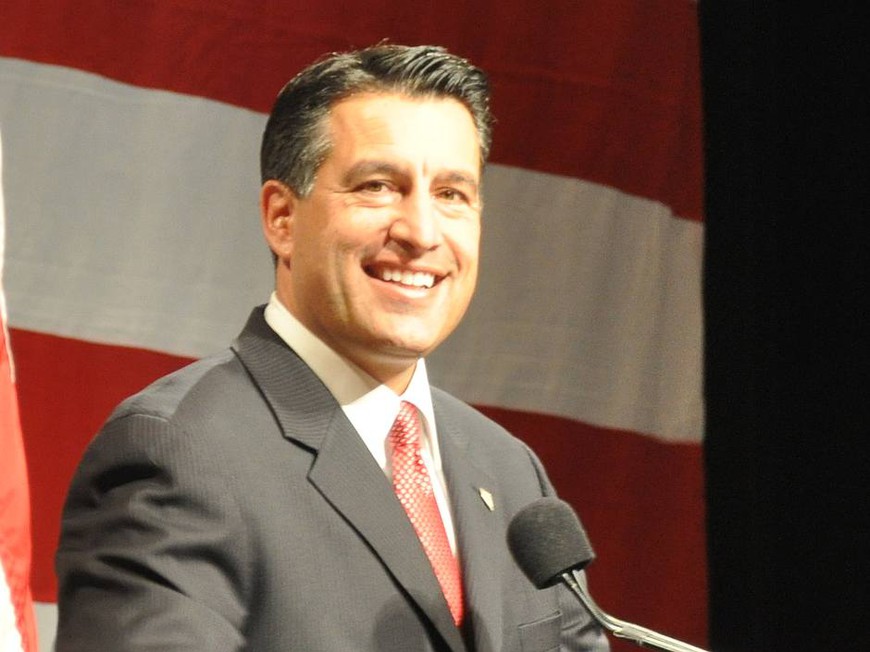 Online poker players in Nevada and Delaware will soon be able to compete against each other at the same virtual tables. According to Nevada governor Brian Sandoval, the combining of player pools for online poker operators in Nevada and Delaware is "imminent."
In an interview with Steve Tetreault published in the Las Vegas Review-Journal, Sandoval indicated that cross-border liquidity sharing could begin as soon as 4 to 6 weeks. The delay in implementing the agreement which was signed by Sandoval and Delaware Governor Jack Markel last February has been attributed to "technical glitches." However, Nevada gaming regulators have informed the governor that they are close to issuing final approval for the project.
Under terms of the agreement, operators must be licensed in both states. In Delaware, 888 is the sole online poker software provider working in conjunction with the states three racinos that currently share a player pool on 888's All American Poker Network (AAPN). In Nevada, 888 provides the online poker software behind the WSOP.com brand, and is expected to launch its own 888 branded online poker room. Treasure Island is also expected to launch an online poker room on the AAPN early this year.
Real Gaming, a second but significantly smaller online poker operator in Nevada, will not be allowed to take place in the liquidity sharing agreement as it has no license or operations in the state of Delaware.
What to Expect from Nevada's and Delaware's Online Poker Agreement
Players in both states will enjoy the advantages of the increased liquidity. More players means more games running more often, and a wider variety of games and stakes to choose from. The increased liquidity will also mean larger prize pools for multi table poker tournaments.
Overall traffic in both markets is also expected to rise. 888 and WSOP.com in New Jersey recently began sharing a limited number of cash game and poker tournaments within the state, and while there hasn't been a huge increase in traffic as a result, combining two separate markets could be more advantageous.
Delaware currently operates in a much smaller market and is expected to benefit more so than its partner state out west. Even the difference in time zones could be a benefit as games in off-peak hours will now run more often in both markets.
Will New Jersey Begin Sharing Online Poker Liquidity with Other States?
As the largest online poker market in the US, New Jersey certainly offers great benefits to any potential jurisdictions with which it may partner with in the future. And though regulators in the Garden State have indicated that increasing online poker liquidity is a goal for 2015, as of November last year, no liquidity sharing agreements are imminent according to David Rebuck, Director of the New Jersey Division of Gaming Enforcement (DGE).