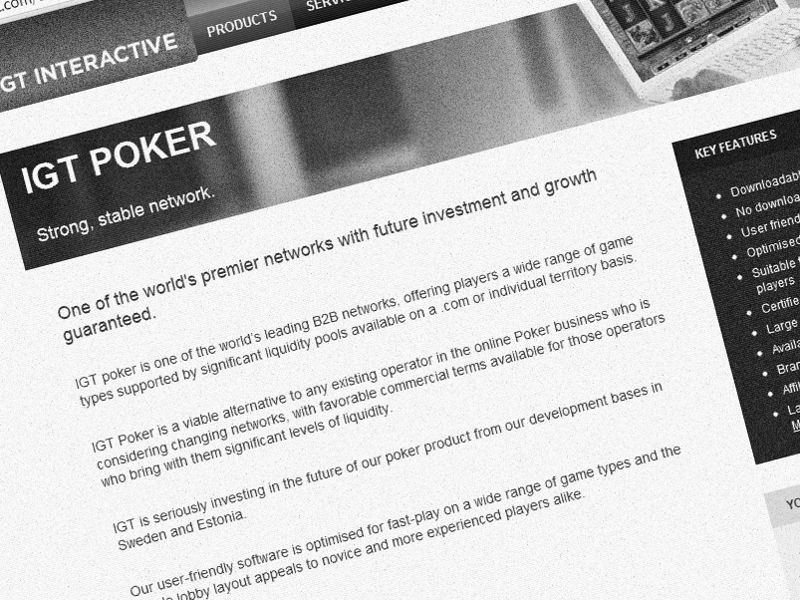 IGT Network, commonly known by its former name Entraction, has closed its offices in Stockholm, Sweden and is expected to close the international poker network by the end of the year, pokerfuse has learned.
Termination notices were sent to many, but not all, skins on the network late last week. At least one multi-platform poker room has already removed Entraction from its product offerings. There has been no formal announcement from IGT and there have been conflicting reports among sources.
Exact plans are not known, but International Gaming Technology (IGT) informed partners that there were "diminished expected returns in certain real money wagering products." IGT plans to focus instead on certain key legal markets only, and future online poker products will not use the Entraction platform, pokerfuse understands.
Nevada is one key market. IGT has been approved for a license to provide software infrastructure in the newly regulated online poker market in the state. However, to date they have announced no Nevada partners.
IGT bought Entraction in 2011 for approximately $115m, but did little to develop or invigorate the small network. It is the worst-performing European network in the last year, losing over 50% of its cash game traffic, according to data from PokerScout. Beyond renaming the brand and tweaking the rake, there has been no active development and players have responded accordingly.
Its new owner has implemented extensive geographical restrictions to withdraw from grey-market countries—the latest added Spain, Belgium and Cyprus to the no-play list—likely in a bid to improve its suitability status. However, to this day Entraction skins continue to operate in Italy without license.
IGT is listed on the New York Stock Exchange and its shares are currently trading at 30% less than their peak for the year. Almost half of its revenues come from the sale of gaming machines and much of the rest comes from service fees on installed gaming machines. The poker network provides just $4.5m of additional revenues, a rounding error on IGT's annual income of almost $2bn.
This year, IGT has made a major investment in social gaming, spending $500m to buy DoubleDown Interactive, a social gaming company that operates DoubleDown Casino, one of the most popular games on Facebook. CEO Patti Hart has just announced the first series of agreements with casinos to implement Double Down software.
The fate of the Entraction platform is unknown; IGT's 2011 accounts value Entraction's "goodwill" alone at over $90m, but a source close to the issue informed pokerfuse that IGT plans to write-off its purchase rather than look to resell it.
Entraction players will attest to the outdated client software, which feels decidedly bare-bones and underdeveloped against competing products. bwin.party is facing issues with continued failure to find an interested partner, and reselling Entraction would face similar issues.
With the recent news that Everest will close its independent poker room and move to iPoker, Entraction's closure will mark the second market consolidation in less than a month.
Moments after we published this article, an IGT spokesperson sent us the following comment:
As part of our regular business process, we have been evaluating our resources, products and markets from a commercial and compliance perspective. As a result, we are consolidating our product development, allowing us to combine a number of locations and focus on the most attractive opportunities. We remain focused on our interactive casino/slot offering, which has experienced steady growth, and look to integrate the Entraction products into our overall set of platform offerings.
Change and uncertainty in European market conditions have diminished the expected returns in certain real money wagering products. As a result, we are consolidating our product development. We are maintaining our options for future changes in market opportunities – This decision is purely focused on our European dotcom business and does not impact future decisions regarding entry into new markets as regulation, taxation and commercial opportunities arise.