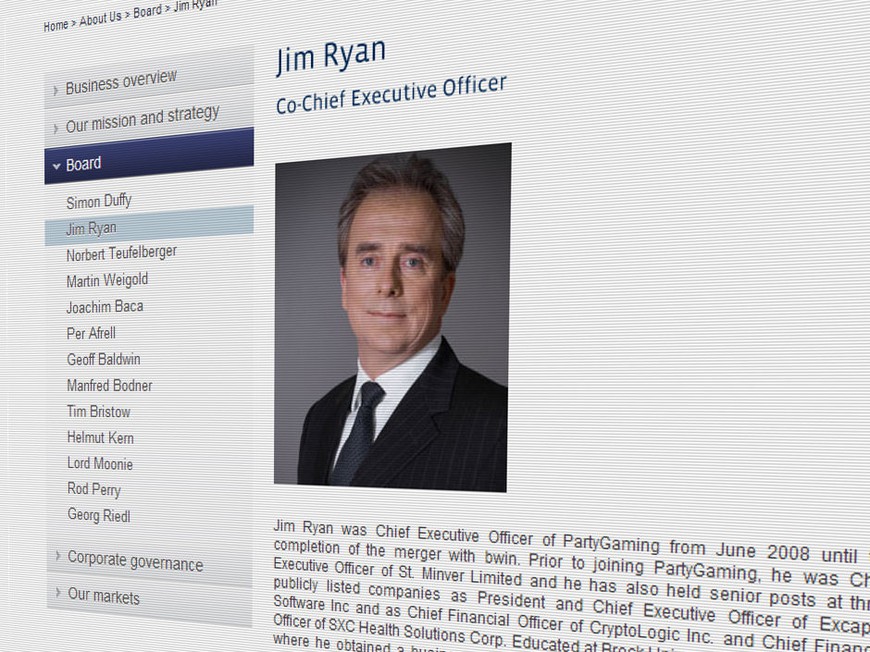 Jim Ryan, co-CEO of online gaming giant bwin.party, will retire from his position next month, the group has announced.
He has shared the position of CEO with Norbert Teufelberger since the merger of PartyGaming and bwin in March 2011. Teufelberger will assume the new role as Group CEO from the beginning of next year.
Ryan plans to return with his family to his home country of Canada, according to the announcement made by bwin.party Wednesday morning.
He took the role of CEO of PartyGaming in June 2008, having previously held senior positions in public gaming firms St. Minver, Excapsa Software and CryptoLogic.
He oversaw the settlement in 2009 with the United States government in its non-prosecution agreement, where it agreed to pay a penalty of $105m for having acted "contrary to US laws" prior to October 2006. He also oversaw the acquisition of the World Poker Tour.
In March 2011, PartyGaming announced its merger with Bwin Interactive Entertainment AG to form bwin.party, the largest publicly listed online gaming firm in the world. Ryan assumed the role of co-CEO alongside bwin's Teufelberger.
In the two years since bwin.party's formation, the CEO duo have overseen the expansion of its bingo product, launched in the regulated markets of Spain and Denmark, found a buyer for the Ongame network, and launched their fast fold poker product.
The merger of the two companies still has one final step remaining—the transition of bwin.com poker players onto the PartyGaming platform—a move expected to be complete within the next three weeks.
bwin.party has faced significant hurdles in the last two years, with stagnation in large parts of the market, tough competition in poker and regulation in Europe increasing its operational costs.
PartyPoker, once the world's largest online poker room, failed to recover from its 2006 US withdrawal and has fallen far behind industry leader PokerStars. Its share price was significantly hit following the PokerStars settlement with the DOJ and acquisition of Full Tilt.
In 2012, bwin.party announced significant new investment and new partnerships to revitalize its existing operations and expand into new areas, including a $50m investment in social gaming, positioned itself to enter the United States on multiple fronts, and a surprise partnership with Zynga.
It has also invested in an "all-in" poker client, soon to launch, as part of a four-point plan to return the poker network to its former glory.
Teufelberger will lead what today's announcement calls "a period of intense product and technology innovation."