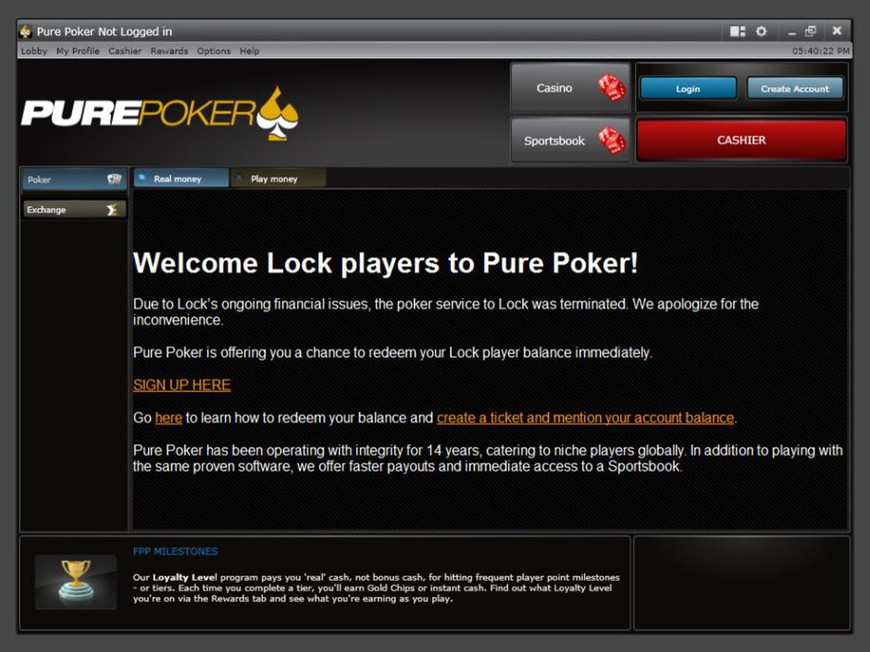 Confusion surrounded the migration of Lock Poker players to the new platform today as players with the old Lock Poker client were redirected to a new skin, Pure Poker, which promised to redeem Lock Poker funds if a player remained on the network.
Lock has fired back at this move by detailing to pokerfuse the legal terms of terminating its contract with Revolution, which it claims to have sent to its regulatory body in Curacao last week.
It has "put the network operating company and their principals on notice that they will be held liable" for any damages, for what it calls "false and misleading information," according to a statement sent to pokerfuse.
Earlier today, Lock announced it was moving off the Revolution Gaming Network onto its own poker platform. Players were locked out of their account as the migration took place, and were later instructed to download the new client and subsequently migrate to an entirely new online poker network, dubbed "Lock Poker v2."
According to reports, players who tried to start up the old "Lock Poker v1" client were greeted with a statement that read:
Due to Lock's ongoing financial issues, the poker service to Lock was terminated. We apologize for the inconvenience. Pure Poker is offering you a chance to redeem your Lock player balance immediately.
Players are then instructed to sign up to Pure Poker, which has apparently "been operating with integrity for 14 years, catering to niche players globally. In addition to playing with the same proven software, we offer faster payouts and immediate access to a Sportsbook."
Lock Poker sent an email to pokefuse today explaining that its players have been sent to a page that "contains false and misleading information," subjecting players to "an automatic download of competing poker software."
"This is clearly an attempt by the network to take Lock players and damage Lock's business via a deceptive and misleading practice. The network operator has been given an opportunity to correct this and have refused to do so," reads the statement.
In a excerpt of a termination agreement that Lock claims was sent to the licensing authority of Curacao last week, it details "51 instances of unscheduled downtime and an additional 81 service failures" as to the reason for Lock allegedly terminating the agreement with the network.
It goes on to explain other network changes, including an unannounced drop in the permissible rakeback for skins to offer players, an apparent breach of contract with a software contractor, and failure to comply with a formal "Dispute Resolution Process."
Rumors fly publicly that Lock was ejected from the network due to outstanding debts. However, pokerfuse has had no contact with the Revolution Gaming Network, which has never responded to requests for comment in the past.
Cashouts at Lock Poker and other Revolution Gaming skins are extremely delayed, with many players reportedly waiting more than six months to receive their withdrawals both in the US and in Europe.