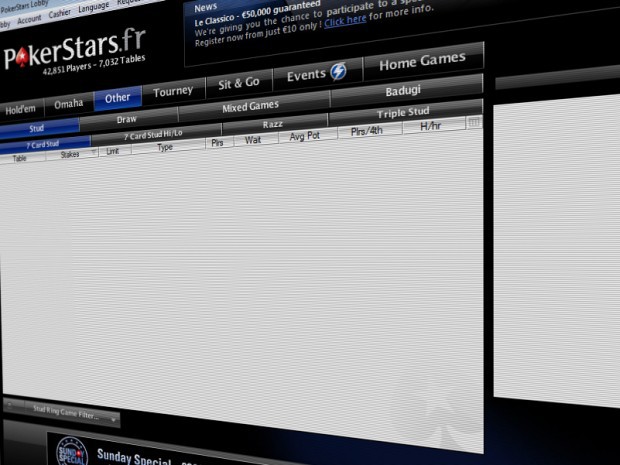 The official regulatory body in France has recommended that licensed sites be permitted to spread more games. The changes could come into effect by the end of February.
Currently, sites licensed in France are only permitted to spread Hold'em games in limit and no-limit formats and Pot Limit Omaha. If the recent proposals are adopted by the government, three or four new games can be spread, including Omaha 8 and Stud variants. Sites will also be permitted to offer mixed games.
In an annual review published earlier this month, ARJEL cited that growth in the new regulated online poker market – which went into affect in May 2010 – was strong until mid 2011, but stagnated towards the end of the year. It recommended that changes should be made to "prevent players escaping to more diversified illegal sites."
According to the report, ARJEL, in consultation with "player associations," looked at thirty poker variants, and have settled on three or four to permit. Not mentioned in the report were lo-ball games like Razz, which would be needed to spread the full HORSE mixed game. There was no mention of raising the maximum stakes, which are currently 10/20 at PLO, 5/10 at NL Hold'em and 10/20 FL Hold'em.
Notable licensed rooms in France include PokerStars.fr and Winamax, that recently overtook Stars to become the biggest cash game site in France. PokerStars can be expected to act fast if such game restrictions are relaxed; the poker client already supports extra games and the PokerStars.fr lobby has empty table lists waiting to be filled. Everest, PartyPoker and Ongame also operate sites with an ARJEL license, all of which offer more game variants on their main dot.com international sites.
Some operators continue to accept French players without a license, and thus without the burden of the high operator taxes – which amount to 35%-40% of gross gaming revenue – and the restriction in game types or stakes. A decree published at the end of the year called for internet service providers to block access to unregulated poker rooms, although such demands may have legal challenges in Europe and remain currently unimplemented.