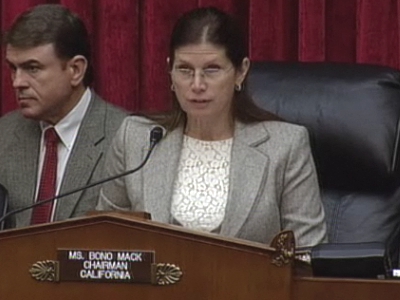 This morning the Subcommittee on Commerce, Manufacturing, and Trade of the House of Representatives discussed online gambling in the United States. Lawmakers on both sides of the issue regarding regulated online poker shared testimonies along with industry regulators and investigators.
Representatives John Campbell (R-CA), Frank Wolf (R-VA), Barney Frank (D-MA), and Joe Barton (R-TX) all shared testimonies regarding regulation. Along with the representatives, Frank Fahrenkopf of the AGA, Charles McIntyre of the New Hampshire Lottery Commission, and Mark Lipparelli of the Nevada Gaming Commission shared their expertise on emerging online gaming industry. Dr. Rachel Volberg, a research scientist of gambling habits, also testified.
The discussions – similar to those of the previous hearing – centered on broad understandings of online poker as it stands in the United States today. Industry research and studies of problem gambling were used by testimony members for or against regulated online gambling. Of the three lawmakers who testified, only Frank Wolf opposed a regulation of internet poker citing the activity as the "crack cocaine" of gambling.
All of the witnesses had previously stated stances on internet gambling besides Charles McIntyre, executive director of the New Hampshire Lottery Commission. McIntyre indicated that he was in support of regulated online poker but reiterated that state decisions be respected. "Decisions should be decided by each individual state. A state should develop its own level of gambling tolerance," said McIntyre.
Decisions between a state or a federal regulation scheme were widely discussed, especially regarding consumer safety. Mark Lipparelli, the chairman of the Nevada Gaming Control Board, notified the panel that technology is already in place to adequately protect consumers.
"Internet gambling provides detailed information at the transaction level. You can identify customers, play patterns, and where and how people access the gaming platform. We have accounts established, internal controls established, and we can know how much money can be wagered in a given day. These kinds of things can be done very successfully," said Lipparelli. "Our position from the state of Nevada is that we support some kind of national solution."
Frank Fahrenkopf, president and CEO of the American Gaming Association, supports consistent regulations for online poker while strengthening the UIGEA and the Wire Act of 1961 which limit gambling over the phone and internet. Fahrenkopf emphasized an intrastate exemption to offer poker within these laws, but encouraged lawmakers to both strengthen them all while federally regulating poker and giving states and opportunity to decide whether to participate.
"For online poker to be successful you must have liquidity," said Fahrenkopf. "It's difficult to say whether any state will generate enough liquidity to make it financially successful.
The testimony also discussed the makeup of young online poker players. Dr. Volberg, a problem gambling expert, stated that most who play internet poker are young and intelligent men in their early twenties. Joe Barton mentioned that many of these young players seem to be "very intelligent 'MIT' type engineering people" that would not be easily taken advantage of. Despite this Dr. Volberg still requested that some revenues earned from online poker be dedicated to "self help" programs for problem online wagering.
All members except Rep. Wolf supported regulation rather than prohibition as a way to address problem gambling.
"I'm a cosponsor of his [Barton] bill to address problem gambling," said Rep. Campbell. "We can deal with it much better if it is legal, if it is regulated, if it is understood."
The debate over online poker taxation was briefly discussed at the end of the hearing. Panel member Rep. Bill Cassidy (R-LA) questioned witnesses on stringent tax laws.
"So should we not view this as a cash cow for states because if we tax it too much it will just drive customers to offshore sites?" said Cassidy.
Fahrenkopf responded that there is not yet an agreement regarding tax structure for internet poker and that such issues should be discussed further. Fahrenkopf, who has yet to support any poker bill, also stated that he does not expect internet poker to hurt brick and mortar offerings of poker.
"Online poker would not cannibalize poker for casinos," said Fahrenkopf. "We are more in support of a Barton bill than a Campbell bill for this reason."
The hearing lasted over 2 hours with contributions from interested parties working for casinos, lotteries, and regulating bodies. The session adjourned with no statement regarding a future hearing or vote. Poker players must now wait and see whether Congress will take the next step to legalize internet poker, but legislators appear moving closer to a bill.