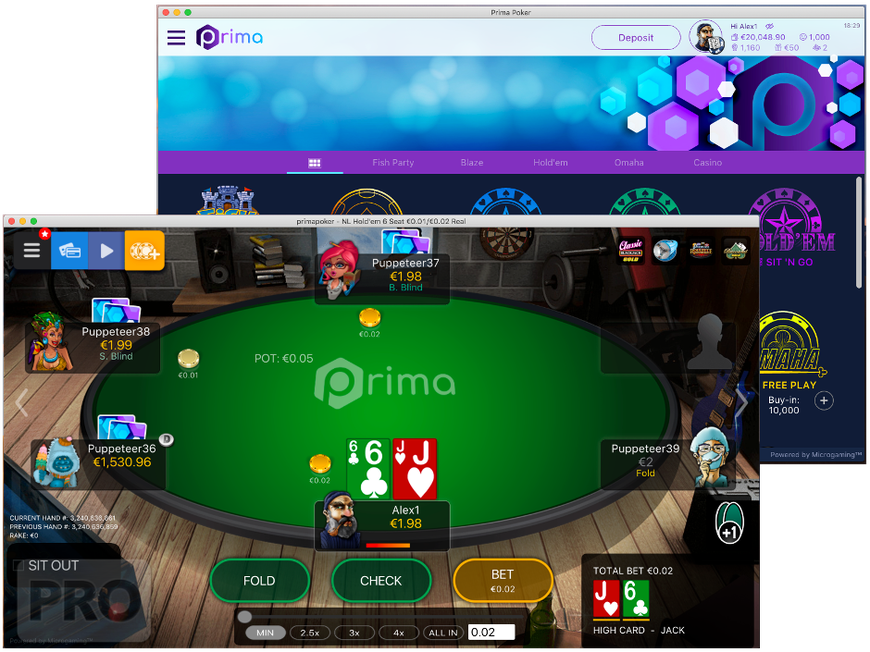 In a major software overhaul, MPN is addressing 44% of all player feedback in the biggest update yet to Prima, the network's new online poker software. Hitting the first skin today with a network-wide roll-out coming next week, the company says the changes and fixes are responding directly to what players want.
Since the Prima software went live on MPN's skins back in July, players have been able to directly communicate with the software developers thanks to a direct feedback form that appears at the end of every session.
Players have been able to denote their feedback via a happy or sad face, including the ability to leave more detailed comments if they desire.
"This feedback [system] will be hugely valuable to us in continuing to develop this client," said Alex Scott, Director of Poker at Microgaming, when revealing the Prima client in July. "The feedback mechanism will give everybody an equal voice, so we won't just be listening to those who shout the loudest."
Having been contacted by tens of thousands of players via their direct feedback form, MPN has been able to collate responses to work out what requests were the most highly requested.
"It's quite a big leap," said Scott exclusively to Poker Industry PRO earlier this week. "We're hoping that what it does is show that we're doing what we said we would do. All the people who have criticized us for not having feature X or feature Y—whatever their most favorite feature is—this is a way of showing them that we are listening to them; we're doing what we believe are the most important things to players out there. We're letting players drive the development of our client."
Play on the Latest Prima Software on RedKings Today!

Sign Up Today »
First site to get the latest software updates
Play on the exclusive Fish Party progressive sit and gos.
Get ready for

MTT

missions promotion running in November.
What's New In Prima v38
The most notable difference in Prima v38 will be the new Stealth Mode that can be applied to any of the tables, giving a paired down, "distraction free" experience to players.
The Stealth Mode came about after some players complained the new table looked too busy. Now, by simply toggling to the new Stealth Mode, the table design will be simplified and avatars will be removed along with other table clutter like casino buttons and badges. Sounds can also be optionally disabled.
Text legibility, a bigger dealer button, remembering table position highlighting the big and small blinds are all also part of the v38 roll out. Table sizes will now be locked to a specific aspect ratio.
Prima v38 has also addressed late registration issues so that players are seated faster. The table rebalancing algorithm has also been tweaked.
Compatibility With Third Party Tools "Not The Right Thing To Do"
According to Scott's interview with Poker Industry PRO, MPN are not implementing all the features the players have been requesting.
Two top feature requests were to undo the introduction of a blind lobby and add back in support for Heads Up Displays and software trackers. "We don't think it is the right thing to do," Scott told PRO. "It's not part of our overall strategy."
Blind lobbies prevent players from choosing their specific seat and table. Instead, tables are grouped by game type, table size and stake level, and players are automatically moved to an available seat.
This stance taken from MPN is not surprising as all major operators are now moving towards a blind lobby system, including an industry wide crack down on the use of third party tools and software. Despite not be explicitly banned on the Prima software, third party tools are not easily supported.
"We have killed the list lobby entirely. We've done that primarily to make the experience simpler for people. That was the key driver behind it all," Scott told PRO back in the summer. "But also to take away some of the issues around angle shooting, and people following the weakest players table to table, and so on."
Prima Roadmap For Late 2018 Onwards
Additional software upgrades which will address 55% of player feedback is slated for November called v39 and 2019 will see an upgrade to Prima to address 75% of all player requests.
The v38 update will roll out on RedKings poker skin on October 9 followed by a global roll on all MPN skins on October 19.