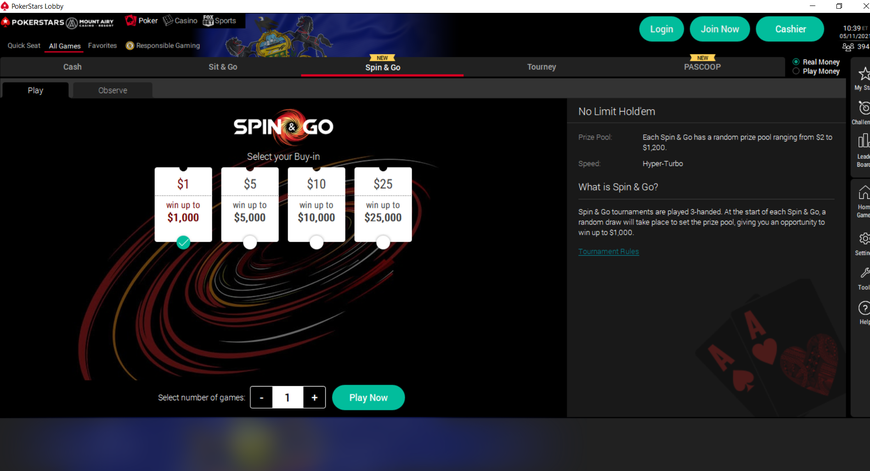 After nearly 18 months of operation, PokerStars PA has finally introduced their lottery sit & go (LSNG) format, Spin & Go, to the Pennsylvania online poker market.
As many will know, LSNGs, known as Spin and Gos on PokerStars, are hyper-turbo, three-handed, winner-takes-all tournaments where the prize is randomized at the start of the tournament. Perfect for casual, mobile play, the tournaments offer a chance to win a prize of 1000 times the buy-in within minutes.
Right now on PokerStars Pennsylvania, games between $1 and $25 are running. This means in a $25 game the jackpot first place prize is $25,000.
PokerStars PA
: The global online poker giant offers legal, regulated online poker in
Pennsylvania
!
For more than a decade, PokerStars has led the industry with the best software, largest player pools and safest environment to play
Great Welcome package: $50 in freeplay after playing just one hand at cash game tables
Plus a big first deposit bonus: 100% up to $600 with code STARS600
Home of the Sunday Special, PACOOP, Spin & Gos and more
Historically, PokerStars has spread them in any market where allowed. The fact that PokerStars chose not in PA initially is an exception—indeed, when it launched in November of 2019, pokerfuse noted the surprise lack of LSNG format games in the PA market.
In New Jersey, PokerStars has spread Spin and Gos since launch in 2016. The operator uses the games heavily in promotions, including special one-off $1 buy-in Spin & Go with $1 million in possible prizes.
And yet LSNG games never went live when PokerStars opened a new room in Pennsylvania in late November 2019. When they launched without them, pokerfuse speculated that there might be regulatory roadblocks in the way of the lottery format.
When PokerStars went live in Michigan earlier this year, Spin & Go games were integrated into the client from the start, which left PA the odd state out. It even recently revamped its welcome bonus that showcased Spins. That lent credence to the idea there might be a regulatory reason for keeping the games out of PA.
However, rivals Borgata Poker PA and BetMGM PA recently went live in PA, serving up the first competition to PokerStars in a market—and the new operator went live with its own version of the LSNG games, SPINS.
That seemed to indicate there was nothing standing in the way of LSNG games in PA from a regulatory standpoint. Now, barely a week after the launch of their new rival, PokerStars PA has expanded their offerings to include Spin & Go games.
Jackpot Poker in PA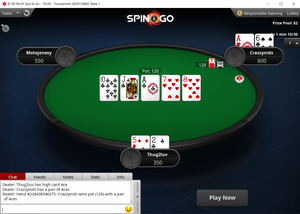 The new addition to the PokerStars PA schedule brings the market in-line with the rest of the PokerStars world. Details for the new games remain pretty consistent with other markets where the operator offers Spin & Go games.
Currently, games range in cost from $1 to $25, and are advertising 1000x maximum prizes. That means the winner of the jackpot $1 game is set to receive $1,000. However, in the bigger games, there is also money for 2nd and 3rd in some cases, so the maximum prize pool actually ends up at 1,200 times the buy in, one time in 100,000.
PokerStars PA Spin & Go Structures
| 1st Place | 2nd Place | 3rd Place | Total Prizes | Probability |
| --- | --- | --- | --- | --- |
| 1000x | 100x | 100x | 1200x | 1 in 100000 |
| 160x | 20x | 20x | 200x | 4 in 100000 |
| 80x | 10x | 10x | 100x | 8 in 100000 |
| 20x | 2.5x | 2.5x | 25x | 100 in 100000 |
| 8x | 2x | | 10x | 1000 in 100000 |
| 5x | | | 5x | 8000 in 100000 |
| 3x | | | 3x | 41926 in 100000 |
| 2x | | | 2x | 48961 in 100000 |
There is 7% rake applied to the prize pool across the buy-in range, and the games are hyper-turbo. Players start with 500 chips, and levels are 3 minutes long, promoting lots of action and quick results.
The new format is live in the PokerStars PA lobby now, and games are already running.
It is still unclear why it took so long for Spin & Go to launch in the PA market. Whatever the reason for the delay in implementation, LSNG games are now available throughout the Pennsylvania online poker market, and players will certainly welcome the chance to play the games on PokerStars.
Pick your favorite poker site in PA