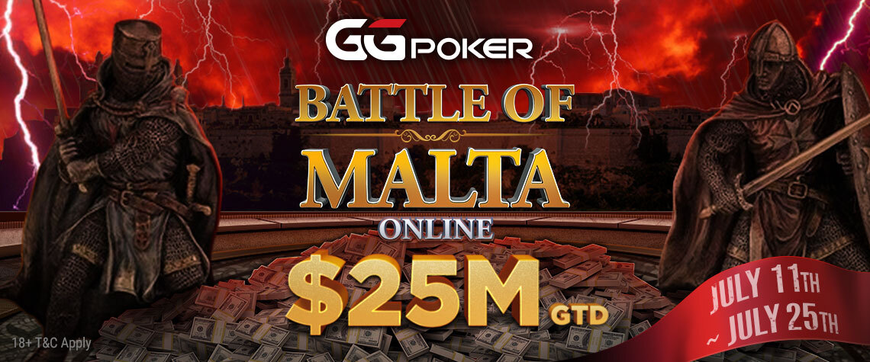 The Battle of Malta (BoM), a popular live series that has run since 2012, has once again partnered with GGPoker to stage an online version of the event. The $25 million guaranteed event is the second time GGPoker has hosted an online version of BoM, after the operator ran a $30 million guaranteed event last year.
For the second year in a row, the Battle of Malta has moved online. From its origin in 2012, the live version of the Battle of Malta has run eight times. The ninth running of the live festival was scheduled for April 15 – April 20 in 2020, but the global pandemic put an end to those plans.
Instead, the 2020 series moved online with the global newcomer in the online poker world, GGPoker. The 2020 version of the series ran on the network from November 1 – 22 with $30 million guaranteed.
While live poker is slowly making a return in 2021, with the World Series of Poker scheduled to run live at the end of the year, there is still some hesitancy with regard to the pandemic situation. Rather than try to stage a live festival amid the moving target of current Covid restrictions globally, BoM organizers have made the decision to go online once again.
| Battle of Malta Online | 2020 Edition | 2021 Edition |
| --- | --- | --- |
| Overall Guarantee | $30 Million | $25 Million |
| Festival Duration | 22 Days | 15 Days |
| Number of Ring Events | 15 | 18 |
| Seven Figure Guarantees | 4 | 3 |
| Ring Event Guarantees | $11.1 Million | €8.125 Million |
| Avg Ring Event Guarantee | $740k | $450k |
| Lowest/Largest Buy-In | $55/$5,250 | €50/€550 |
| Main Event | $550 – $3M gtd | €550 – €3M gtd |
Order of Battle
There are a total of 18 Ring events across the two-week schedule, with some pretty hefty value in nearly every event. Across the entire series, there is a bit more than $2,100 guaranteed per dollar of buy-in (gtd/buy-in).
Battle of Malta Schedule Summary
| Events | Total Buy-In | Total Guaranteed | Gtd/Buy-In |
| --- | --- | --- | --- |
| 18 | €3,818 | €8,125,000 | €2,128.36 |
Among the events there are a few with huge value. The biggest event value-wise will be #10: MILLION$ European Cup, €1M GTD [Final Day]. For just €50, players will get a shot at €1,000,000, which means there is a whopping $20,000 gtd/buy-In for that one.
That is by far the highest value event in the series, but a few others look particularly juicy as well. #2: Siege of Malta Bounty MILLION$, €1M GTD [Final Stage] has €9,523.81 gtd/buy-in while the Main Event has €3,000,000 guaranteed for €5,454.55 gtd/buy-in.
Battle of Malta High Value Events
Event Name
Date
Buy-In
Gtd
Gtd/Buy-In
#10: MILLION$ European Cup, €1M

GTD

[Final Day]
Jul 18
€50
€1,000,000
€20,000.00
#2: Siege of Malta Bounty MILLION$, €1M

GTD

[Final Stage]
Jul 11
€105
€1,000,000
€9,523.81
#18: Main Event, €3M

GTD

[Final Day]
Jul 25
€550
€3,000,000
€5,454.55
With $25 million in total guarantees, and some massive value events, there is a lot of value in the online Battle of Malta this year. One big difference between the last online version in November 2020 are the lower buy-ins this time around.
In 2020, the biggest buy-in was $5,250, but this time around, the biggest game is a fraction of that at €550. The low end of the scale, $55 in 2020 and €50 in 2021, is a pretty close comparison.
"It's summertime in Malta, and things are heating up on and off the tables," said Jaan Vaabel, Group Poker Manager, Olympic Entertainment Group. "This year's Battle of Malta Online allows players to take aim at massive cash prizes for relatively modest buy-ins; with at least $25 million guaranteed there'll be a lot of prizes to go around!"
Action in the Battle of Malta gets underway this Sunday with a fairly high-value event worth €2,272.73 gtd/buy-in, the King's Landing Opener, and continues through July 25.
The announcement of the new series comes after a string of special tournament festivals from GGPoker, with almost no rest in between. It has only just concluded its second annual Omaholic Series, dedicated to Omaha games, and followed it up almost immediately with Short Deck Series, which runs until Sunday.
In fact, Battle of Malta starts on the final day of this 6+ series, meaning no breathing room at all between events. The series runs through to July 25.
Battle of Malta Schedule Details
Event Name
Date
Buy-In
Gtd
Gtd/Buy-In
#1: King's Landing Opener
Jul 11
€110
€250,000
€2,272.73
#2: Siege of Malta Bounty MILLION$, €1M

GTD

[Final Stage]
Jul 11
€105
€1,000,000
€9,523.81
#3: St. Julian's Bounty Feast
Jul 12
€105
€150,000
€1,428.57
#4: Three Cities Challenge [3-Stack]
Jul 13
€330
€250,000
€757.58
#5: Iron Throne Marathon
Jul 14
€110
€150,000
€1,363.64
#6: Bounty for the Knight
Jul 15
€210
€200,000
€952.38
#7:

PLO-NL

Crusaders Bounty Quest
Jul 16
€210
€50,000
€238.10
#8: Tallinn Summer Showdown [6-Max]
Jul 17
€55
€125,000
€2,272.73
#9: Kings of Tallinn Main Event
Jul 18
€220
€500,000
€2,272.73
#10: MILLION$ European Cup, €1M

GTD

[Final Day]
Jul 18
€50
€1,000,000
€20,000.00
#11: Grand Harbour Superstack
Jul 19
€110
€150,000
€1,363.64
#12: Gladiator 6-Max
Jul 20
€330
€200,000
€606.06
#13: Castle Siege Bounty Turbo [Ultra Deep]
Jul 21
€52.50
€100,000
€1,904.76
#14: Bounty for the Queen
Jul 22
€315
€250,000
€793.65
#15:

PLO-NL

Knight Crusaders
Jul 23
€220
€50,000
€227.27
#16: Beat the Pros [Special Edition]
Jul 24
€210
€200,000
€952.38
#17: Bounty for the King Royal Championship
Jul 25
€525
€500,000
€952.38
#18: Main Event, €3M

GTD

[Final Day]
Jul 25
€550
€3,000,000
€5,454.55
€3,818
€8,125,000
€2,128.36