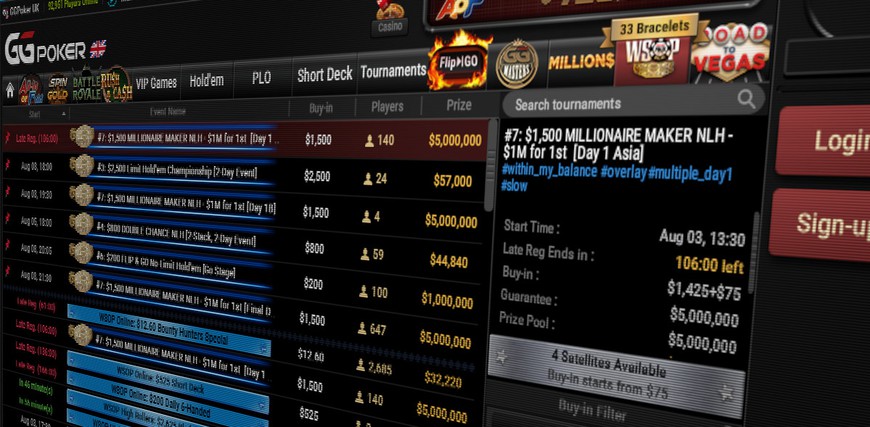 The online international component of WSOP 2021 has completed its first week now, and the results are solid. Of three events with guarantees run so far, all have blown past the promised prize pool, and while there was $7 million guaranteed in the three events, they collected more than $10 million between them.
The end of the US domestic bracelet series on WSOP.com in New Jersey and Nevada heralded the start of the international bracelet festival on GGPoker. By the end of the GGPoker series, a total of 66 bracelets will have been awarded online through the originally scheduled bracelet series, plus an additional eight on the wrists of residents of Pennsylvania.
The WSOP 2021 Online International festival got underway on August 1, just as the domestic series was playing out its Grand Finale. The first event set the stage for the rest of the series, breaking its $1 million guarantee by more than 40% with more than 30,000 total entries across multiple Day 1 flights.
The first seven events all showed solid results. Of the four that didn't have guarantees set, two built prize pools bigger than $1 million, including the $800 Event #4, which had more than 1,600 entries for a prize pool of $1,248,680.
Overall, the first seven events have been a big success. While the numbers aren't quite up to the pandemic-fueled frenzy of 2020, that is not much of a surprise in a 2021 where the world is opening back up again and people are no longer locked in their houses.
GG

WSOP

Online Bracelet Events Comparison 2020 vs 2021
2020 Entries
2021 Entries
2020 Prize Pool
2021 Prize Pool
Change
$1111 Caesars Cares Charity Event
2323
1584
$2,580,853
$1,759,824
-31.81%
$1500

MILLIONAIRE

MAKER

6299
5437
$8,976,075
$7,747,725
-13.68%
Huge Value in Early Events
The big story early is that low buy-in events are generating huge value for players. Overall, there has been good value in all the events so far, but the opening event, the $50 The Return, put an extra 40% into the prize pool with a massive turnout. That meant in the end, there was more than $28,000 in prizes for every $1 of buy-in paid by players (prizes/buy-in).
That was by far the biggest value of the first seven events, but the $200 Flip & Go, an innovative new format introduced by GGPoker, got more than $6,000 prizes/buy-in, while the $1,500 Millionaire Maker generated more than $5,000 prizes/buy-in. The rest of the events in the first week were a little lower, but there was good value across the board.
.
Across the seven events so far, they have already collected almost $15 million in prizes, with nearly 50,000 entries. The average prize pool so far is over $2.1 million, so there is a lot of money to be played for in each event.
GG

WSOP

2021 Online Bracelet Events Results
Buy-In
Entries

GTD

Prize pool
Rake
Admin Fee
Prizes/Buy-In
Event #1
$50
30,810
$1,000,000
$1,417,260
$123,240
$7,086
$28,345
Event #2
$1,111
1584
$1,759,824
$0
$175,806
$1,584
Event #3
$2,500
180
$427,500
$22,500
$2,138
$171
Event #4
$800
1643
$1,248,680
$65,720
$6,243
$1,560
Event #5
$315
2989
$896,700
$44,835
$4,484
$2,846
Event #6
$200
6368
$1,000,000
$1,209,920
$63,680
$6,050
$6,049
Event #7
$1,500
5437
$5,000,000
$7,747,725
$407,775
$38,739
$5,165
Totals
$6,476
49011
$14,707,609
Averages
$925
7002
$2,101,087
One of the non-guaranteed highlights of the series so far was Event #2, the $1,111 Caesars Cares Charity Event. That saw almost 1,600 entries and more than $1,75 million in prizes, but more importantly, also saw $175,824 donated to covid relief efforts.
There is still a lot of action left in the international portion of WSOP 2021 Online. Games continue through September 12, with 26 more bracelets still to be handed out. That includes the massive $20 million guaranteed Main Event Online Championship, scheduled to conclude September 5, as well as lots more action.