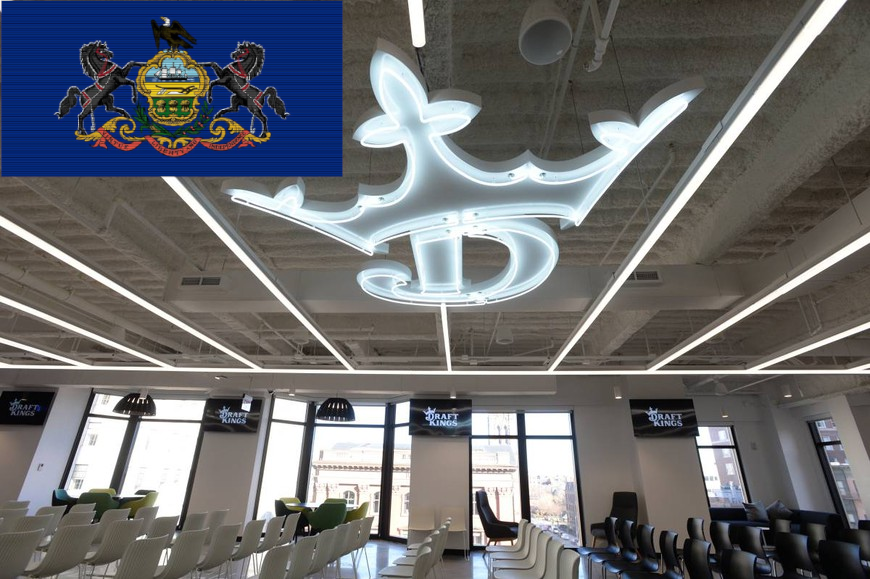 Daily Fantasy Sports (DFS) in Pennsylvania reached new highs in October, hitting almost $3.7 million for the first time in market history.
It was the biggest month ever in PA for DFS, and DraftKings remains the biggest player in the state.
Total DFS revenue from Pennsylvania hit $3,695,342 in October this year, the highest total since the market opened in May of 2018, and the first time the total market has been more than $3.5 million. That total represents a 15.4% increase over October of 2020 and was 14.9% higher than September's total of around $3.2 million.
The ruler of PA DFS seems to be DraftKings, who accounted for nearly 60% of the total market in October of this year. The ruler of the realm generated $2,142,458 in total DFS revenue in October. That represented 57.97% of the total market in Pennsylvania, putting DraftKings clearly on the PA throne.
That total of nearly $2.15 million marks the first time any operator has generated more than $2 million in revenue in a single month. Prior to Oct 2021, the best any operator had managed in PA DFS was about $1.92 million, which DraftKings hit twice since joining the market in May of 2018.
Bet on your favorite sports with DraftKings Sports available in Pennsylvania, Michigan, and New Jersey!
First deposit boost

20% up to $1000 on your first deposit
Your bets count toward DraftKings Dynasty Rewards: collect crowns & reedem bonuses
Quality mobile app to place bets on the go
Excellent sports coverage and all popular betting markets
Biggest War Chest in the PA Kingdom
The new milestone of more than $2 million in revenue just cements DraftKings' position on the PA throne. While there have been a few months since 2018 when rival FanDuel managed to top the market, those months were few and the differences small.
Sept and Oct results mark a rebound in the trend at DraftKings since the volatile period during the height of the pandemic in 2020. While the lockdowns prompted a huge increase in traffic for many online gaming operators, sportsbook and DFS operators were hit hard as live sports shut down along with everything else and revenue plummeted.
DraftKings hit a high point of $1.92 million in November of 2020 but then started a slide all the way down to just $749,000 in August of 2021. September of this year showed huge improvement, with a jump back up to $1.92 million, an increase of more than 100% over the August revenue number.
DraftKings Casino offers legal online gambling to residents of Pennsylvania, New Jersey, Michigan, and West Virginia!
Big no deposit offer

Get $50 in free credits after registering
Massive 100% bonus up to $2000 on the first deposit
Take part in generous Dynasty Rewards loyaty program
Close to 500 video slots and popular live casino games
One Main Competitor
DraftKings has one main competitor in the PA market, FanDuel. Between the two of them, they account for $3.651 million of the $3.695 million total market.
That leaves less than $50,000 in the total market for the rest of the field to fight over, so it is clear that PA is a two-player game at this point. FanDuel is putting in a good show but has only managed to eclipse the revenue of rival DraftKings a few times since the market opened.
One of those months was just two months back, in August of 2021. FanDuel banked $854,143 in a month when rival DraftKings had one of its worst months ever with just $749,182. FanDuel also put in very good growth months in Sept and Oct this year, growing almost $500,000 from Aug to Sept, and another $300,000 from Sept to Oct. However, even with its highest revenue ever in Oct 2021 of $1,509,520, FanDuel was still more than $600,000 behind the market king.
While it hasn't been the top dog every single month, the clear trend puts DraftKings on the throne in PA DFS. One of the things that makes DK the market leader is attention to customers, as evidenced by its recent wholesale change in its rewards system.
As reported on pokerfuse, DraftKings' new Dynasty rewards system is a unified platform that puts all of a players action on DraftKings into one rewards barrel. That means DFS and sportsbook action generates rewards in the same system as casino play, or purchases on the DK Marketplace.
Full details are at the link above, but the new DraftKings Dynasty Rewards is just one of the reasons the operator is the king of the castle in Pennsylvania DFS action.