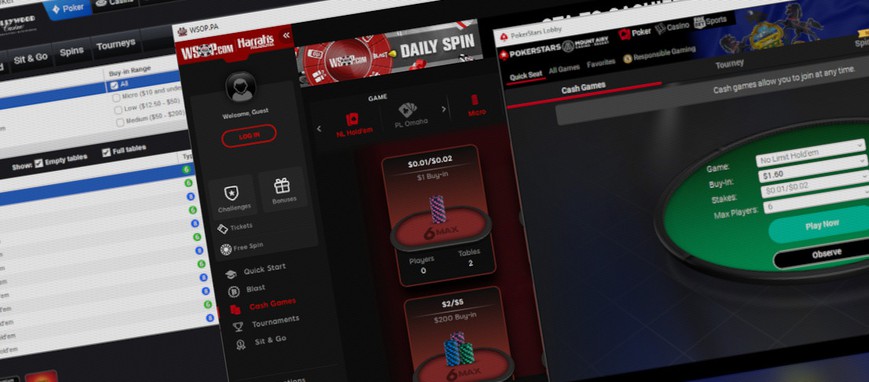 Revenue for the Pennsylvania online poker market was up more than 15% year-over-year in October 2021, despite the month representing a small drop over September's total take. Between the three poker operators, the total market for PA in Oct was just over $2.85 million.
That was down slightly from $2.925 million in Sept, but up more than $400,000 from the same month in 2020. By October of 2020, the pandemic boost from earlier in the year was waning, and revenue had dropped to around $2.4 million from the $5.25 million heights in April 2020.
While October 2021 was a big increase over 2020, the market is still declining a bit from its 2021 high of nearly $3.2 million in August of this year. August was the biggest revenue month for online poker in PA this year, and while Sept and Oct declined, they were still the 2nd and 3rd best months of 2021 respectively.
As always, the leader of the market in October was PokerStars PA. The Red Spade has dominated the market since it opened, but that was markedly easier when it held a monopoly on online poker in the state. Since April of this year, PokerStars has had to contend with competition on the online streets, but so far, that hasn't been much of a problem.
PokerStars PA
: The global online poker giant offers legal, regulated online poker in
Pennsylvania
!
For more than a decade, PokerStars has led the industry with the best software, largest player pools and safest environment to play
Great Welcome package: $50 in freeplay after playing just one hand at cash game tables
Plus a big first deposit bonus: 100% up to $600 with code STARS600
Home of the Sunday Special, PACOOP, Spin & Gos and more
PokerStars Still Rules the Roost
PokerStars PA, which partners with Mount Airy, had the luxury of a monopoly on online poker play for much of its early existence in the state. That all changed in April of this year with the launch of BetMGM Poker PA and sister skin Borgata Poker PA, followed by the entry of WSOP PA in July.
For the most part, the new competition has not been much competition. While they obviously cut into the 100% market share PokerStars enjoyed prior to April, the new operators together still only accounted for 35% of the total market in October.
That is up from the 13% that the BetMGM brands managed in May, and the 24% when WSOP PA joined the party in July, but it still means the competition has a long way to go to catch the PokerStars behemoth in PA. In October, PokerStars PA banked more than $1.85 million of the $2.85 million total, leaving just $1 million to split up between the rest.
Generous welcome bonuses

Free $25 with no deposit & 100% match up to $600 on first deposit

Good tournament schedule

Daily and weekly events with big guarantees

Unique loylaty scheme

Become a part of the M life Rewards program
WSOP PA, which partners with Caesars Entertainment and runs with 888poker's new Poker 8 software quickly jumped into second place in the market after it opened in July, almost certainly a result of the lure of online bracelets planned in August, and in fact, August was its best month to date with almost $820,000 in revenue. That number dropped to just under $590,000 for October, but still represents the second-best revenue in the market.
WSOP

PA
: The world's most recognizable poker brand is now fully legal and regulated for online poker in
Pennsylvania!
Top Welcome offer

$50 freeplay after the first deposit, 100% match up to $1000 & extra $10 in free play with code FUSEBONUS

Modern software

Top-quality poker client for mobile and desktop play thanks to new Poker 8 software

Blast poker

Compete in jackpot sit and go's around the clock and win up to 10,000x your buy-in
That left a bit more than $410,000 for BetMGM and Borgata, who both operate with partypoker software and are licensed through Hollywood Casino and Rivers-Philadelphia. That was down from the operator's high in August of more than $500k, but significantly up versus where they entered the market back in May when it didn't even make $350k in revenue.
While PokerStars is still the clear market leader in PA, it is worth noting its revenue is down year-over-year. The market itself increased in size over October 2020, but the 2020 numbers represented PokerStars PA alone with more than $2.4 million.
The market in 2021 is larger at more than $2.8 million, but with about $1 million of that divided between the smaller players, it leaves a smaller piece of the pie for PokerStars, with only about $1.85 million left over. That is down about 23% from PokerStars' 2020 revenue, but still represents the lion's share of the total market.
There is no question PokerStars is the leader of a growing online poker market in PA, but a deeper look into the numbers shows competition is slowly eating into its market share and total revenue numbers. It is still a clear lead, with nearly twice the revenue of its two competitors combined, but the playing field in PA might be starting to level out a bit more.