It has been only a few days since the World Series of Poker 2021 wrapped up, yet officials have already started the campaign for the WSOP 2022.
The 53rd annual WSOP poker festival returns to its usual traditional summer slot next year at the end of May. For the first time in 17 years, the WSOP will be played at a new venue between Bally's and Paris casinos—both of which are situated next to each other on the Las Vegas strip.
And while we are only six months away from the return of the world's richest tournament festival, officials are already giving players the opportunity to win seats to 2022 events.
WSOP

PA
: The world's most recognizable poker brand is now fully legal and regulated for online poker in
Pennsylvania!
Top Welcome offer

$50 freeplay after the first deposit, 100% match up to $1000 & extra $10 in free play with code FUSEBONUS

Modern software

Top-quality poker client for mobile and desktop play thanks to new Poker 8 software

Blast poker

Compete in jackpot sit and go's around the clock and win up to 10,000x your buy-in
This holiday season, WSOP PA will be hosting yet another tournament series in Pennsylvania called WINter Wonderland that will span two weeks starting December 5.
More than $300,000 is guaranteed over 17 events, with one event scheduled a day for 17 days. The schedule features the standard set of tournaments including PKOs, 6- and 8-handed events, Deepstacks, a freezeout with buy-ins ranging from $55 to $215.
But what makes the series exceptional is that each of these events comes with added prizes in the form of WSOP 2022 seats including the $10,000 Main Event as well as cash prizes and tournament tickets.
What we Know About
WSOP

2022:
Runs from May 31 to July 19
Venue fixed at Bally's and Paris
Full schedule to be announced in January
For instance, the opening event awards $500 cash by random draw; the PKO event a day later awards $1000 in WSOP 2022 seats also by random draw; the $10,000 guaranteed NLH PKO 8-max event on December 15 gives away $215 tournament tickets to top six players.
The largest-guaranteed event of the schedule runs on December 19 promising $100,000 in prize money plus awards five players seats to the WSOP 2022 each worth $1000 extra. It costs just $215 to enter.
Furthermore, those who play five or more events will earn an entry to a freeroll for a chance to win a WSOP 2022 Main Event, worth $10,000. The freeroll takes place on December 27 at 6 PM local time.
WSOP

PA WINter Wonderland Tournament Series Overview
Dec 5 to 21, 17 tournaments, one tournament each day
$300K+ Gtd
$15K in added prizes including seats to the 2022

WSOP

and Main Event
Affordable buy-ins from $55 to $215
Entry to the Main Event freeroll for playing 5 or more WINter Wonderland events

WSOP

2022 Main Event Freeroll on December 27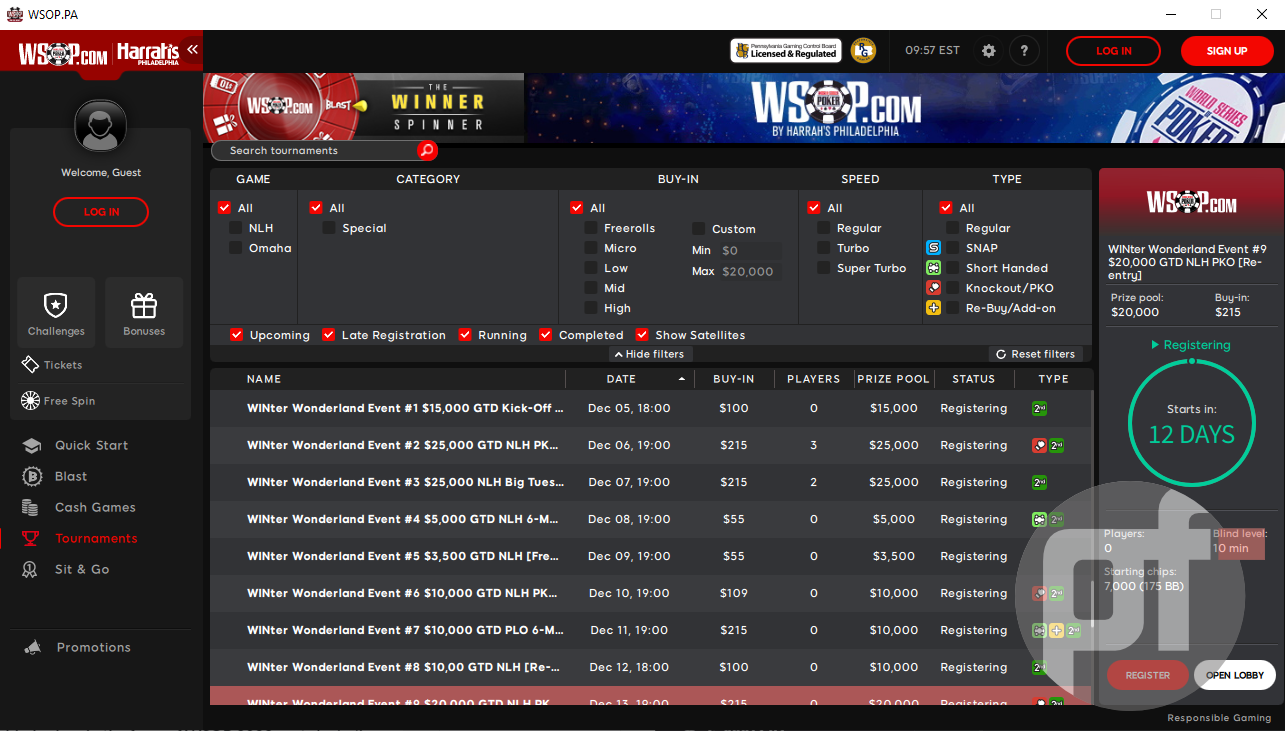 A similar tournament series is expected to run for players in New Jersey and Nevada though, at the time of writing, no such tournaments have been deployed on WSOP NJ/NV clients.
Long-time players at WSOP NJ may remember that the operator ran the same tournament brand series in 2016. It is safe to assume that WSOP.com will also be running the same offering for players in New Jersey and Nevada with the chance to win seats to the 53rd annual World Series of Poker.
The WSOP WINter Wonderland comes fresh off the back of the WSOP Signature series that ran last month for players in Pennsylvania. The 17-day long festival guaranteed over $500,000 in prize money over nearly 40 events. The upcoming series will be WSOP PA's sixth non-bracelet tournament series in its short history.
WSOP

2022 Only Six Months Away

The WSOP 2021 came to a triumphant end last week with close to $240 million in prize money awarded. It was the third-largest series by prize pool and second-largest by turnout. The single online bracelet event in PA attracted 171 players and a final prize pool of $153,900.

Although players had to wait 26 months for the 52nd edition of the World Series due to the pandemic, this time around, players will have to wait a lot less time: a mere 181 days, provided all goes well and the world overcomes the new Covid-19 variants.

One thing we do know is that it won't be at the same venue. As it had been long expected by industry insiders, the WSOP finally confirmed that the series will move to a new location. As mentioned earlier, the WSOP 2022 will move to Bally's and Paris, both owned by Caesars Entertainment, the WSOP's parent company, saying goodbye to its home of the past seventeen years of the Rio All-Suite Hotel & Casino.

A-list actor and comedian Vince Vaughn will be the Master of Ceremonies for the 2022 edition.

"We are absolutely thrilled with this year's turnout, both domestically and internationally," said World Series of Poker Senior Vice President, Ty Stewart, in last month's press release. "As we close out this chapter at the Rio, we are excited to have the iconic Vince Vaughn usher in a new era of WSOP at Bally's and Paris next summer."

The full schedule for the WSOP 2022 is expected to be announced in January and is likely to follow the success of this year's series.

WSOP WINter Wonderland series at WSOP PA runs from December 5 to 21. WSOP 2022 takes place from May 31 through to July 19, 2022.
WSOP

PA WINter Wonderland Series 2021 Schedule
Event
Date
Buy-in
Gtd
Added Prize
#1 $15K Gtd Kick-Off
December 5
$100
$15,000
$500 Cash by Random Draw
#2 $25K Gtd

NLH

PKO

December 6
$215
$25,000
$1,000 2022

WSOP

Seat by Random Draw
#3 $25K Gtd

NLH

Big Tuesday
December 7
$215
$25,000
$215 Tournament Ticket to 1st Place
#4 $5K Gtd

NLH

6-Max
December 8
$55
$5,000
$100 Tournament Tickets to Final 6 Players
#5 $3.5K Gtd

NLH

[Freezeout]
December 9
$55
$3,500
$100 Cash to Final 9 Players
#6 $10K Gtd

NLH

PKO

8-Max
December 10
$109
$10,000
$215 Tournament Tickets to Final 2 Players
#7 $10K Gtd

PLO

6-Max
December 11
$215
$10,000
$500 Cash by Random Draw
#8 $10K Gtd

NLH

December 12
$100
$10,000
$1,000 2022

WSOP

Seat by Random Draw
#9 $20K Gtd

NLH

PKO

December 13
$215
$20,000
$500 Cash by Random Draw
#10 $25K Gtd

NLH

Big Tuesday
December 14
$215
$25,000
$1,000 2022

WSOP

Seat by Random Draw
#11 $10K Gtd

NLH

PKO

8-Max
December 15
$109
$10,000
$100 Tournament Tickets to Final 6 Players
#12 $3K Gtd

NLH

PKO

Turbo Deepstack 8-Max
December 16
$77
$3,000
$200 Cash by Random Draw
#13 $7.5K Gtd

NLH

Turbo Deepstack
December 17
$100
$7,500
$200 Cash by Random Draw
#14 $20K Gtd

NLH

PKO

December 18
$215
$20,000
$215 Tournament Tickets by Random Draw (4x)
#15 $100K Gtd

NLH

December 19
$215
$100,000
$1,000 2022

WSOP

Seat by Random Draw (5x)
#16 $20K Gtd

NLH

PKO

December 20
$215
$20,000
$1,000 2022

WSOP

Seat by Random Draw
#17 $10K Gtd

NLH

Deepstack
December 21
$100
$10,000
$500 Cash by Random Draw