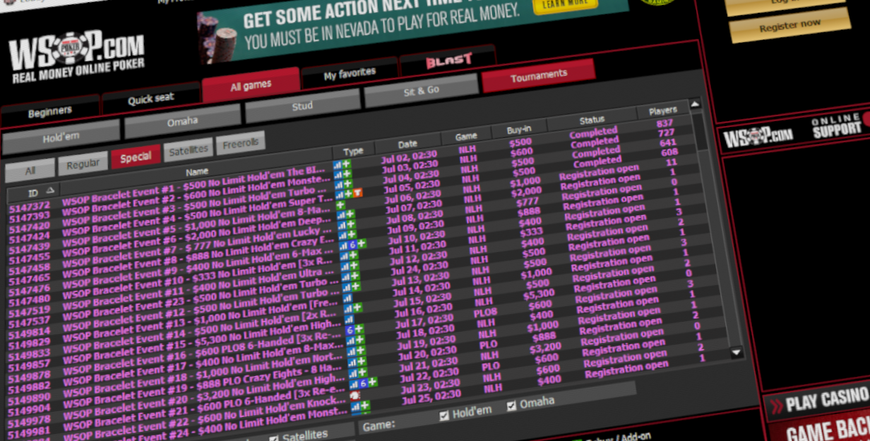 The World Series of Poker has drawn to a close and as well as the in-person tournaments, there was a slate of online bracelet contests. The WSOP Online 2021 events were highly successful – with over $8 million awarded in prizes, and not a Covid controversy in sight.
The companion series ran across the entire WSOP network, with 10 bracelets up for grabs in Michigan and New Jersey, whilst Pennsylvania — where WSOP only went live on July 12 — had to make do with just the one event.
The bracelet tournaments took place every Sunday while the live festival was running, and the online series was an unqualified triumph with each contest generating well over six figures in prize money. The best supported event was, unsurprisingly, the cheapest to enter. The $400 NLH Ultra Deepstack (Event #3) saw 1,357 total entries combining for a total of $488,520.
Big Fields Make For Big Prize Pools
But this wasn't even close to being the biggest prize pool. Event #8, the Lucky 7s NLH High Roller produced a whopping $1,696,710 – 183 players stumping up the $7777 entry fee, plus 47 rebuys thrown in for good measure.
But arguably, the most successful event was #9, the lucky 7s NLH. The $777 buy-in was just 10% of its High Roller counterpart but generating close to half the prize pool — attracting 1122 entries, for a total of $785,400 in prizes.
Market
Date
Event
Name
Buy-in
Entries
Prize Pool
NJ+NV
Oct, 03
#1
NL Hold'em Freezeout
$5,300
156
$780,000
NJ+NV
Oct, 03
#2
NL Hold'em

BIG

500
$500
1,067
$480,150
NJ+NV
Oct, 10
#3
NL Hold'em Ultra Deepstack
$400
1,357
$488,520
NJ+NV
Oct, 17
#4

PLO

Crazy 8's 8-Max
$888
522
$417,600
NJ+NV
Oct 24
#5
Championship
$1000
854
$768,600
NJ+NV
Oct 31
#6
2x Re-entry
$666
1029
$617,400
NJ+NV
Nov 7
#7
NL Hold'em High Roller 8-Max
$3200
434
$1,319,360
NJ+NV
Nov 14
#8
Lucky 7's No Limit Hold'em High Roller
$7777
230
$1,696,710
NJ+NV
Nov 14
#9
Lucky 7's No Limit Hold'em
$777
1122
$785,400
NJ+NV
Nov 21
#10
Mini Main Event
$1000
774
$696,600
PA
Nov 21
-
Mini Main Event
$1000
171
$153,900
7716
$8,204,240
The last-minute addition of these tournaments to the WSOP roster means that 189 bracelets have been won in 2021 – far and away the most given away in a single year.
The 11th bracelet event, was the first ever to be held in PA. This tournament also proved immensely popular, with 171 runners contributing to a total of $153,900.
That is a huge figure for an online tournament in PA. Only PokerStars PA could realistically hope to draw that kind of field in the Keystone State. The achievement is all the more remarkable as the tournament was a freezeout event, so there were no rebuys to bolster the prize pool.
WSOP

Continues to Thrive

In its short life, WSOP PA has already become a major player in the state. Its August bracelet series saw the operator claim a 25% market share in the state for that month. Cash game traffic has not enjoyed so much success, however, and WSOP PA announced this week that it had revamped its lobby in a bid to boost numbers.

The one glaring blip in WSOP's otherwise phenomenal recent history is the absence of its highly anticipated poker room in Michigan, the launch of which has been touted for most of the year.

Even as recently as last month, it was hoped that the site might go live before the end of the World Series, allowing Michiganders to get their first shot at WSOP gold.

Questions remain over just when WSOP MI will come to fruition but that one issue notwithstanding – and despite everything the poker industry has endured over the last 18 months — WSOP will be looking back on 2021 as a year of great successes.