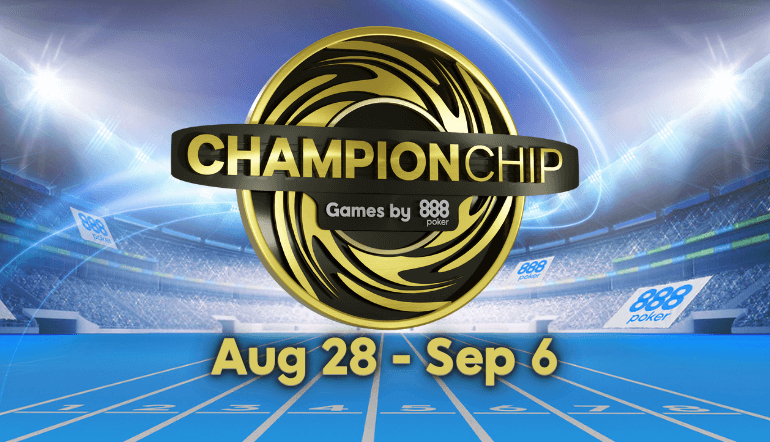 Nearly $100k was awarded on the opening day of the $500k guaranteed ChampionChip Games series from 888poker, and the biggest event of the series is still to come. On Sept. 1, the first Day 1 flight for the massive $200k guaranteed ChampionChip Games Main Event kicks off, and players who buy in directly will get a shot at that colossal prize pool for just $60.
So far, the series is off to a strong start. With nine games in the books, including six official numbered events, the series is slightly above its guarantees in terms of total prize money collected, with a total of $114,830 awarded so far on guarantees of $103,200.
The first day of the event was a big success, with nearly $100k awarded across six different events on opening day. Not all the tournaments made their guarantees, but in the end, there were $92,030 in prizes awarded in fields of more than 5,500 players, which was significantly above the first-day guarantee of $84,700.
There are still 19 official events left on the docket, and a massive Main Event is among them. For just $60, players will have multiple Day 1 chances at a $200k guarantee on Sept. 5 when Day 2 runs. Day 1 flights get underway on Sept. 1, and there will be 14 chances for players to bag a Day 2 stack.
Tremendous Value for a Very Reasonable Price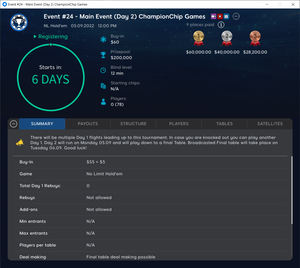 Main Events in any series will usually have the largest guarantee and solid value. Still, in many cases, the value of those big guarantees is cut by a significant initial investment. At $60, the ChampionChip Main Event is one of the lowest-priced major Main Events in online poker.
That makes the tournament quite valuable and makes it the best-value event of the entire series. That honor typically goes to a lower buy-in tournament with a small guarantee that is only large relative to the buy-in. For the 2022 ChampionChip Games, however, the $200k Guaranteed Main Event has a pretty impressive $3636.36 guaranteed for every dollar spent buying in.
The other way to look at that figure is that the game will need more than 3,600 entries to hit the lofty guarantee, so there is a reasonable chance of overlay for added value. And if the tournament hits the guarantee, that will increase the value of the initial buy-in.
Flights to Day 2 of the Main Event start today (Sept. 1), with three flights per day through Sept. 4, with two more turbo flights on Sept. 5 before Day 2 officially kicks off. There are also daily freerolls running with tickets to the Main Event up for grabs, so players have a shot of getting their seats for free.
ChampionChip Games Main Event Day 1 Flights
Sept. 1 – 4: Three Day 1 flights daily at 13:00, 15:00, and 17:00 ET
Sept. 5: Two turbo Day 1 flights at 11:30 and 13:30 ET

Even outside the big Main Event, there is still lots of value left in 888poker's ChampionChip Games. While over $100k of guarantees have already played out, and $200k is reserved for the Main Event, that still leaves ~$200k worth of guarantees up for grabs across the remaining 18 events.
See below for the full results to date and the remaining schedule, and plan your shot at ~$400k worth of guaranteed money still waiting to be won in 888poker's ChampionChip Games.
2022 ChampionChip Results to Date
Tour Name
Buy in

GTD

Total Entries
Collected
% Over PP
Triple Threat 11 (

PKO

) ChampionChip Games
$11.00
$15,000
1509
$15,090
0.60%
Triple Threat 22 (

PKO

) ChampionChip Games
$22.00
$20,000
1071
$21,420
7.10%
Event #01 – Opening Ceremony ChampionChip Games
$33.00
$30,000
1194
$35,820
19.40%
Made to Amaze – ChampionChip Games
$5.00
$10,000
1896
$8,627
-13.73%
Event #02 – Sailing ChampionChip Games
$7.70
$7,700
817
$5,719
-25.73%
Event #03 – High Jump R&A ChampionChip Games
$1.00
$2,000
855
$778
-61.10%
Event #04 – Boxing (

PKO

6-Max) ChampionChip Games
$22.00
$12,000
815
$16,300
35.83%
Event #05 – Karate (

PKO

6-Max) ChampionChip Games
$5.50
$4,000
697
$3,485
-12.88%
Event #06 – Judo (

PKO

6-Max) ChampionChip Games
$3.30
$2,500
567
$1,701
-31.96%
2022 ChampionChip Remaining Schedule
Tour Name
Date

GMT

Buy in

GTD

$Gtd/$1 Buy-In
Event #13 – Marathon (Deepstack) ChampionChip Games
Sep 1
18:00
$22.00
$12,000
$545.45
Event #14 – Triathlon (Deepstack) ChampionChip Games
Sep 1
18:30
$11.00
$6,000
$545.45
Event #15 – Decathlon (Deepstack) ChampionChip Games
Sep 1
19:00
$5.50
$4,000
$727.27
Event #16 – Surfing (6-Max) ChampionChip Games
Sep 2
18:00
$11.00
$6,000
$545.45
Event #17 – Sailing (6-Max) ChampionChip Games
Sep 2
18:30
$5.50
$4,000
$727.27
Event #18 – Swimming (6-Max) ChampionChip Games
Sep 2
19:00
$2.20
$2,000
$909.09
Event #19 – Sport Climbing (

PKO

) ChampionChip Games
Sep 3
18:00
$22.00
$12,000
$545.45
Event #20 – Mountain Biking (

PKO

) ChampionChip Games
Sep 3
18:30
$11.00
$6,000
$545.45
Event #21 – Skateboarding (

PKO

) ChampionChip Games
Sep 3
19:00
$3.30
$2,500
$757.58
Triple Threat 11 (

PKO

) ChampionChip Games
Sep 4
16:00
$11.00
$15,000
$1,363.64
Triple Threat 22 (

PKO

) ChampionChip Games
Sep 4
16:30
$22.00
$20,000
$909.09
Event #22 – Mini Main Event ChampionChip Games
Sep 4
18:00
$16.50
$20,000
$1,212.12
Made to Amaze – ChampionChip Games
Sep 4
18:00
$5.00
$10,000
$2,000.00
Event #23 – Micro Main Event ChampionChip Games
Sep 4
19:00
$5.50
$15,000
$2,727.27
Event #24 – Main Event (Day 2) ChampionChip Games
Sep 5
18:00
$60.00
$200,000
$3,333.33
Event #25 – Closing Ceremony ChampionChip Games
Sep 5
18:30
$22.00
$12,000
$545.45