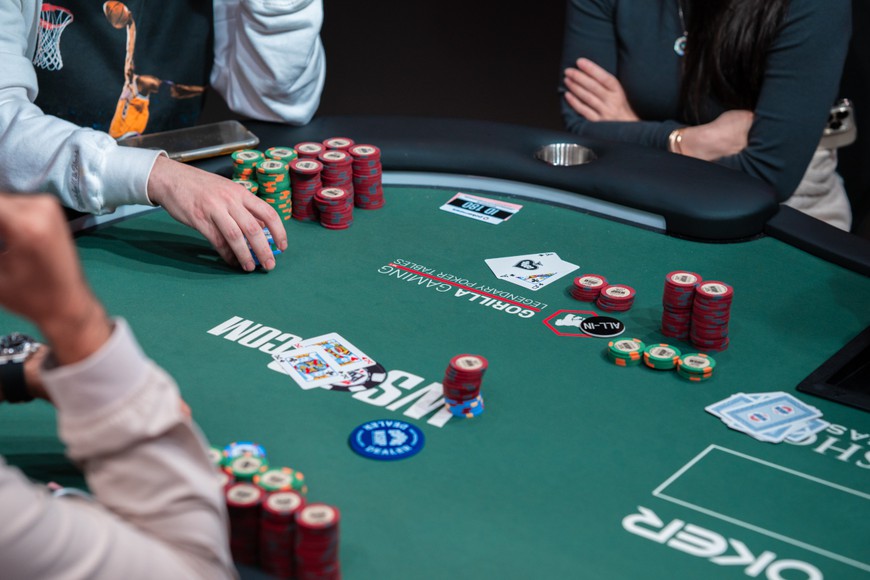 We are halfway through the 2023 World Series of Poker (WSOP), and 47 out of 95 live gold bracelets have already been claimed. Per numbers compiled by pokerfuse and Poker Industry PRO, participation at the mid-way point is at an all-time high.
More than 103k total entries have registered, and the series has thus far awarded over $150 million in prize money, at a staggering average of $3.2 million per event. 38 events out of 47 (80%) have produced prize pools of at least $1 million. The officials at the WSOP have already made $14.6 million from tournament and staff fees.
With another 47 bracelet events to be handed out in Las Vegas, including the much-awaited $10K Main Event, the series is well on course to reach new heights and possibly end up awarding close to a whopping $400 million.
Win Online Bracelets at

WSOP

NV & NJ
Running June 1 – July 16
20 bracelet events on the schedule
Buy-ins from $333 to $5300
Satellites starting at $1
To have your shot at
WSOP
gold,
head over to

WSOP

NV
or visit
WSOP

NJ
Bet With Your Head, Not Over It. If you or someone you know has a gambling problem and wants help, call 1-800
GAMBLER
.
WSOP

2023 Stats (First 47 Live Bracelet Events)
Bracelets Awarded: 47
Prize Money Generated: $153,672,652
Entrants: 103,473
Avg Prize Money Per Event: $3,269,631
Avg Buy-in: $14,080
Total Fees Collected: $14,660,748
Total Prize Money (Projected): ~ $400 million
Last week, our premium publication and data analytics platform for poker industry insiders, PRO, reported that participation is up by more than 10% when compared to the same tournaments held last year.
But the following events bested the pace of the first two weeks, producing stellar numbers. For instance, the $1500 MONSTER STACK NLH saw a field of 8317 runners to amass over $11 million prize pool. The same event in 2022 saw 6501 entrants for a total prize pool of $8.6 million, an uptick of 28%.
Similarly, the $1500 Freezeout NLH on June 12 drew 2046 entrants — up by 15% over last year's edition — while the $1500 2-7 Triple Draw grew by nearly 50%.
But not every event is up year-over-year. The $50K buy-in Poker Players Championship saw 99 runners — down from 112 last year. The $10K Razz Championship saw a decline of 18% in participation, with this year's event pulling in 102 compared to 125 last year. The $2K NLH event shrunk to 1962 from 1977.
On average, the overall participation has seen a boost of around 15%. At its current pace, the 2023 WSOP is set to outperform last year's edition, which awarded nearly $350 million — the biggest ever in WSOP's history.
Once the series wraps on July 18, this year's edition could beat that record and end up with a total prize pool close to $400 million.
WSOP

2023 Off to a Flyer

The WSOP kicked off on May 30 with the traditional NLH Casino Employees event drawing over 1k entrants, representing an increase of 22% over last year. The $600 NLH Deepstack saw 6076 participants enter the $600 buy-in tournament for a total prize pool of over $3 million.

The opening week's action-packed Mystery Bounty event has been one of the biggest highlights. Expectations were exceeded as 18,188 runners put up the $1000 buy-in to create a massive prize pool of $16.1 million. The same event last year drew 14k entrants — an increase of nearly 30%.

Much of this year's growth has also come from a radical change to the price points offered. For the first time, a $300 buy-in gold bracelet event was run — making it the cheapest live bracelet to be ever offered by WSOP in Las Vegas.

Called the Gladiators of Poker, the debuting bracelet event pulled 23,088 entrants to make it the second-biggest WSOP live event in terms of attendance. The event amassed a prize pool of $5.6 million.

"Taking it down just a little bit lower may open up the opportunity for some folks to come and try a World Series of Poker event that never had an opportunity to do so otherwise because the buy-in was out of reach to them," WSOP Vice President Jack Effel, told Las Vegas Review-Journal. "We want to give everyone an opportunity to play."
WSOP

Top Six Largest Turnouts
Year
Entries
Event
Buy-in
Prize Pool
2019
28,371
Big 50
$500
$13,509,435
2023
23,088
Gladiators of Poker
$300
$5,679,648
2015
22,374
Colossus
$565
$11,187,000
2022
20,080
The Housewarming

NLH

$500
$8,433,600
2016
21,613
Colossus
$565
$10,806,500
But it is not just the low buy-in events that are doing well. The $250K Super High Roller saw 69 high rollers enter the tournament, producing more than $17 million in prize money — the largest thus far. In 2022, the same event gathered 56 runners for nearly $14 million in the total prize pool.
Another debut event, the $10K Secret Bounty (featuring the Mystery Bounty format), attracted 568 entries, while the $3K NLH had a field size of 1735 runners.
The online bracelets running for players in the shared network of New Jersey and Nevada are also faring well, with prize pools hovering around $600k to $1.4 million.
Not just the bracelet events but the Daily Deepstacks have also been drawing massive numbers daily. The most popular has been EV#141, which was held on June 5 at 1 PM. The event attracted 1057 entrants to take its prize pool to $211,400.
But the series is yet to see its peak. The ever-popular MILLIONAIRE MAKER will be running this week, with its first flight scheduled for Friday, June 23. With a buy-in of $1500, the event is expected to draw massive numbers. Last year, it drew 7961 entrants to swell its prize pool to over $10 million.
Another signature event, the $1000 SENIORS NLH Championship, will kick off this week, as well as the $1000 PLO Championship.