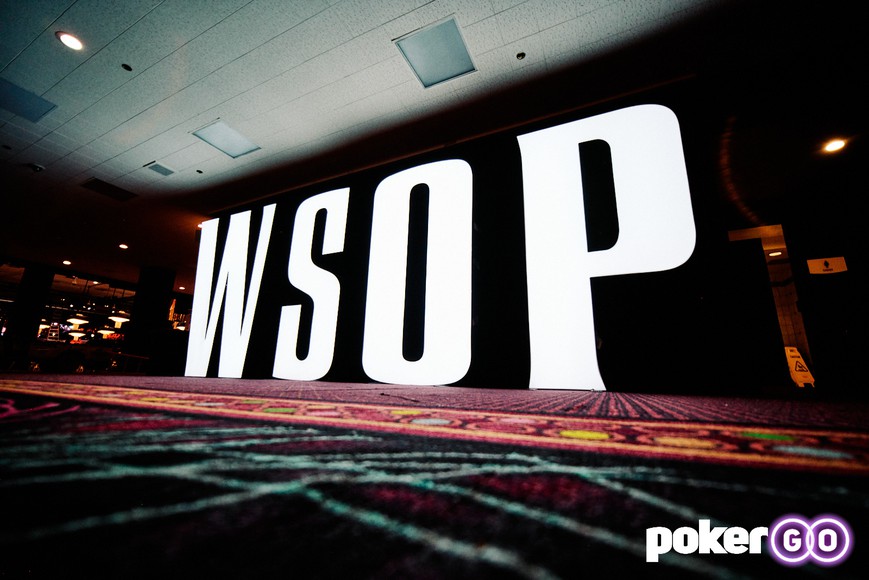 The 2022 World Series of Poker is officially in the books. Held in a new venue at Bally's and Paris on the Las Vegas Strip, returning to the summer slot, the series has been an enormous success.
Numerous records were smashed this year, including the record for the biggest prize money ever awarded, the largest turnout across the series, and the most millionaires created in a single series. The Main Event was also only 100 entries away from becoming the most-attended ever.
As per data crunched by pokerfuse and Poker Industry PRO with the help of WSOP US and PokerNews, the numbers are mind-boggling, to say the least.
Special Signup Offer
100% deposit bonus up to $1000!
$50 in free play with first deposit
Top-quality software
Compete for

WSOP

bracelets & rings
The 53rd Annual World Series of Poker awarded a staggering $333,362,004 in prize money over 88 live bracelet events — beating the previous record attained in 2019 by nearly $50 million.
The series drew an astonishing 182,662 entrants — over 50% more than the pandemic-hit 2021 series. As reported earlier, the Main Event pulled in 8,663 entrants for a total prize pool of $80,782,475.
"This year's historic WSOP was special for the poker community," World Series of Poker Senior Executive Director Ty Stewart said. "Against all odds, poker made its way back in a big way and for the first time to the Las Vegas Strip."
WSOP

2022 Live Series Stats
Live Bracelets: 88
Prize Pool Awarded: $333,362,004
Avg Prize Pool: $3,788,205
Total Entries: 182,662
Avg Entries: 2076
Avg Buy-in: $11,156
Fees Collected: $31,543,560
Along with the 88 live bracelets, the organizers also held 13 online bracelets for players in New Jersey & Nevada. These events produced $13,017,963 in prize money and attracted 15,767 entrants.
WSOP

2022 Online Series Stats (Only New Jersey & Nevada)
Online Bracelets: 13
Prize Pool Awarded: $13,017,963
Avg Prize Pool: $1,001,382
Total Entries: 15,767
Avg Buy-in: $2104
Fees Collected: $1,165,077
Counting both live and online bracelets (held for players in New Jersey & Nevada), the WSOP 2022 officially ends with an eye-watering prize pool of $346,379,967 and 198,429 entries over 101 events.
WSOP

2022 All Bracelets Stats
Venue
Platform
Bracelets
Entries
Total Prize Pool
Avg Prize Pool
Fees Collected
Ballys & Paris, Las Vegas
Live
88
182,662
$333,362,004
$3,788,205
$31,543,560

WSOP

NJ/NV
Online
13
15,767
$13,017,963
$1,001,382
$1,165,077
total
101
198,429
$346,379,967
$32,708,637

WSOP

MI
Online
8
1759
$870,900
$108,863
$96,671

WSOP

PA
Online
8
1498
$750,910
$93,864
$83,345
WSOP

2022 Series: Key Statistics and Numbers
For the first time, the

WSOP

series generated a total prize pool well above $300 million.
Total Prize Money surpassed last year's numbers by nearly $100 million more
Beat the 2019 record for the largest

WSOP

series by $50 million
Total Prize Pool generated across all the

WSOP

series exceeded $3.8 billion
Online bracelets in NJ & NV generated just over $13 million, while the online series in PA & MI produced over $1.5 million
25 players became millionaires during the series
71 out of 88 live bracelet events produced prize pools of at least $1 million
Average prize pool per bracelet event across the 98 schedule series is just over $3.5 million
Special Signup Offer
100% deposit bonus up to $1000!
$50 in free play with first deposit
Top-quality software
Compete for

WSOP

bracelets & rings
WSOP

Still Attracting New Players

While it was expected that the turnout would go up significantly this year when looking closely at the numbers, there is clear evidence that new players are turning out to play the World Series.

Pre-pandemic in 2019, the total entrants for the live series were around 173k. This year's participation represents an increase of approximately 5.5%.

"This is the year that everyone is basically returning to the World Series of Poker after not having the opportunity to do so for whatever reason," Jack Effel, Vice President at WSOP, said in an interview to Las Vegas Review-Journal. "We saw obviously a big increase in online activity during the pandemic, and we've seen more people getting into poker. We're seeing a lot of those people coming to the World Series of Poker for the first time."

"There's definitely new players that are being made organically throughout the system. I think a lot of the people we're seeing this year are new," Effel added.
WSOP

Stats Comparison 2019 vs. 2021 vs. 2022
| | 2019 | 2021 | 2022 |
| --- | --- | --- | --- |
| Total Prize Money Awarded | $293,183,345 | $237,832,330 | $346,379,967 |
| Bracelets | 90 | 98 | 101 |
| Avg Prize Pool per Bracelet | $3,257,593 | $2,426,861 | $3,429,505 |
| Entries | 187,298 | 127,074 | 198,429 |
| Avg Entries | 2081 | 1297 | 1965 |
| Main Event | 8569 | 6650 | 8663 |
| >$1M Prize Pools | 62 | 58 | 71 |
| >$5M Prize Pools | 12 | 7 | 14 |
| >5000 Entries | 12 | 6 | 11 |
In the 52-year history of the WSOP, the richest tournament series has now awarded more than $3.8 billion in prize money over 1,693 bracelet events. Total entrants across the series spanning more than five decades have gone up to 1.7 million, while nearly 130,000 of that come on all of the Main Events held.
With $333,362,004 in prize money awarded over 88 live bracelet events, the 2022 installment is, by far, the most massive WSOP in its 52-year history. The WSOP series in 2019 awarded around $283 million across the live events, while the 2021 series generated close to $230 million.
All Time
WSOP

Stats:
Prize Money Awarded: $3,874,776,560 ($3.8 billion)
Entries: 1,703,459 (1.7 million)
Main Event Entries: 129,425
Bracelets: 1693
Most of the events did incredibly well, including the Main, which many anticipated becoming the largest ever but had to settle for the second-largest as it only fell 110 entrants shy of breaking the 2006 record. But the opening week's Housewarming Event drew the largest turnout. In total, 20,080 hopefuls entered the event, creating a prize pool of $8.4 million.
The debutant $1000 buy-in Million Dollar aka Mystery Bounty event also had a great outing attracting 14,112 runners and a prize pool of $12.5 million.
"To see Espen persevere through 8,662 Main Event entrants — the second most in WSOP history — was incredible. We're looking forward to raising Espen's banner and coming back bigger than ever in the new Horseshoe Las Vegas next summer," Stewart said.
WSOP

Turnout Comparison 2019 vs. 2021 vs. 2022
Event
2019
2021
2022
Casino Employees
685
419
832

MILLIONAIRE

MAKER

8809
5326
7961
Ladies

NLH

Championship
968
644
1074

COLOSSUS

13,109
9399
13,565
Poker Players Championship
74
63
112
Main Event
8569
6650
8663
Little One for One Drop
6248
3797
5702
Closer
2800
1903
2968
Sign up for WSOP and take advantage of the fantastic WSOP US Deposit Bonus