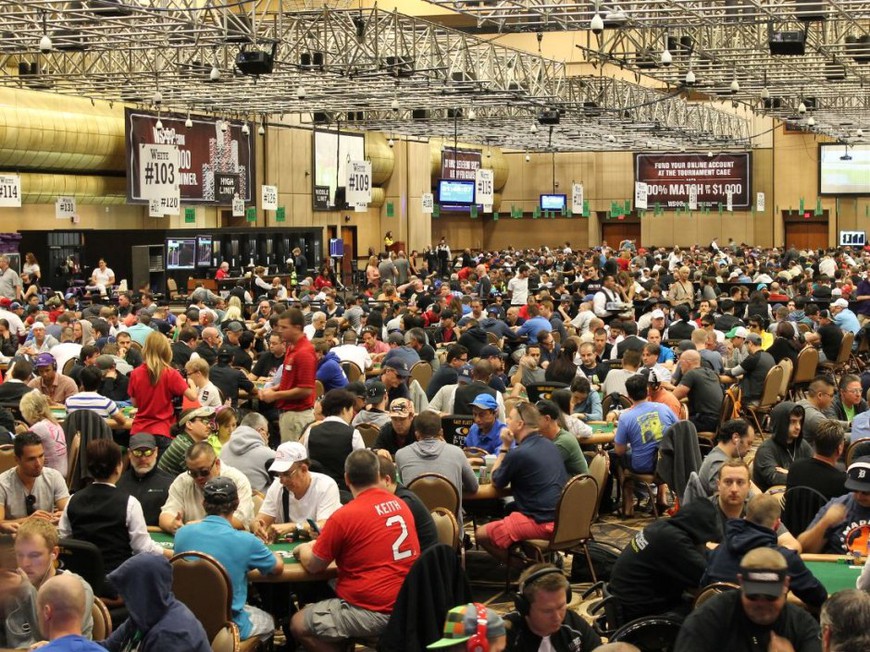 This week, officials at the World Series of poker announced that the payout structure for the 2015 World Series of poker Main Event had been modified. The previously announced $10 million first place prize guarantee has been replaced with a guarantee that 1000 players will make the money.
The new guarantee is contingent upon the Main Event attracting a minimum of 5000 players, but that should be an easy feat to accomplish. Last year 6683 players ponied up the $10,000 entry fee for poker's premier tournament, and WSOP officials hope to surpass that number this year.
"Our 5-year average for the Main Event is 6,672 entrants, and our 8 year average is 6,632, we have remained very consistent the past 8 years, even with the several ups and downs of the industry over that period," remarked Seth Palansky Vice President of Corporate Communications for Caesars Interactive Entertainment in an interview with pokerfuse.
"We are not adverse to change. We embrace it," he continued. "This is the players' money in the prize pool and we want to do with the prizepool, what the players wish."
In addition to the nearly 50% more players that will make the money this year than did last year, the new payout structure will also make every member of the final table a millionaire if the event can match the same number of entries that it received in 2014. Players in New Jersey can qualify for World Series of Poker events on WSOP.com NJ
Social Media Prompts Change
The announcement for the new guarantee came just weeks after the original announcement that the $10 million first place prize would be back from last year, but as players took to social media to express their opinions, the WSOP was listening.
In an attempt to determine if the feedback being provided over social media was just the efforts of a vocal minority, WSOP officials launched an online survey to ask both its current customers and potential customers what they thought about a flatter payout structure.
"More than 86% of respondents support the 1,000 places paid and Top 9 becoming millionaires," according to Palansky. "It gave us some confidence that the new format will both be well received by our existing customer base, and gives us the chance to grow the event."
The Main Event encompasses 10 days from July 5 through July 14 and includes three consecutive Day 1s starting on Sunday July 5.