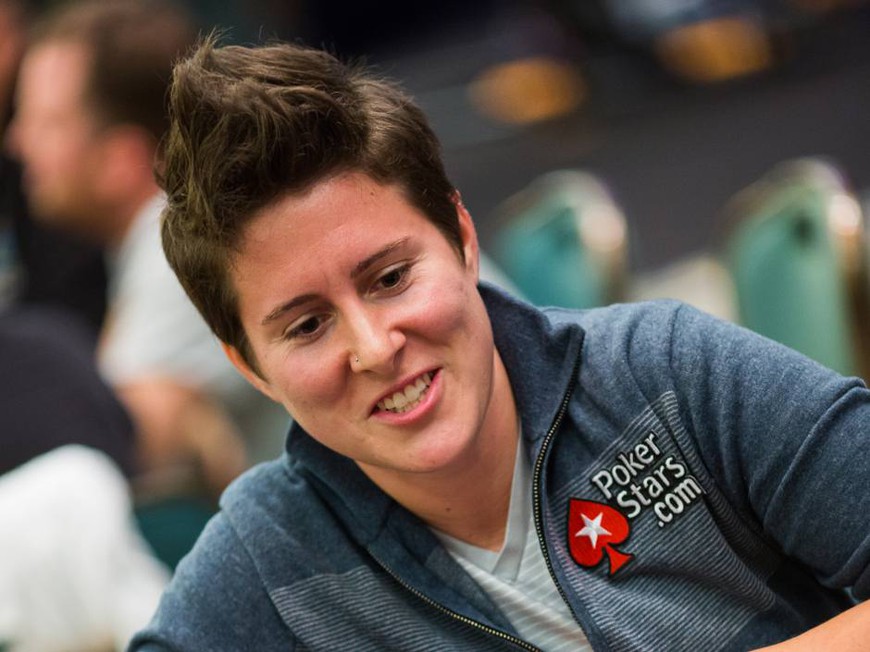 Widely acknowledged as one of the best poker players in the world, Vanessa Selbst has added another $1 million to her bankroll by winning the first Super High Roller Celebrity Shootout sponsored by Poker Central.
Selbst's live tournament winnings now add up to over $11.6 million and she has three WSOP bracelets in her trophy case at home in Brooklyn.
The pro/celebrity event was put on in conjunction with the first $500,000 buy-in Super High Roller Bowl which ran at the ARIA Hotel and Casino in the beginning of July. To win, Selbst had to fight through a table of top pros—Doyle Brunson, Antonio Esfandiari, Daniel Negreanu and Phil Hellmuth.
After achieving that remarkable feat, she faced off against Kevin Pollak who beat a table full of celebrities to qualify for the heads up confrontation. The match was best of three and unfortunately for Pollak, Selbst wrapped up the $1 million victory with two straight wins.
Poker Central was formed to provide 24/7 TV broadcasts of poker in the US and internationally. The Celebrity Shootout was shown on the NBC Sports channel (NBCSN) as a series of episodes which began on July 29.
The next Poker Central show will be the inaugural Super High Roller Bowl itself which airs from August 28, also on NBCSN. The sponsoring advertisers for the show were announced at the end of July to be the Amazon App Store, Draft Kings, and the Dollar Shave Club.
Poker Central is using the highest profile celebrities in the industry to help market poker to the mass media audience. Such mainstream exposure only stands to help the struggling New Jersey online poker sites which have seen revenues in the past year.
The $500,000 buy-in for the Super High Roller Bowl, the Celebrity Shootout and the Super High Roller Cash game have enabled Poker Central to market the big name, big money aspect of poker.
However, Poker Central is supplementing that theme with a concerted effort to tell the people stories behind the players.
"Vanessa is a great example of how fascinating poker players are," said Clint Stinchcomb, CEO of Poker Central. "The stories behind the players are just as interesting as their play. Poker's popularity, with players and fans alike, crosses all ages and demographics."
Selbst is a Fulbright scholar who got her first degree at Yale and worked at top management consulting firm McKinsey. She recently passed her bar exam after graduating from Yale Law School. Selbst married her girlfriend Miranda in 2013, and devotes a considerable amount of time to working for charity.
She set up her own charitable foundation, Venture Justice, which provides seed money for a variety of non-profits and social causes. Some of the organizations that Venture Justice has helped include the Urban Justice Center, Teachers Unite and Raising for Effective Giving (REG), the non-profit founded by fellow poker pros Igor Kurganov, Liv Boeree and others.