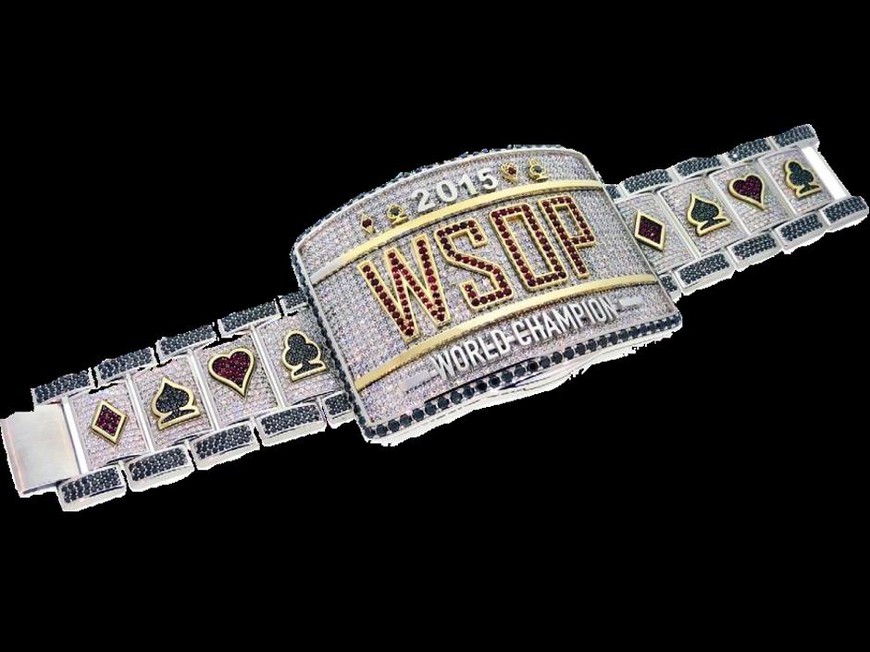 Nine players, dubbed the November Nine, will take their seats at the Final Table of the 2015 World Series of Poker Main Event on Sunday. The tournament will continue play that started in July and crown a winner on Tuesday.
The first place finisher will receive $7,683,34 and the coveted WSOP Main Event bracelet valued at $500,000. The championship jewelry, designed by Jostens, is "crafted with 427 grams of white and yellow gold" and includes 25.5 carats of white diamonds, 14.8 carats of black diamonds and 3.8 carats of rubies.
This year's Main Event bracelet will even have a hidden compartment that is designed to house the hole cards of the winner's final hand.
Live coverage of the Main Event (with a 30 minute delay to preserve the integrity of the game) will begin on Sunday November 8 at 8:30 PM ET on ESPN and the WatchESPN App in North America.
Fans in most European and African countries along with those in Spanish-Speaking Latin America, the Caribbean, Australia and New Zealand will be able to watch live either on regional ESPN channels of via the internet using the appropriate ESPN app for their country.
The broadcast will also be syndicated across non-ESPN networks in countries such as Canada, Germany, Italy, Slovakia, Great Britain and the Netherlands.
Coverage will resume on Monday at 8 PM ET and play down to the final three players. Starting Tuesday evening at 9:30 ET play will resume and continue until a champion is crowned.
Every player has already received 9th place prize money of 9th: $1,001,020. For everyone except the first player eliminated, the remaining payouts will be as follows:
1st: $7,683,346
2nd: $4,470,896
3rd: $3,398,298
4th: $2,615,361
5th: $1,911,423
6th: $1,426,283
7th: $1,203,293
8th: $1,097,056
The November Nine consists of:
Seat
Player
Chip Stack
1

OFER

ZVI

STERN

29,800,000
2

PIERRE

NEUVILLE

21,075,000
3

JOSHUA

BECKLEY

11,800,000
4

TOM

CANNULI

12,250,000
5

MAX

STEINBERG

20,200,000
6

JOE

MCKEEHEN

63,100,000
7

PATRICK

CHAN

6,225,000
8

FEDERICO

BUTTERONI

6,200,000
9

NEIL

BLUMENFIELD

22,000,000