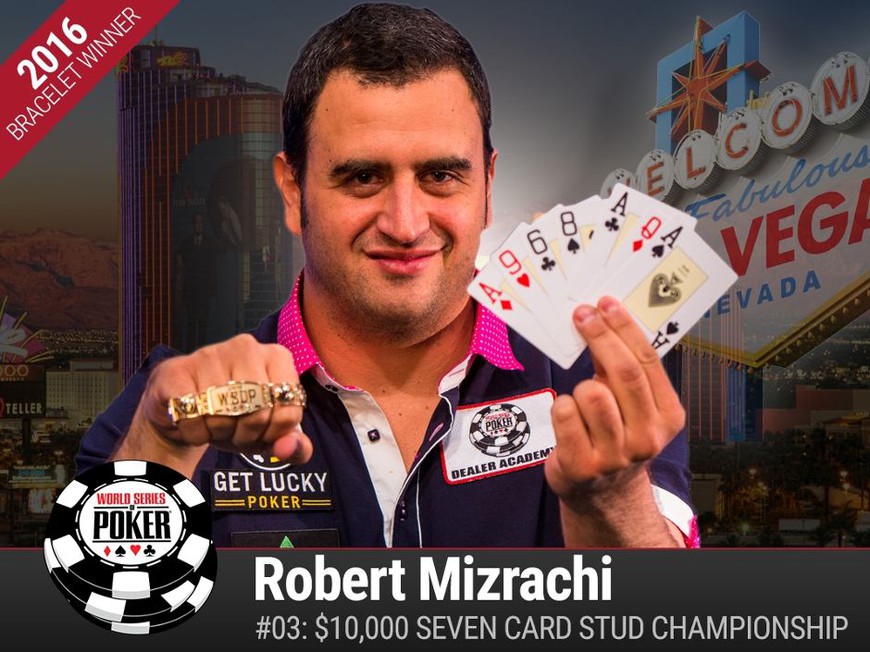 Event #3: $10,000 Seven Card Stud Championship
Event #3, the $10,000 Seven Card Stud Championship came to a close yesterday with Robert Mizrachi winning his fourth World Series of Poker bracelet and walking away with $242,662.
Heading into the event with a comfortable chip lead of 214,000, Mizrachi ended up going head to head with Matt Grapenthien who went into the event as the second chip leader but unfortunately for him could not break Mizrachi's winning streak.
Event #4: $1000 Top Up Turbo No-Limit Hold'em
Another event that finished up yesterday was Event #4, the $1000 Top Up Turbo No-Limit Hold'em that saw Kyle Julius win a coveted bracelet in the debut Top Up Turbo event. Along with his first bracelet and his first victory in a live poker tournament of any kind, the 29 year old from Illinois won $142,972 in prize money. Belgium's Bart Lybaert finished as runner up.
The Top Up Turbo event was new on the schedule for 2016 and featured a "Top Up" component where players could start with a double chip stack.
To qualify for the extra chips, players needed to place in one of the top three spots in a $55 online single-table satellite or a $55 live-satellite (played at the Rio). Additionally, players could pay an extra $1000 entry fee for the add on chips.
A total of 334 of the 667 players qualified via satellite (including Julius who qualified at the Rio) and 81 players paid $1000 for the add on, boosting the prize pool by 7%.
Event #2: $565 Colossus II No-Limit Hold'em
Culminating later today (Tuesday June 7), the hugely popular $565 Colossus II No-Limit Hold'em event has Jiri Horak firmly in the chip lead with 25,425,000 chips, as the final 9 players head into day four of the event. Ben Keeline comes in as second chip leader with 19,900,000 chips, which although is substantial, is still five million less than Horak. Everyone will be fighting hard for the $1,000,000 guaranteed first place prize.
Final Table Chip Counts:
Seat 1. Marek Ohnisko – 10,550,000 (26bb)
Seat 2. Alex Benjamen – 14,275,000 (35 bb)
Seat 3. Jiri Horak – 25,425,000 (63 bb)
Seat 4. Ben Keeline – 19,900,000 (49 bb)
Seat 5. Jonathan Borenstein – 7,400,000 (18 bb)
Seat 6. Christopher Renaudette – 4,250,000 (10 bb)
Seat 7. Xiu Deng – 6,000,000 (15 bb)
Seat 8. Farhad Davidzadeh – 5,925,000 (14 bb)
Seat 9. Richard Carr – 14,400,000 (36 bb)
Event #5: $1500 Dealers Choice 6-Handed
Event #5: $1500 Dealers Choice 6-Handed is also wrapping up today—Lawrence Berg is in the chip lead with 836,500 chips. Alan Myerson was the latest casualty getting eliminated in 10th place as play came to a close at the end of Day 2.
The seating chart for the final game that starts at 2pm PT on Tuesday looks like this:
Table 1
Seat 1: empty
Seat 2: empty
Seat 3: Yueqi Zhu – 418,500
Seat 4: Daniel Habl – 106,000
Seat 5: John Templeton – 215,500
Seat 6: Lawrence Berg – 836,500
Table 2
Seat 1: Andrew Brown – 250,000
Seat 2: Joey Couden – 192,000
Seat 3: Paul Volpe – 674,5000
Seat 4: empty
Seat 5: Randy Ohel – 99,500
Seat 6: Ryan Himes – 125,500