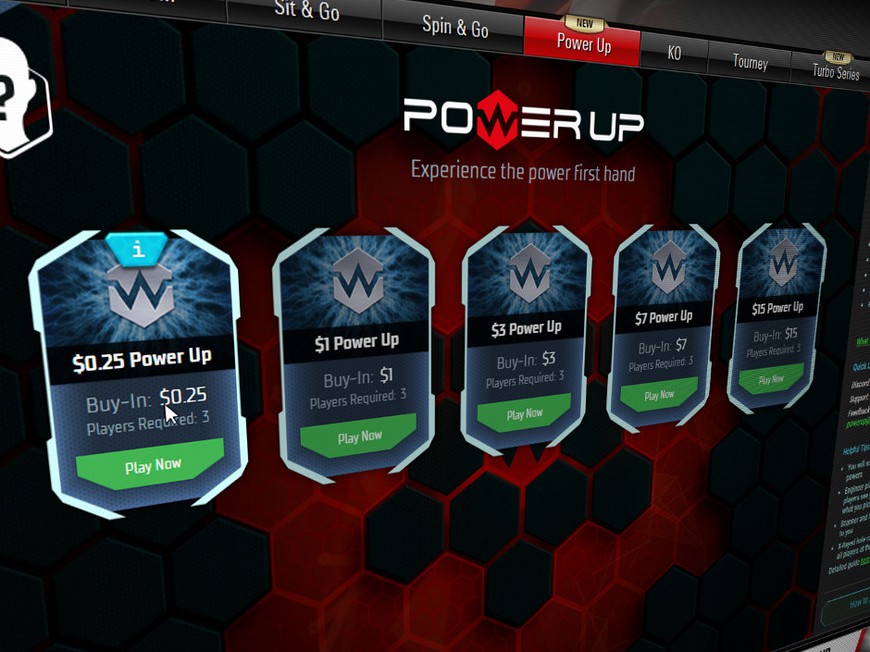 Power Up, a new game variant that takes elements from Spin & Gos and blends them with e-sports games, is expanding so that a wider range of buy-in levels are on offer to players. Furthermore, a special "no-deposit required" promotion exclusively for players in the UK has launched.
New 25 cent and $15 games have been added into the Power Up client, making micro and midstakes buy-ins available to players for the very first time. This marks the biggest expansion in game offerings since Power Up was introduced late last year, expanding the offer from $1, $3 and $7 stake levels previously on offer.
PokerStars has decided to rake the microstakes games at 8%, in line with the $1 and $3 game. The $15 games have a 6% rake, the lowest yet.
To promote the new titles, PokerStars is running a Power Up promotion exclusively in the UK. All new players receive free tickets to play real money games in the client with no deposits required.
To participate, players simply need to sign up for a real money account actual real money deposit is not required. Once complete, they will receive tickets to enter 25 cent games. Any winnings from these games are for the player to keep, no strings attached.
Players will have up to ten days to use their tickets, giving them ample time to use them all up. The deal does not preclude a customer from participating in other new player bonuses, including the free £20 offer or the 100% up to £400 deposit bonus.
Also helping boost play is a tablet app, currently available exclusively in the UK market. Also, according to the Power Up exclusive strategy site Op-Poker, a new marketing video, embedded below is being used in targeted UK promotions online.
This marks the first time that PokerStars has chosen to actively promote Power Up. The in-game promotion Collectibles that ran in January used the avatars of Power Up, but that did not encourage participation in the games.
What is Power Up?
Power Up is the result of years of game design and development from PokerStars.
The game mixes traditional Hold'em with deck building strategy popularized in games like Hearthstone—it blends blends regular poker with a deck-building concept of Power Cards that can be used to influence the hand. Special powers include being able to look at the top cards on the deck or opponents' cards, to changing your own hole cards or even "disintegrating" a card on the flop.
Like Spin & Gos, it is played in a winner-takes-all, three-handed tournament with a relatively fast blind structure.
With its immense popularity and strategic depth, Hearthstone is a leading esport, with real cash prize competitions, professional players and a huge community of players and spectators. Online poker operators have been seeking to tap into this popularity for a while, aiming to introduce real money poker to a new generation of players.
Power Up has "energy" levels, like "mana" in Hearthstone and Magic: The Gathering, which are spent to play the special Power Cards. In that way, players must carefully manage their power levels and only use them when they will be of most benefit.
"Poker has maintained its popularity for nearly two centuries because it has evolved with the times. PokerStars Power Up continues this evolution by providing a modern twist on traditional poker that we believe will be exciting to not only poker players but to a broad spectrum of gamers as well," said Chief Executive Officer Rafi Ashkenazi back in October 2017.
"We've been encouraged by the reaction during alpha testing in July and August and are optimistic that PokerStars Power Up will introduce poker to a new generation of mobile gamers, excite current players and help reconnect with less active or former players."
UK players interested in signing up for their first PokerStars account to take advantage of the offer have until March 31, 2018 to create their real money account.