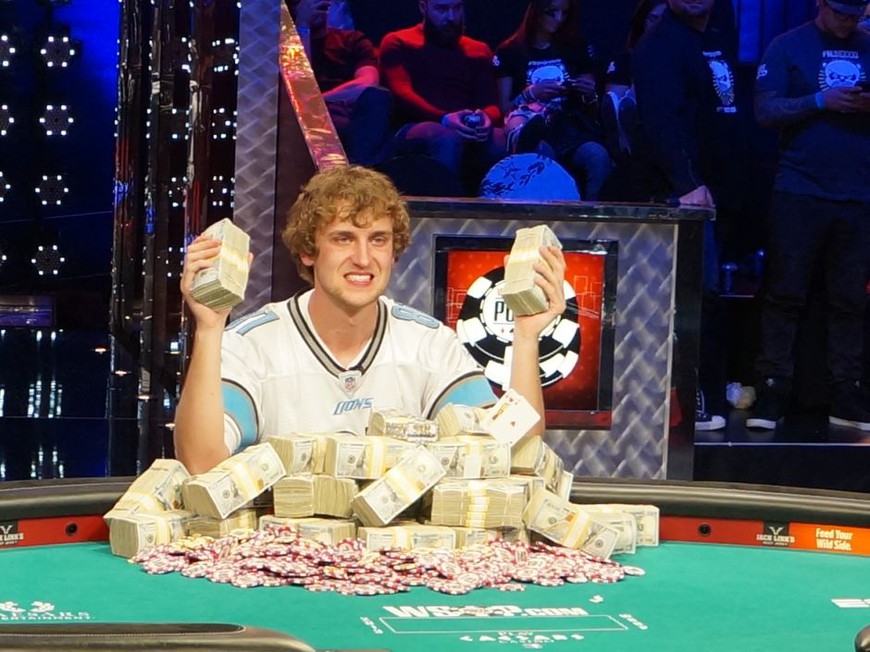 Ryan Riess, the 23-year old Las Vegas by way of Michigan poker pro, defeated Jay Farber, the Las Vegas VIP club promoter, last night to win the World Series of Poker (WSOP) Main Event title and $8,361,570 in first place prize money.
It took roughly 3.5 hours and 91 hands of heads up action to determine a winner, and even though Farber started the evening with a 20 million chip advantage over Riess, "The Beast" never truly found himself in any trouble throughout the evening.
Riess, a former poker dealer himself, demonstrated both the luck and the skill that it takes to win a massive tournament like the WSOP Main Event. The broadcast demonstrated that not only did he take away orphaned pots when he knew his opponent was weak, he was also catching an amazing run of cards which helped propel him to victory.
The tournament looked to be coming to a conclusion even earlier on multiple occasions, but thanks to one well executed big time bluff and a timely double up before the first break, Farber was able to extend the match for as long as he did.
Tears swelled in the eyes of Riess as he watched the board run out in what was to be the final hand of the match. As the final card hit the felt, securing him the win, Riess emotionally embraced his family and enthusiastic rail in celebration.
"It feels amazing. First, I want to thank god, without god I wouldn't be able to be here. I want to thank my family, my friends for the best rail in the entire world and everybody who's been supporting me. A big hats off to Jay, he played good and he's a tough competitor." Riess commented to ESPN's Kara Scott after his victory.
When asked how he came by his confidence to overcome the odds of becoming champion Riess replied, "I just think I'm the best player in the world."
Farber, and his adopted stuffed panda icon, is still able to throw a massive Las Vegas party as he walks away with $5,174,357 for his runner-up finish.
Riess, who guaranteed his victory to the ESPN cameras, called his shot and did what he said when he outlasted the rest of the November Nine and bested the field of 6352 runners to secure his place in poker history as the 2013 World Series of Poker Champion.