A who's who of the poker elite, along with representatives from poker media outlets, convened under the bright lights at the Palms Hotel and Casino on Wednesday night in anticipation of the world premiere of the new documentary Bet Raise Fold: The Story of Online Poker.
The movie is the brainchild of 2M2MM star and Deuces Cracked co-founder, Jay Rosenkrantz, executive producer and poker entrepreneur Taylor Caby, and filmmaker Ryan Firpo.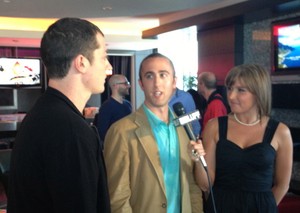 Bet Raise Fold tells the tale of the turbulent times of online poker from its infancy, into its darkest hour, right up until its modern day resurgence, both through the insight of industry experts as well as the life stories of three very different players, each on their own online journey.
Executive producers Tom Dwan and Andrew Robl headlined a cavalcade of well-known names taking their first look at the film. From Vanessa Selbst to Dani Stern, Mike Sexton to Liv Boeree, the stars took time away from the felt to grab some nachos, sit back and support the grassroots film.

It wasn't just the high-stakes stars that shined on this night either—the aforementioned poker media also shared in the spotlight, playing crucial on-screen roles. Bet Raise Fold relies heavily on the insight of journalist/photographer BJ Nemeth, writer/author Pauly McGuire, writer/historian Nolan Dalla and many more in helping the general public understand the lay of the land.
That said, Nemeth himself was working the event on this evening.
Once the film ended, to rousing applause, the filmmakers, along with the three main characters, WPT's cocksure Raw Deal host Tony "€Bond18"€ Dunst, analytical high-stakes grinder Martin "€Alexeimartov"€ Bradstreet and Minnesota mother turned poker professional Danielle Moon-Andseren, took questions from the audience. They also took time to heap thanks both on the audience and the film's backers, including everyone who contributed to the film's recent successful Kickstarter campaign.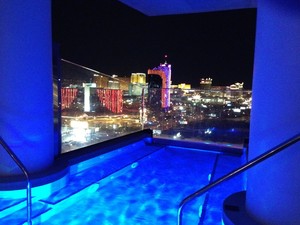 Before long, the celebration of the film's premiere moved into a suite in the Fantasy Tower at the Palms where the crew, cast and friends celebrated the hard work put into a film that was three years in the making.
Bet Raise Fold: The Story of Online Poker will be made available online to the general public on June 30, with additional plans being made for a theatrical tour. For more information on the story, both on the screen and behind, visit BetRaiseFoldMovie.com
Look for a full review forthcoming from pokerfuse.