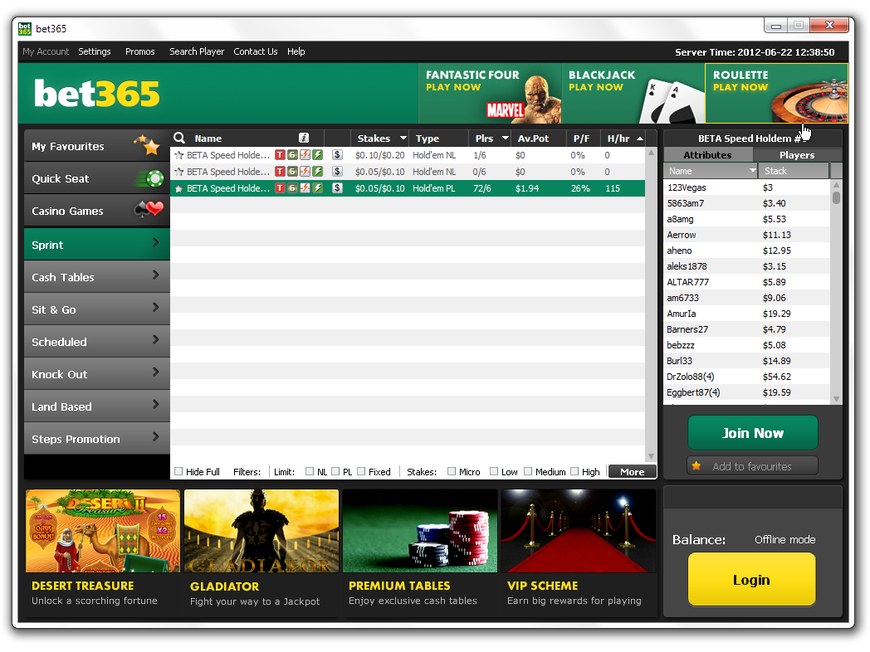 iPoker skin bet365 is the first to demo the network's fast-fold poker variant for real money.
The network's plan to enter the fast-fold arena was first announced just a few days ago, but was not expected to go live until next month.
The tables are named "Speed Hold'em" as expected, although they are listed as "sprint" in the lobby filter system, perhaps hinting at an earlier name idea or Bet365's own branding.
Right now there are three microstakes player pools available. At the time of writing, the only active player pool is—surprisingly—the 5c/10c Pot Limit Hold'em pool with an impressive 78 entries.
The experience will be familiar to anyone who has played one of the many existing interpretations of the fast-fold poker format first made popular by Full Tilt's Rush Poker and now a dominating part of PokerStars' business.
Speed Hold'em player pools are listed in the normal lobby and are denoted with a lightening-bolt icon not disimilar to Blaze Poker's iconography. You can see the number of players in the pool integrated in to the main lobby and, again you can enter a player pool up to ten times.
The playing interface is much as you would expect, with a "speed fold" button to quickly jump to the next table. The lobby reports that players can expect anywhere from 150-350 hands/hour.