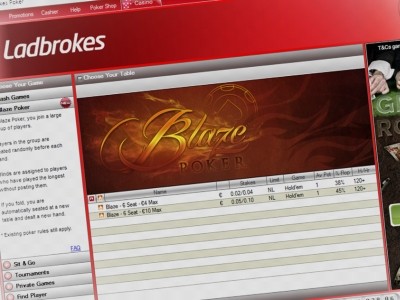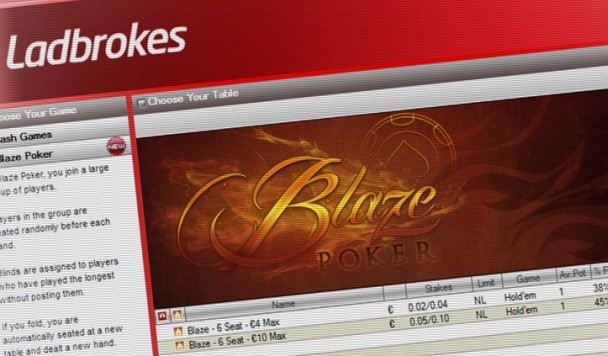 Microgaming is the first major poker network to launch a fast-fold poker product to compete with PokerStars' Zoom Poker and independent networks Fast Poker by Relax Gaming and Instadeal/Terminal Poker.
We first reported on Blaze Poker earlier this week, when StanJames, UK highstreet bookmaker and one of the bigger names on Microgaming, announced it was coming soon. It was later confirmed in a Microgaming press release and then debuted on Ladrokes Poker. Other skins are expected to follow suit soon.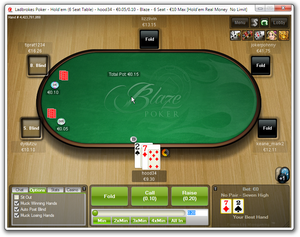 According to the PR, Blaze is a "best of breed" fast-fold variant, touting its "seamless" transition between tables and the full integration with the main poker network. But how does it compare against fast-fold mainstay Zoom Poker? We take it for a quick spin.
There's not much innovation here, sticking to the tried-and-true formula first popularized by Rush Poker, but Blaze does it well. The game certain plays fast, and the experience is smooth. According to the PR, players can get in 300 hands/hour for each table and that seems possible, although the poker lobby only shows "120+" so its not possible to verify.
The usual "fast fold" button to fold and move to the next table is there, and the experience is fluid. Players can play on normal or micro-sized tables, and the usual hand replayer and player notes are available. Some of the nicer touches from Zoom are not present, such as "fold and stay" (to watch the conclusion of a hand), or being able to replay hands from previous tables.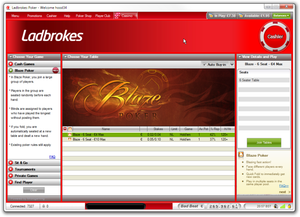 In fact, the biggest change here is not whats new, but whats not present: Firstly, there is no count of how many players are in the pool, so its impossible to determine how many you are playing against. You can also apparently jump in to a table in any position rather than always starting in the big blind like in other variants.
There is also apparently no restriction on how many entries in to the pool you can have. I managed to get up to seven tables before hitting my personal comfort level for not timing out in hands.
Blaze is directly competing with networks such as Relax Gaming's Fast Poker, which is trying to woo existing gaming operators to integrate the Fast Poker network alongside their traditional offerings, allowing players to move money between the two networks. Of course, the big advantage Microgaming has is the experience is built in to the same lobby and, once it rolls out across all skins, will benefit from the liquidity that the network provides. It will be interesting to see how Unibet responds, as they have a traditional poker skin on Microgaming but added a Fast Poker alternative last month.
Currently there are only two microstakes pools—at NL4 and NL10 euro tables—and without table numbers, it is not possible to determine the popularity.
Another question is whether Microgaming tries out an anonymous Blaze pool. The network expanded its screenname-hidden offerings last year, and it would seem a natural fit for fast-fold poker.