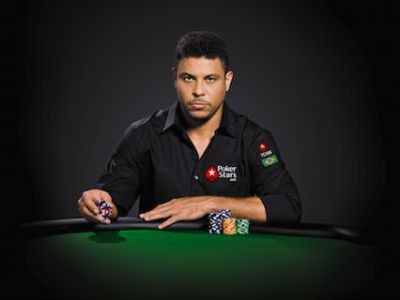 Retired Brazilian soccer star Ronaldo Nazario is the latest member of "Team PokerStars SportStars," the poker room announced Friday.
Known as "the Phenomenon," Ronaldo is considered one of football's all-time greatest players, winner of numerous player of the year awards throughout his career and frequently voted as one of the greatest strikers to ever live.
According to a blog post on the PokerStars Latin American Blog, which broke the news late Thursday, Ronaldo will be representing PokerStars both online and in live tournaments in Brazil in coming months.
He will also be participating in advertising campaigns and acting as a brand ambassador for PokerStars.
The high profile signing comes ten months after the signing of Spanish tennis star Rafal Nadal, also considered one of the greatest players of his game.
German tennis champion Boris Becker, Dutch field hockey player Fatima Moreira de Melo and Swedish olympic skier Marcus Hellner complete the now five-strong "SportsStars" team representing the poker room.
The Latin-American Poker Tour (LAPT) hosts a stop in Sao Paulo later this month. Nine events run from April 25-30, and will likely mark Ronaldo's debut as a PokerStars representative.
Since signing, Nadal has been used in television commercials and a series of promotional web shorts that document him learning the game. He made his online tournament debut in November 2012.
The Ronaldo signing confirms a strong commitment to the Brazilian poker market. Already on the PokerStars Pro roster is Sao Paulo-born André Akkari, and Gualter Salles, a Brazilian professional race car driver, is listed as a "Friend of PokerStars."