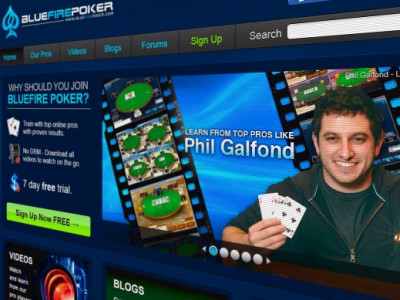 "Phil Galfond's Bluefire Poker," as it is known to many, has lost its eponymous lead instructor. Along with creating some of the most watched and highest rated videos since the site's inception, the nosebleed PLO specialist was one the site founders, in charge of content and the hiring of other instructors.
His blog post announcing the news has been removed from the site and, according to Galfond's tweets, he can no longer log in to the Bluefire site, raising questions as to the nature of Galfond's departure.
The post, titled "A Sad Day" – still available on the Bluefire Poker forums – does little to explain the surprise decision.
"As of today, BluefirePoker.com and I are parting ways. It's very hard to walk away from something I helped build from the ground up," he wrote. "Please know that it was a very difficult decision that I struggled with for a long, long time. I'm sorry that I can't elaborate further."
This blog post was soon deleted and his account was changed to bar him from continuing to post on the forums. "I'll have to find somewhere else to post my final 4 videos," he later tweeted. "I'm extremely embarrassed about all of this. I'm sorry guys."
According to an interview in 2009 when the site first launched, Galfond said he was approached by a training site "that was already forming," but that he was involved in "the major [business] decisions." He took charge of content creation, reviewed potential new hires and liaised with existing instructors.
Also known as "Jman" and playing under the names "OMGClayAiken" and "MrSweets28" online, the high-stakes PLO and NL cash game player was always featured prominently on the site and created over 150 videos in his near 3-year tenure. Also notable was the site's regular French-language output, to which Galfond contributed 50.
Bluefire bills itself as a premium-quality training site, under the strap line "Quality over Quantity." While other sites have eschewed sign-up fees and have come to agreements with poker rooms to offer content for free, Bluefire maintains a $100 sign-up fee along with a $30 monthly subscription. In November, the site announced the signing of four new instructors to bring MTT instructional content alongside its cash and SNG offerings.