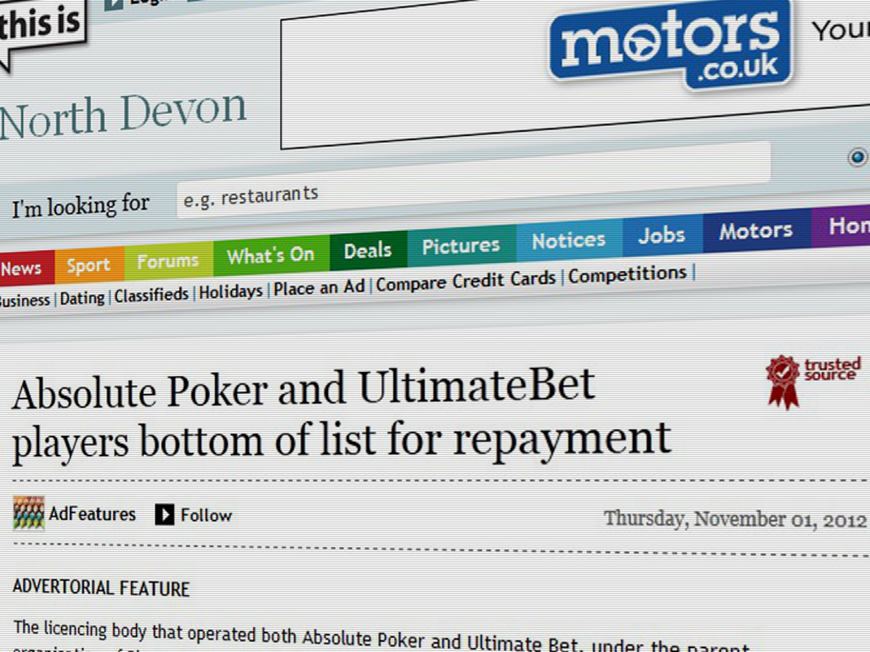 An erroneous advertorial news drop by a third-party marketing firm in the employ of PokerStars is responsible for the placement and subsequent removal of a curious piece on the North Devon (UK) ThisIsNorthDevon.com website on Thursday.
The piece was yanked within 24 hours, according to a PokerStars spokesman familiar with the situation. The outdated news piece referenced a settlement between the Kahnawake Gaming Commission (KGC) and the United States Department of Justice regarding the KGC's termination of any ongoing relationship with defunct Absolute Poker parent Blanca Games.
The piece in question, titled "Absolute Poker and UltimateBet players bottom of list for repayment," highlighted the fact that AP's collapse meant that affected players on UB and AP are treated as unsecured creditors, and fall behind secured claims when any assets garnered from the AP collapse become available.
However, the piece itself was old news, being lifted largely from a Kahnawake Gaming Commission press release from August. All of the quotes in the North Devon piece were lifted directly from the earlier KGC statement.
Despite the piece's aged nature, several poker outlets treated it as a new news piece, with an accompanying discussion thread also springing up on one of the poker world's largest discussion forum, 2+2.
The piece itself was curious in that it framed the statement that gently shamed the KGC and the former owners of Absolute while contrasting them with other Black Friday targets PokerStars and Full Tilt.
The piece, duly marked "Advertorial Feature," switched gears near the bottom, turning into a promotional effort on behalf of Full Tilt's impending real-money return:
Unfortunately, Blanca Games have not been as lucky as their rival Full Tilt Poker, who was accused of fraudulent activity by the DoJ before being acquired by their previous rival Poker Stars. It was the Poker Stars organisation who repaid all customers following negotiations with the DoJ. The Full Tilt Poker website is now expecting to be relaunched in November.
The story also included a link to pokerstars.co.uk, and was placed as part of an online network also used for previous PokerStars advertorials.
According to a PokerStars spokesman, who was also responsible for pulling down the piece, "I've looked into it and subsequently we've instructed our advertorial vendor to take it down as it is beyond the scope of our direction to them, which is to place advertorials promoting PokerStars."