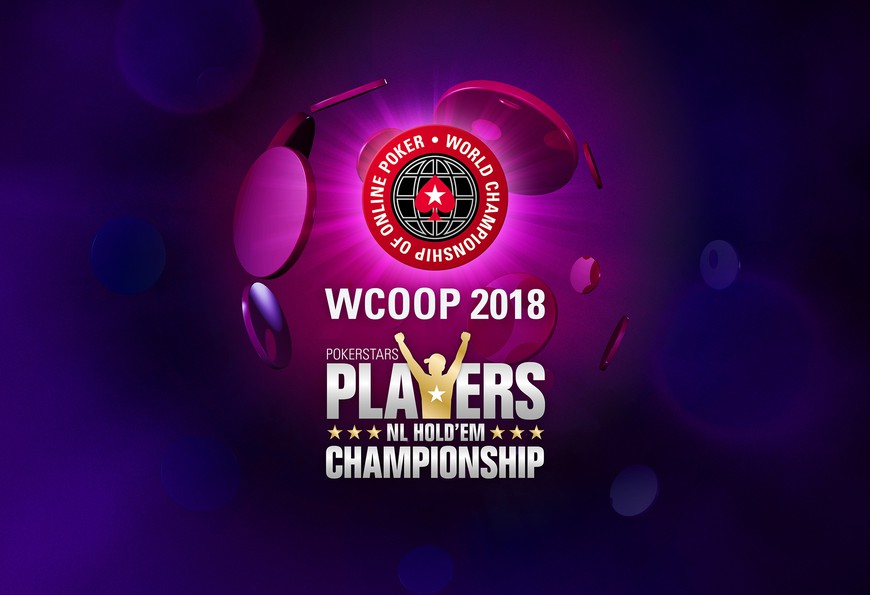 With over 60 events and a total of 182 tournaments, PokerStars' marquee event of the year—the World Championship of Online Poker (WCOOP)—returns once again for the seventeenth edition, and this time the operator promises to award more than $70 million over two weeks, making it the biggest online poker series ever.
The prestigious online series kicked off on Sunday with a bang as over $7.5 million was paid out on the first day alone. This is because for the first time WCOOP is featuring a three-tiered buy-in level (High, Medium, and Low) for nearly all the events, meaning there are tournaments for all kinds of players including the low-stakes players.
The opening day saw 98,376 total entries across 15 tournaments with three tournaments featuring at least $1 million prize pool. The $22 buy-in Mini Sunday Million edition attracted 18,532 entries followed by a $215 buy-in WCOOP Special Sunday Million which amassed a prize pool of $1.35 million – the biggest of the day.
Why Play on PokerStars?

Sign Up Today »
Largest player base in the world.
Home of Spin & Go, Power Up and lots of other unique game variants.
Biggest weekly tournament schedule around.
However, not all tournaments met their guarantees. High-stakes tournaments such as WCOOP-03-H: $2100 NLHE Progressive, KO $1M, WCOOP-04-H: $2100 NLHE, $1M, and WCOOP-05-H: $1050 PLO, $500,000 – all saw overlays with a combined figure of almost $150,000.
The second day payout was over $3 million across 12 tournaments with 67,535 total entries. WCOOP-08:H: $530 NLHE Progressive KO, $750,000 guaranteed attracted 2112 entries to create a prize pool of $1.05 million.
In total, over $10 million has been paid out on the first two days and there's $60 million more to be given away.
New
WCOOP

Events

Despite the overlays in the high-stakes tournaments, PokerStars has announced three additional WCOOP high roller tournaments with a combined guarantee of $3 million as a result of player feedback. The following three high rollers will take place on September 18:
WCOOP-62-L $215 [High Roller], $500K Gtd
WCOOP-62-M $2100 [High Roller], $1M Gtd
WCOOP-62-H $25,000 [High Roller], $1.5M Gtd
Key
WCOOP

Tournaments

Players who may have missed out the first two days have not missed out on all the cash prizes as there is still plenty of time for them to get in on the action and earn big prizes.
PokerStars is running daily $2.20 phase tournaments that boast a guarantee of $200,000. The final phase will take place on September 16. Similarly, there are daily $22 and $215 buy-in phase tournaments as well.
Two $1 million guaranteed tournaments including the

WCOOP

Special $1050 Super Tuesday and the $10,300 High Roller are scheduled to run today.
Three $25,000 buy-in Super High Rollers are scheduled to take place on September 5, 12 and 18. Each of them boasts at least a $1 million guarantee.
Half Price Editions for the Sunday Million, Super Tuesday, Thursday Thrill and Sunday Kickoff are also scheduled to take place on September 9, 11, 13, and 16 respectively. Each of them will cost half of their original buy-ins but will maintain the same guarantee. The Half Price Sunday Million will guarantee $1 million, Super Tuesday – $1 million, Thursday Thrill – $1.25 million, and the Sunday Kickoff – $200,000.
The two Main Events boast a combined guarantee of $11 million. The $55 buy-in Main Event will guarantee $1 million and the $5200 buy-in carries a $10 million guarantee. They are scheduled to take place on September 16.
Additionally, the series will feature various formats and variants. From 3-Max Zoom Progressive KO to 8-Max Win the Button, from Razz to 5-Card Draw, there is something for all types of players.
Seven Ways to Win Platinum Passes
So far, PokerStars has awarded over 160 Platinum Passes worth over $4.5 million and players playing the WCOOP will have seven chances to win a Platinum Pass.
Each Platinum Pass includes a $25,000 seat in the PokerStars Players Championship (PSPC), six nights' accommodation at the Atlantis Resorts in the Bahamas and $2000 in travel and on-site expenses. PokerStars is expecting 600 to 800 players to participate in the PSPC, meaning a total prize pool of $16 million to $21 million could be created, potentially making it the biggest $25,000 buy-in tournament ever to run.
The following are ways to win a Platinum Pass:
The winner of each of the two Main Events will receive one Platinum Pass.
Two Platinum Passes will be given away via a Final Table Nationals All-in Shootout Freeroll on September 22. Players will get entry to this freeroll if a player from their country makes any of the two

WCOOP

Main Event final tables.
Players who play five

WCOOP

events or more after opting in will qualify for a special

PSPC

WCOOP

Challenge All-in Shootout Freeroll where two Platinum Passes will be awarded. The freeroll will take place on September 22.
One Platinum Pass will be given to the winner of the Player of the Series Leaderboard.
Additional
WCOOP

Promotions

In addition to giving away Platinum Passes worth $210,000, PokerStars is running various other promotions to celebrate its biggest WCOOP series. To begin with, PokerStars is running daily $55 buy-in satellite with one added seat to the $5200 Main Event. Two WCOOP special Spin & Go tournaments ($5 and $25) are also awarding WCOOP entries, tickets, and prizes. As of now, 29 players have won their seats into the $5200 Main Event, per a PokerStars press statement.

Furthermore, PokerStars is running three new leaderboards besides the Player of the Series leaderboard. The leaderboards are aimed "not at the top players, but the low and medium tier grinders." The leaderboards include: In the Money finishes, Satellite Return on Investment and Knock Outs. The winner of each leaderboard will get $500, with prizes for the top 20 players in each.

PokerStars is also letting players place bets on PokerStars Ambassadors at BetStars. Players who place a $2 or more bet on the special WCOOP Knock-out betting market will receive a freeroll where 50 seats to the $55 buy-in Main Event are being given away. Players who bet at least $10 will receive an additional $5 free bet.

PokerStars also ran a WCOOP Fantasy League in association with PokerStrategy.com. The free-to-enter contest gave away £500 gaming package, EPT satellite tickets, as well as PokerStars merchandise. The promotion ended on September 3.