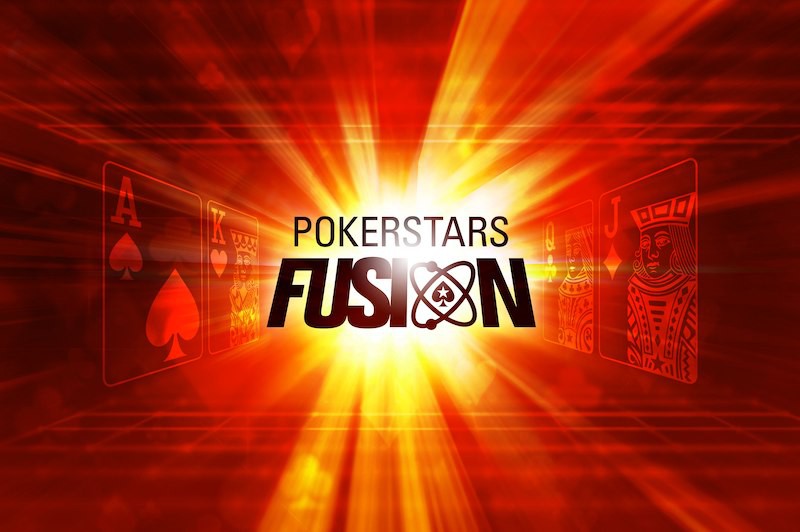 The much-awaited PokerStars game called Fusion that was first revealed by Poker Industry PRO (our premium news and data analytics platform for poker industry insiders) almost six months ago, finally has been launched by PokerStars this week. Like previous cash game novelties, Fusion is also slated to be a temporary offering.
PokerStars Fusion is the operator's latest cash game innovation, which as the name suggests and as PRO guessed is a game that blends two most popular games i.e., Texas Hold'em and Omaha into one single variant.
"We want to give our players games that they have never played before and bring a unique offering to the table," said Severin Rasset, Director of Poker Innovation and Operations, in a recent press statement.
"Fusion mixes two well-loved formats together, giving an exciting twist to the game. We eagerly await player feedback and look forward to seeing everyone joining the tables and giving Fusion a try," Rasset added.
Why Play on PokerStars?

Sign Up Today »
Largest player base in the world.
Home of Spin & Go, Power Up and lots of other unique game variants.
Biggest weekly tournament schedule around.
The game was first made available to players from Denmark, Russia, and Ukraine on a test basis before releasing it globally. The game is not yet available in Belgium, Bulgaria, Czech Republic, Estonia, Greece, India, New Jersey, and the European segregated market comprised of France, Portugal, and Spain.
Rules of PokerStars Fusion
Unlike the previous cash game variants which were all played as No Limit Hold'em, Fusion is played out as a six-max Pot Limit game which prevents players from going all-in pre-flop. The game starts out like Texas Hold'em with each players receiving two hole cards followed by the usual Hold'em betting round. However, once a flop is a dealt, this is where the game takes a twist as each player receives a third hole card giving players an extra opportunity to hit their draws.
On the turn, players receive one more card, bringing the number of hole cards to four and thus transitioning the game into Pot Limit Omaha, with players having to make the best five-card hand using two of their hole cards and three of the community cards just like in Omaha.
"Every street adds a layer of super-charged theory. Every new hole card multiplies the possibilities," wrote Stephen Bartley, PokerStars Blog Content Writer..
Pre-Flop Equities Run Much Closer in PokerStars Fusion
The fact that players receive four hole cards by the turn means that relative hand strengths changes from street to street. Also, preflop equities are now much closer. Take AQ vs QJ; in Hold'em AQ is a 72% favorite, in this new variant AQ is just a 56% favorite.
Even pocket Aces has a modest 62% equity vs QJ in Fusion as compared with 84% in Hold'em. Similarly, a hand like AK which is a 64% favorite vs QJ, is only a 55% favorite against QJ in Fusion. This will lead to players defending more from the blinds, calling 3-bets much wider than normal, and a lot looser preflop play.
Stakes Available and Rake Charged in Fusion
PokerStars Fusion is available across a wide variety of stakes starting as low as $0.02/$0.05 and goes all the way to $25/$50—the highest offered in a limited variant so far. The buy-ins are fixed and range from 60 big blinds to 100 big blinds depending on the stake level. There is no table list in the lobby to choose from, as PokerStars has implemented the Seat Me functionality.
As far as the rake is concerned, it starts from 3.90% at the lowest stakes and goes up to 5% at the medium stakes and back down to 4.50% at the higher stakes. There is a rake cap at each stake ranging from $0.50 to $3.
PokerStars Fusion Rake
| Stakes | % Rake | 2 Player Cap | 3-4 Player Cap | 5+ Player Cap |
| --- | --- | --- | --- | --- |
| $0.02/$0.05 | 3.90% | $0.50 | $0.50 | $1.00 |
| $0.05/$0.10 | 4.25% | $0.50 | $1.00 | $1.50 |
| $0.10/$0.25 | 4.25% | $0.50 | $1.00 | $2.00 |
| $0.25/$0.50 | 5.00% | $0.75 | $0.75 | $2.00 |
| $0.50/$1 | 5.00% | $1.00 | $1.00 | $2.50 |
| $1/$2 | 5.00% | $1.25 | $1.25 | $2.75 |
| $2.5/$5 | 5.00% | $1.50 | $1.50 | $3.00 |
| $5/$10 | 4.50% | $1.50 | $1.50 | $3.00 |
| $25/$50 | 4.50% | $2.25 | $2.00 | $3.00 |
More Games to Come?
While Poker Industry PRO exclusively revealed PokerStars Fusion back in late May, PRO had revealed yet another game that is in the company's pipeline called Six Plus Hold'em, also known as Short Deck Poker.
Six Plus Hold'em is a game that has seen a lot of traction lately. It plays similarly to Texas Hold'em but with a smaller deck. Deuces through fives are removed, Aces are played both low and high, a flush beats a Full House and in most places, a Set or a Three-of-a-Kind beats a Straight. It is expected that PokerStars will debut this variant by the end of the year and it will possibly replace Fusion.
Another operator, 888poker has also announced its plans to launch a "new, unique variant" called Pik'em Poker. The game was slated to be released last month, but as of the now, the game has yet to make its debut.