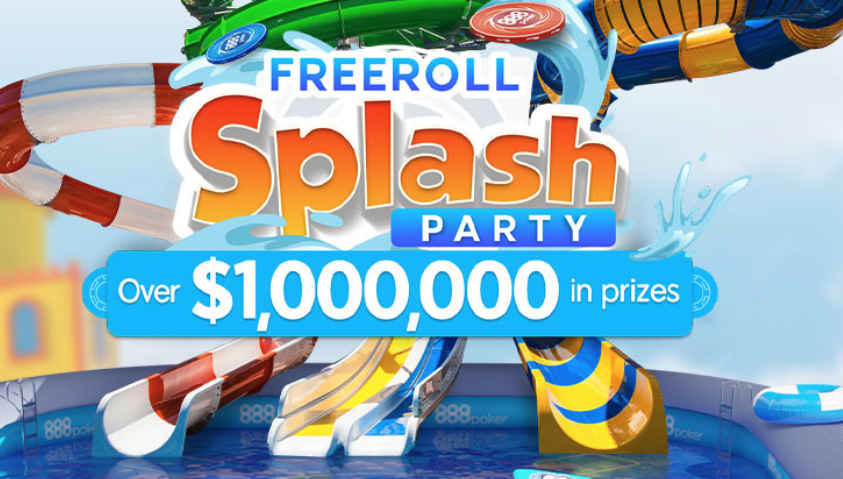 888poker is celebrating summer with a huge series of free-to-enter tournaments. The Freeroll Splash Party will see over $1,000,000 given away between June and September.
The promotion started on June 23 and features three freeroll tournaments every day, right up until the grand finale—the Kings Kamikaze Freeroll, a $500,000 giveaway event.
Players can qualify for the freerolls by completing simple daily challenges throughout the promotional period. The freerolls have a waterpark theme, and have three tiers of increasing value:
The $1000 Jacks Speedslide Freeroll—which runs three times every day, Monday through Saturday.
The $3000 Queens Aqualoop Freeroll—which runs three times every Sunday throughout the promo.
The $500,000 Kings Kamikaze Freeroll—a stand-alone, three-day tournament which rounds off the series.
The more challenges players complete, the more tickets they will win. Any combinations of challenges can be used to win tickets, and tickets can be used for other freerolls after the Splash Party promotion ends.
In addition to the advertised promotions, 888Poker's eMagazine blog also promises some bonus surprise goodies such as "double the prize pools, loyalty offers and much more!".
So keep your eyes peeled for a summer of tasty offers from 888.
How to Qualify for Splash Party Freerolls
Players can win freeroll tickets by completing challenges in cash games, tournaments, or BLAST sit and gos. Tickets are also available through casino games and sports betting.
In order to qualify for the $1000 Jacks Speedslide Freeroll, players must complete a single challenge, and can play up to 3 freerolls daily. Players that complete five or more challenges in a week (Mon-Sun) will win tickets to each of the three $3000 Queens Aqualoop Freerolls that Sunday.
For every 25 challenges completed during the Splash Party promotion, players will receive a ticket to the $500,000 Kings Kamikaze Freeroll. The tournament has multiple day 1 flights from September 23 to 26 players are entitled to win as many day 1 tickets as they want. Day 2 takes place on September 27.
How to Complete the Challenges
The challenges also follow a waterpark theme. There are three ways to complete them.
The Tournament Splash Pool—Players can play poker tournaments, including

BLAST

, with buy-ins that total $5. Note that rebuys do not count towards the total.
The Infl8ables Pool—Players must win a hand at a real money cash game, with an 8 as a hole card.
The Casino & Sport Wave Pool—Players can also complete a challenge by wagering $5 on casino games or sports. Sportsbook bets must have odds of at least 1/2 (1.5) to be eligible.
Other Freeroll Action on 888
For fans of freerolls, 888 is the place to be this summer. As well as the $1,000,000 being given away in the Splash Party Promotion, the operator is also running $500 Live Stream Freerolls for the next four Fridays.
The events will be broadcast on 888's Twitch TV stream and entry passwords will be released in the Twitch chat one hour before each event begins.
The 888Poker Freeroll Splash Party promotion begins on June 23 and runs all the way through to September 27, when the winner of the $500,000 Kings Kamikaze Freeroll will be crowned.