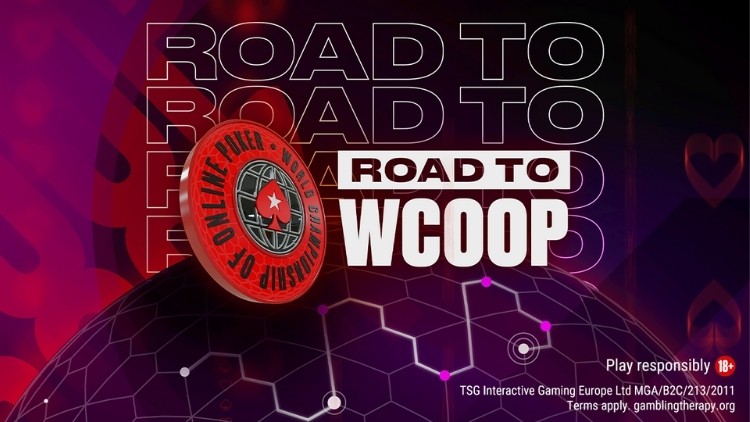 WCOOP 2021 does not start for two weeks yet, but PokerStars is already ramping up the publicity—announcing two new promotions as we approach the iconic summer series.
The Road to WCOOP promo is up and running and will see $1 million in WCOOP tickets dished out between July 26 and August 21 as it build towards the flagship festival.
On top of this, the WCOOP 50/50 series runs between August 1 and 15, and offers $7,500,000 in guaranteed prizes, plus WCOOP Main Event tickets for all event winners.
How the Road to
WCOOP

Works

To take part in the Road to WCOOP, players must opt-in each week, using the challenges window in the PokerStars client. Next, they must select a Redemption Points Target—Choose one of the three options: Low, Medium, or High.

On completion of the challenge, players will be entered into a draw for WCOOP tickets at the stakes of their choice.
Challenge
Redemption Points Required
Type of draw

WCOOP

Ticket Value Range
1
50
Low
$5.50-$215
2
150
Medium
$55-$2,100
3
300
High
$530-$5,200
Those who fail to win tickets will entered into the Ambassador Freeroll on Sunday, August 22.
Players can obtain—and use—multiple tickets for the Ambassador freeroll, which will see $200,000 worth of WCOOP tickets distributed to winners, including a $530 Main Event ticket for anybody who knocks out a PokerStars Ambassador during the tournament.
The 50/50 Returns for
WCOOP

Tie-in

In addition to the Road to WCOOP promotion, PokerStars has also announced the return of its 50/50 Series as it revs up the PR machine ahead of the upcoming series.

The 50/50 WCOOP Series runs from August 1 through 15, offering a slate of 50 tournaments with $50 buy-ins. There is $7.5 million in guaranteed prizes over the course of the series, outstripping the $6.2 million figure of its inaugural edition at the start of the year.

As a nice little bonus, tournament winners will also pocket a $5,200 Main Event ticket on top of any prize money won—an extra $260,000 of added value.

In conjunction with the series, PokerStars is running exclusive 50/50 WCOOP Spin and Go tournaments. For just $1.50 players can win entry into the aforementioned $5,200 Main Event.

The probabilities of Spin and Go prizes are as follows:
Prize
Probability
$5,200

WCOOP

Main Event entry
5 in 1,000,000
$50 50/50 Series ticket
7,500 in 1,000,000
$5.50 satellite ticket
304,606 in 1,000,000
$3 cash
687,889 in 1,000,000
As revealed on pokerfuse previously, the WCOOP starts early this year, avoiding a clash with the hotly anticipated WSOP, as it makes its post-Covid return.
Though perhaps PokerStars is less interested in dodging the live World Series than in going head-to-head with GGPoker, which hosts its Online Bracelet events concurrently with WCOOP.
The two poker giants have locked horns on a regular basis during the last couple of years, as GG has sought to challenge Stars long-held dominance of the global online poker market. That PokerStars is plugging the WCOOP so far in advance is evidence of just how successful the young pretender has been.
But it is also evidence that the Red Spade brand is up for the fight. This year's WCOOP has $100 million in guaranteed prizes—up 25% on last year's edition—and PokerStars is doing everything it can to ensure that target is hit.
WCOOP 2021 runs from August 22 until September 15. Road to WCOOP challenges run each week, from July 26 to August 21, and the WCOOP 50/50 Series takes place between August 1 and August 15.
WCOOP

Last Six Years' History
| Year | Starting Day | Start Date | Finish Date | Total Duration | GTD | Tournaments | Avg Gtd |
| --- | --- | --- | --- | --- | --- | --- | --- |
| 2015 | Sunday | Sep 6 | Sep 27 | 22 | $45,000,000 | 70 | $642,857 |
| 2016 | Sunday | Sep 4 | Sep 26 | 23 | $50,000,000 | 82 | $609,756 |
| 2017 | Sunday | Sep 3 | Sep 25 | 23 | $60,000,000 | 162 | $370,370 |
| 2018 | Sunday | Sep 2 | Sep 17 | 16 | $70,000,000 | 182 | $384,615 |
| 2019 | Thursday | Sep 5 | Sep 25 | 21 | $75,000,000 | 219 | $342,466 |
| 2020 | Sunday | Aug 30 | Sep 23 | 25 | $80,000,000 | 225 | $355,556 |
| 2021 | Sunday | Aug 22 | Sep 15 | 23 | $100,000,000 | TBA | TBA |