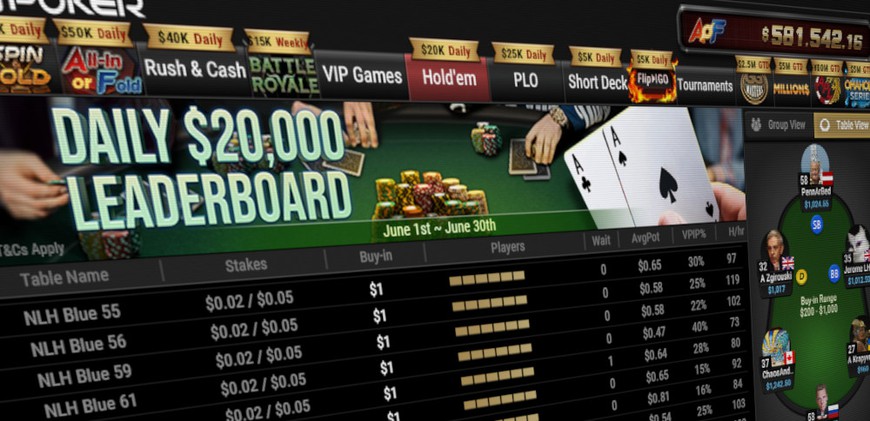 Top online poker site GGPoker hosted more cash game players at its tables over the last seven days than PokerStars — the first time since 2006 that a comparable online poker site has usurped the online poker giant.
According to data provided by GameIntel, an independent monitor of cash game traffic since 2006, available exclusively on the Poker Industry PRO Data platform, the seven-day moving average of concurrent cash game players for GGPoker was 5006. PokerStars' was 4981.
"GGPoker hitting the top spot for cash game traffic is the result of a lot of hard work by a lot of people and of course a testament to the amazing community of players that call GGPoker home," said Daniel Negreanu, GGPoker global ambassador, in a statement issued to pokerfuse. "We don't rest on our laurels, we've reached #1 by constantly innovating and improving our games, promotions, and rewards — and you haven't seen anything yet!"
It is the first time since October 2006 — when then-leader partypoker withdrew from the United States in the wake of UIGEA and saw long-time rival PokerStars take the crown—that another operator with a focus on regulated European markets has sat atop the global online poker market.
GG coming out on top in the GGPoker vs PokerStars throwdown is perhaps not too surprising for those that have followed the numbers closely for a while. It has been closing the gap on its rival for years; indeed, overtaking PokerStars this year was a prediction we made for 2021 — and we have a feeling this online poker operator battle royale will continue through 2022 as well.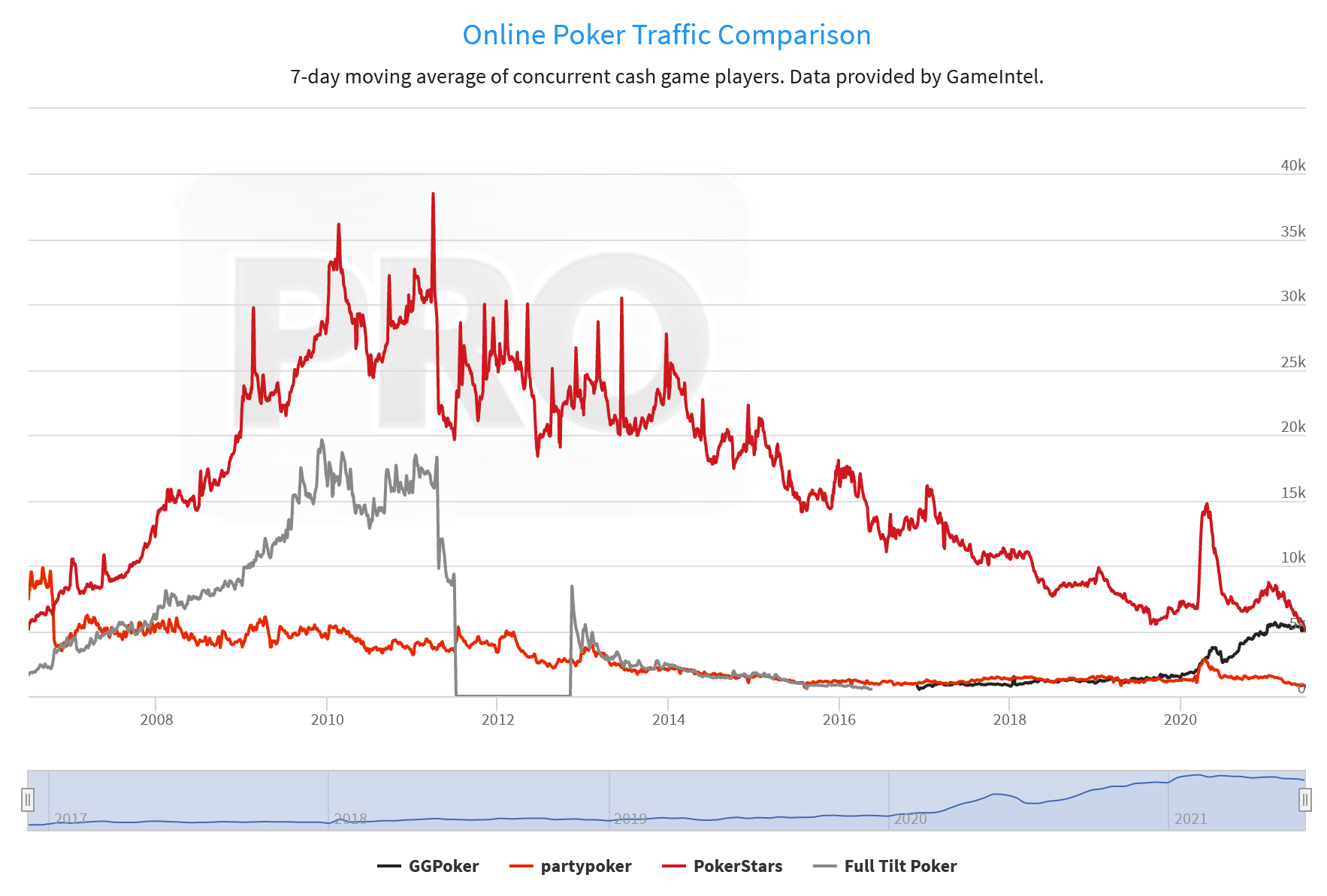 However, taking a step back, its achievement is remarkable. No online poker operator has come close at dethroning the king of online poker for north of a decade.
The last time an operator was remotely close to PokerStars was in 2010-2011, when Full Tilt was of comparable size prior to its collapse on Black Friday. Since then, PokerStars has reigned supreme in almost every market in which it operates, often accounting for two-thirds of all real money cash game hands played each day anywhere around the globe.
But that began to change with the rise of GGPoker. Launching first in Asian markets, it landed on our radars in 2017 when one of its skins, Natural8, started to move into European markets. Later that year, it launched its own poker rooms, GGPoker.com and GGpoker.co.uk. From there, its traffic grew unchecked for four and a half years.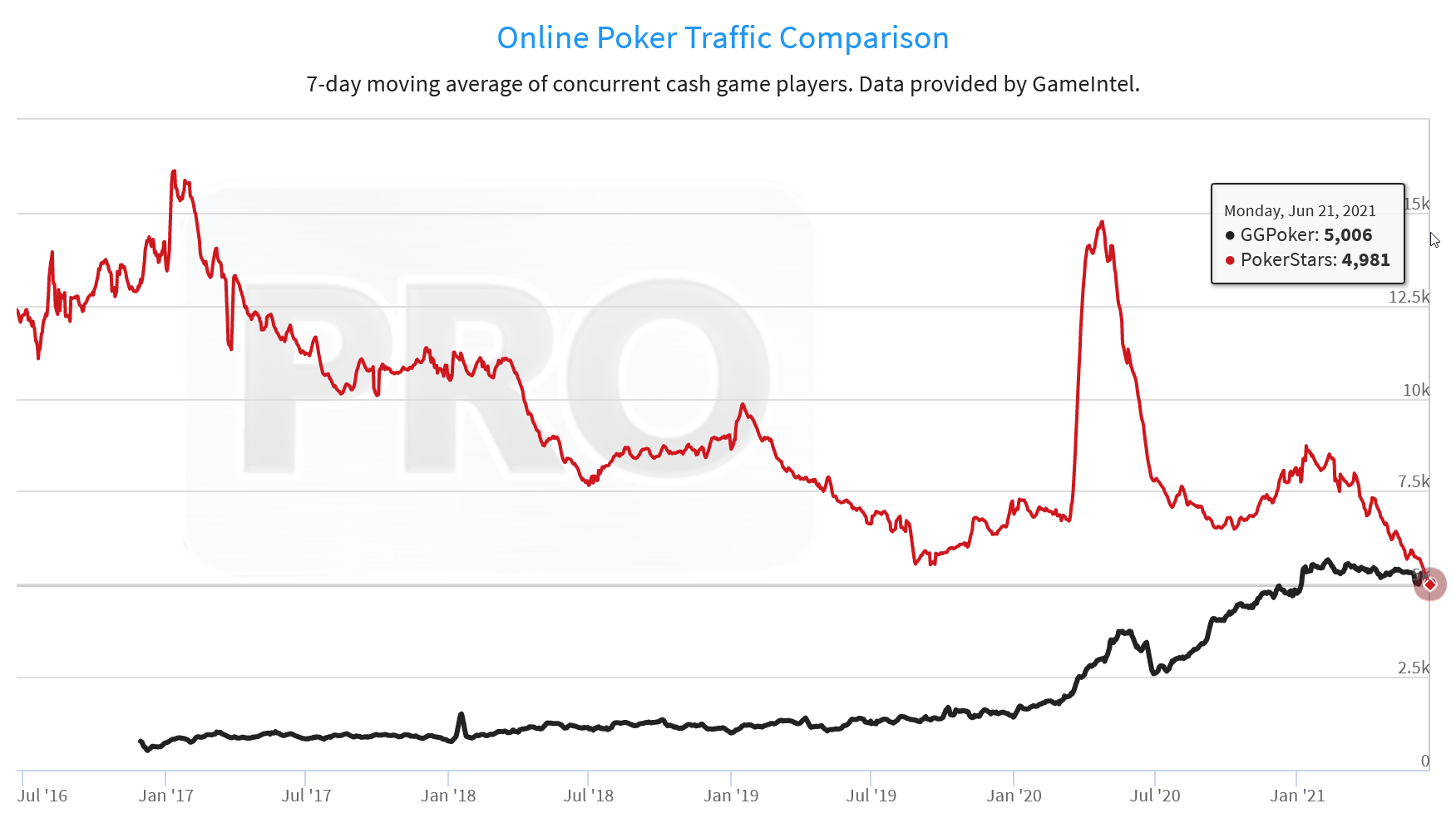 Growth at GGPoker has Accelerated in the Last Two Years
It really took off in early 2020, thanks to big product launches and a transformative partnership with the World Series of Poker. Last summer, PRO highlighted GGPoker's meteoric rise, up threefold year-over-year.
While the pandemic was partially responsible, we pointed out that its string of successes — new games, new ambassadors, massive tournament series, each tumbling one after other in rapid-fire succession — all pointed to strong underlying growth that will ultimately dwarf a brief pandemic bump.
Indeed, if anything its growth since then has been even more impressive. Traffic is up around 60% year-over-year, a truly staggering amount given that it is lapping the coronavirus peak of early 2020 summer. To compare, the rest of the dot-com online poker market is understandably down 35% from where it was a year ago.
Cash Game Caveats and GG's Global Footprint
As always with cash-game traffic analysis, there are caveats to identify. The figures describe only cash games — not tournaments or sit and go's — so the picture of the market is partial; it also treats all seats filled at real money tables the same, so low and high stakes games, which can generate very different revenue, are considered equal for this comparison.
There have also been arguably a couple of cases of other operators briefly taking the top spot in the past. IDN, a lesser-known Asian online poker site, has reported cash game traffic at similar or higher levels to PokerStars, and in some rankings has appeared higher. PRO and pokerfuse recently excluded these from analysis of global, European-focused online poker sites as the traffic is so different (in terms of buy-ins) that it is too far from an apples-to-apples comparison to be valuable.
Similarly, Ukrainian online poker site PokerMatch skewed the entire online poker market a few months ago when it launched a rake-free, ultra-nano-stakes no-skill cash game; PRO temporarily disabled them from the rankings for the same reasons.
Global operator GGPoker also has access to more markets than PokerStars and its ilk. It does target European markets: it holds licenses in the United Kingdom, Malta and the Isle of Man, and its skin OlyBet is licensed in Latvia and Estonia. However, its global footprint is broader than publicly traded competition.
Sites like partypoker, under the purview of Entain plc, and PokerStars, under new direction from Flutter plc, have had to exit markets considered "grey" in the last year. GGPoker has withdrawn from some legally dubious areas, but it, or its partners, do remain in some jurisdictions considered too risky by the competition, giving it an advantage over others.
However, these caveats notwithstanding, cash-game traffic frequently gives an accurate reflection of global online poker markets. Its trends are a strong early indicator of official regulated online poker market data.
Indeed, other markers suggest that GGPoker is as large, if not larger, than PokerStars. Its big tournament series have set records; its partnerships and ambassadorships stir up as much admiration and controversy as anyone's.
Its new game launches generate envious buzz, as do its promotions.
A Bright Future for GGPoker — and Online Poker Players
Where can it go from here? There is little indication yet that GGPoker's cash game growth is stalling. Even if it does level out, this will likely be due to its player base playing more tournaments — like the recently launched hit Battle Royale SNG game — than leaving the site altogether.
The site also has a summer of WSOP tie-in tournaments coming up. The operator will be offering Las Vegas satellite packages to the World Series; starting in August, official online bracelet events will get underway on GGPoker.com for international players.
One could well expect PokerStars to respond to this directly. For years, the company has aimed to provide fewer incentives to high volume players, and improve the experience of its casual, recreational customers — if anything, declining traffic was part of that plan.
But its new owners recently suggested a change of course. New owners Flutter recently pledged a multi-year investment into poker, citing its "share of the online poker market reduced in recent years" and promising a "significant step-change in investment" behind the brand to "address historic underinvestment."
In a word: The battle is on.